For those of us lucky enough not to be stranded outside the Fox Theatre Saturday night waving a pointer finger in the air over our head attempting to trade our way into another sold out show, Lotus brought a non-stop dance party. The Fox began to fill slowly while the costume clad opener Gram Rabbit from California warmed the crowd up for the good vibes to follow. By the time Lotus came on stage, the Fox was full for the second night in a row. A sold out show brings with it a certain level of expectation, but judging by the smiles on faces, fans and first-timers alike left more than satisfied.
A band as versatile as Lotus attracts a wide range of followers. Perhaps it is the added element of percussionist Chuck Morris(electronic/acoustic), the brotherly duo of Jesse (bass, sampler) and Luke Miller (guitar, keys), the naturally good vibing rifts of Mike Rempel (guitar), or the calm collected demeanor of Steve Clemens (drummer) that give Lotus their edge. Whatever it is, for those at Saturday night's show, Lotus will be a name on the Tip of the Tongue for some time to come. From girls in bunny ears and sailor outfits to guys wearing orange wigs or straight brim hats, Lotus has something for everyone to enjoy.
The fantastic five from Philly wasted no time with a mellow first set. Instead the boys got right down to business with a jam into Nematode, a song off of their first album Germination. When it first came out, I used to substitute this album for breakfast; there is nothing like a little Lotus in the a.m., unless of course it is some live Lotus at night. Throughout the night the band managed to play songs off of all of their albums, while hitting the crowd with a few new tracks and an unexpected cover. Drummer Steve Clemens was rocking his sunglasses at night, perhaps to shade him just a little from the bands stellar light show. Their latest addition to their already incredible stage presence consists of a number of boxes on stage with panels that light up, illuminating the band in color while they do what comes naturally - jam.
Second set started with a solid Hammerstrike, followed by It's All Clear to Me Now, which went into a set long segue of pure rock-and-roll-electronic-funk. There wasn't a booty in the house that wasn't shaking, unless of course it was during one of those peaceful melodic jams that seem to take you into an uninhibited trance-like meditative state. As if Lotus's own electronic beats don't make you want to get down, they satisfied our appetites with a Wax and Daft Punk sandwich. The band raged Around the World, an original from everyone's favorite French robots, back into Wax ending an amazing second set.
From front to back, soundboard to bar, hands were waving in the air and feet were moving on the ground all night long. The crowd stomped their feet and screamed, begging for an encore and when you break a sweat like that, you tend to get what you deserve. As if two solid sets weren't enough to send the crowd home happy, Lotus came back out to thank Colorado for being so awesome with a three song encore. They played two songs off of Nomad, Jump Off, and most appropriately Colorado. Ending with a song I never heard before and can't wait to hear again, Age of Inexperience.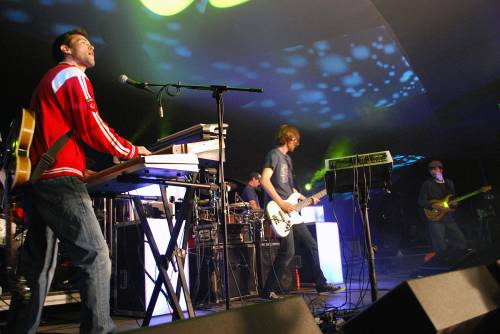 Colorado: a state lucky enough to have three nights in a row of Lotus topped off with a free Sunday show. The band headed to Copper Mountain Sunday morning to play at the free live music festival Sunsation. They played an afternoon set in between Trevor Hall and Matisyahu. What band wouldn't want to tour in a state where they can shred all morning, then head down the mountain to to play a day set in the snow and the sunshine?
If you haven't had a chance to see them yet, make sure to buy your tickets in advance if you hope to catch a show before the end of their Copy/Paste/Repeat Tour. The band is promoting their latest album, a collection of remixes of your favorite Lotus songs by artists like DJ Harry, Juan Maclean, and Telepath. If you can't catch any shows this tour, don't worry, summer is almost here and the band will be hitting one festival after another.