Lover! on 11/18 at Three Kings
Believe it or not, but being involved with the seedy Memphis punk underground in the mid 1990s can have its advantages. For Rich Crook, falling in with teenage terrors, The Reatards came right at the perfect time in his budding musical life. Stepping into a band with a very much still-teenage Jay Reatard between the release of their debut LP and their shambolic first European tour at the end of 1998 (??), Crook was always the steady force of somewhat actual consciousness that kept everything in balance. His appearance on the 'Grown Up Fucked Up' LP solidified his spot in The Reatards officially, and upon the band's implosion in early 1999, he joined Jay and Alicja Trout of The Clears in the next phase of their sonic obliteration, the notorious Lost Sounds. As this tightly-wound synth-punk unit quickly snapped into their place in the universe, endless touring ensued, and as most of the US never really got a good look at the Reatards live, people flocked out en masse for any and every Lost Sounds show that criss-crossed across the country over the next three years.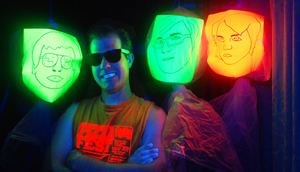 After armloads of LPs and endless 7" singles and a reputation for one of the most intense live performances of the early part of the new century, Lost Sounds wound down as most of the better bands tend to do. Each of the three core members decided it was best to try music on their own terms, resulting in some of the most interesting output of all as Alicja Trout formed Mouserocket, The Fitts, and still keeps it up with River City Tanlines on a regular basis. Of course, Jay Reatard started and killed the short-lived Angry Angles, but then delivered incredible solo material that transcended more "industry" barriers than any of us around in the the beginning would have ever imagined. Rich Crook made a few drumming appearances on Viva L'American Death Ray records with Nick Diablo, which were excellent VU-strung, grimy pop compositions, that should definitely be checked out.  But Crook really surprised us all with his eye-opening contributions to The Knaughty Knights, which he formed as a one-off side project with original ex-Oblivian Jack Yarber, while still drumming in the Lost Sounds. Crook's songs were shockingly great, high-energy minimalist pop from the get go, and even before the short-lived band had released a total of four 7" singles, it was obvious that he had a sorely unheralded songwriting skill that really needed to breathe on its own, in a major way.
Although production on the first two Knaughty Knights releases were insanely lo-fi compared to the later two, it was the third 7" EP on Goner released in late 2005 with Crook's epic "Death Has Come Over Me" and "Wenches of Turpentine St." that were the shining examples of the second coming of Rich Crook, the singer, guitarist and songwriter extraordinaire. These songs possessed the stark simplicity that so many great pop songwriters strive for, yet sound as casually executed as a weathered soul who just channels the music swimming around inside him. The last Knaughty Knights 7" was released on Jay Reatard's Shattered Records in the Summer of 2006 and alongside Jack Oblivian's "Boogie Disease" track, featured two more Crook-fronted smash hits, "Tommy of The River" and his version of The Outsiders' "I'm Not Trying To Hurt You," which once again sizzled with a zealous pop fierceness not many people were expecting. Touring Europe seemed like the best idea, and with Crook and Yarber's credentials it wasn't difficult to make it happen. (??)
The rest of the next year saw Crook taking a break from his active bands and working on an oil rig in southern Mississippi, near the Gulf of Mexico, where his reflections of that experience that make up the earliest Lover! songs happened to materialize. Finally Crook had his own musical vehicle all to himself, and with help from the Reigning Sound's Greg Roberson (filling in ironically on drums), he put together and recorded the first Lover! full-length album, producing, songwriting and playing an incredible string of powerpop hits that won't soon be forgotten. Co-released on Empty and PTrash Records in Spring of 2007, the Lover! debut LP still stands as one of the decade's finest pop albums, and by far that year's best.
But the frequency between releases was about to get hectic, as a second LP was already being quickly recorded in Memphis, this time with Jay Reatard behind the recording board. Aside from Billy Childish or Mr. Dan Melchior, releasing more than one full-length LP in the same six-month period was quite unheard of in these circles, so it really stuck out as an impressive feat. Never to disappoint, the 'Gathered In The Graveyard' follow-up LP further bolstered the Lover! sound and showed a stylish, yet sometimes risky mastery of the longer song format, foreshadowing the exquisite pop articulation Lover! would boldly display on the upcoming onslaught of domestic singles already in the works.
As 2008 came around, Lover! channelled their power and emitted a powerful stream of unique 7" singles, with each emerging one taking new stabs at different pop textures and all executed incredibly well and without any sign of a creative rut anytime soon. Labels such as HoZac, Iekk! Sounds, Douchemaster, Tic Tac Totally and Rob's House all released one-of-a-kind pop explosions from the Lover! soundscape, each adding to the rich tapestry of the band that Rich Crook has so carefully built from scratch. An extensive European tour and several festival appearances later, it's all definitely falling into place for Lover!
Here we are in 2009, and Crook has uprooted himself from his Memphis orbit, relocating to Chicago, and finally nailing down a solidified lineup, offering a foundation that wasn't as evident with a rotating cast of backing members in previous incarnations of the band. With lots of new releases on the horizon and a fresh start in a new setting, look out for Lover! to continue to be chiseled into a venerable force in the modern scope of American pop music, and one not soon forgotten.