Lucero unveils first music video, "Women & Work"
Submitted by conqueroo on Thu, 08/23/2012 - 19:13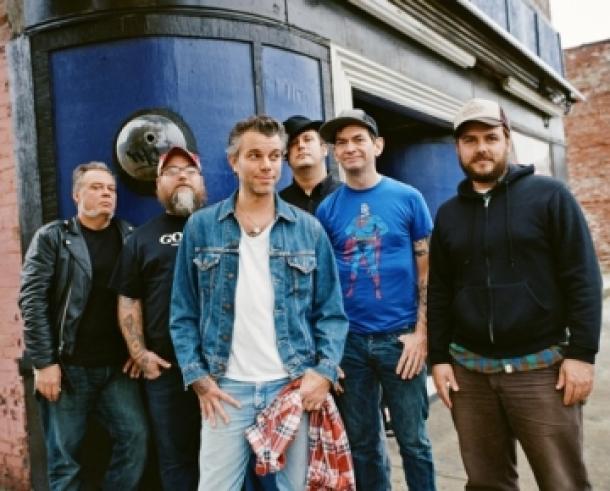 Lucero
have been around for 14 years but never made a music video — until now. The video for the title track of their critically acclaimed Women & Work album will be available on YouTube on Thursday, October 23.
Lucero
worked with director Jonathan Pekar, head of the film department at Memphis' legendary Ardent Studios, on their first music video. It was shot at Massey Farm in the North Mississippi Hill Country environs of Senatobia, Miss. (home of Jessie Mae Hemphill and other blues legends).In the clip,
Lucero
is partying with friends on the banks of a beautiful lake. When the band finds their van is missing, instead of being furious they get into the party spirit and much fun-loving destruction ensues.
Lucero
lead singer
Ben Nichols
says, "Our fans have made videos over the years, we've never made one ourselves until now. Why? Basically because we're unorganized and lazy."Either that or they were waiting for the likes of
Pekar
to take an interest. Ardent Studios' ambassador of creativity and champion of fun, the Memphis native is a University of Southern California film graduate, stand-up comic, actor, and director with a lengthy list of credits.According to
Pekar
, "These Lucero guys make me happy about life, ya know? The American spirit flows with these Southern gentlemen, yes indeed, Southern gentlemen with a full tank of gas, that's the idea behind this video, to showcase the band's right of passage from vans to tour buses.""And what better way than with friends, a catapult, moonshine and senseless destruction? Good times!""Wreckage wise, guitarist Brian Venable and I had some seriously ambitious ideas of what we wanted to achieve with this video; however, rational people dosed with common sense and safety concerns calmed our childish desires to a degree and yet I believe that the final video is a wonderful visual example of how much talent and personality this band has . . . they make me so proud of music . . . Viva Lucero!" Tour dates:Thurs., Aug 23 CLEVELAND, OH House of BluesFri., Aug 24 COLUMBUS, OH The Bluestone Sat., Aug 25 CINCINNATI, OH Bogart's Sat., Sept. 29 LITTLE ROCK, AR Arkansas Sounds at the Butler CenterThurs., Oct. 11 KNOXVILLE, TN Bijou TheaterFri., Oct. 12 WINSTON-SALEM, NC Ziggy'sSat., Oct. 13 GREENVILLE, SC Fall for Greenville, Downtown GreenvilleSun., Oct. 14 ATHENS, OH Templeton-Blackburn Memorial AuditoriumMon., Oct 15 MORGANTOWN, WV 123 Pleasant StreetTues., Oct. 16 RALEIGH, NC Lincoln TheaterFri. Nov. 2 AUSTIN, TX Fun Fun Fun Fest at Auditorium ShoresSat., Nov. 3 HOT SPRINGS, AR Maxine's