M¹Boom, World Saxophone Quartet at Birdland
Submitted by press on Wed, 12/16/2009 - 04:59
Nearly three decades have passed since that glorious 1981 evening, when an audience of three thousand gathered in the cathedral of St. John the Divine to hear what Max Roach called a "Grand Collaboration": a concert by M'Boom and the World Saxophone Quartet.  For those who were there and those who weren't, this "Great Collaboration" is an eagerly anticipated sequel, an event that promises to get 2010 off to a roaring start. This time, the two legendary ensembles convene for a week at Birdland, January 19-23. Roach founded M'Boom in 1970, as the first ensemble consisting entirely of Western and non-Western percussion instruments, ranging from vibraphone, marimba, and tympani to steel drums, timbales, and glockenspiels. M'Boom, which has numbered as many as 10 players, now includes three of its founding member, Joe Chambers, Warren Smith, and Ray Mantilla, along with Eli Fountain, and Steve Barrios. The World Saxophone Quartet, founded in 1976, is the most celebrated saxophone ensemble in jazz history, and is made up of three founding members: David Murray, Hamiet Bluiett, and Oliver Lake, plus James Carter in the seat originally occupied by Julius Hemphill. These two ensembles fuse together with an almost mystical cohesion, intensity, and flat-out joy.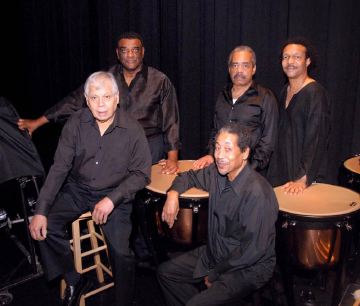 M'Boom:
M'Boom was the brainchild of Max Roach, the late percussionist, visionary, and seminal figure of modern jazz. In 1970, Roach gathered notable drummers and percussionists to explore and compose for the myriad instruments in the percussion family and named the group "M'Boom." M'Boom (pronounced 'em-boom) has a double meaning: it is an onomatopoeia, or "sound word" that sounds like the object of description – boom, pow, crack, etc.; M'Boom is also the name of a secret order of drummers in northern Senegal. Beginning in September 1970, M'Boom learned every category and combination of percussion. After Max Roach's death in 2007 and the death of three other members, Joe Chambers, Warren Smith, and Ray Mantilla vowed to carry on M'Boom's vision.
Steve Berrios is considered by his peers to be one of the top Latin jazz drummers, and has recorded and toured with Mongo Santamaria, Randy Weston, Tito Puente, Paquito D'Rivera, Michael Brecker, Grover Washington Jr., Ray Barretto, Art Blakey and the Jazz Messengers, Hilton Ruiz, Leon Thomas, La Lupe, Miriam Makeba, Celia Cruz, Nancy Wilson, Kathleen Battle, and with his own group Son Bachéch. His second CD, "And Then Some," recorded with Son Bachéche on Milestone Records, was nominated for a Grammy in 1996.
Joe Chambers has recorded more than 500 albums and CDs. He has performed and recorded with Miles Davis, Freddie Hubbard, Wayne Shorter, McCoy Tyner, Chick Corea, Sonny Rollins, Herbie Hancock, Dizzy Gillespie, Andrew Hill, and more. Chambers' credits include Hubbard's "Breaking Point," Hutcherson's "Components," Shorter's "Schizophrenia." and "Etcetera," Hill's "Compulsion," Tyner's "Tender Moments," Archie Shepp's "New Thing at Newport," Charles Mingus' "Like a Bird," Chick Corea's "Tones for Joan's Bones," and others. Chambers' compositions have been covered by Hutcherson, Hubbard and M'Boom; he has also contributed to soundtracks for several Spike Lee films, including "Mo' Better Blues." Chambers is the first Thomas S. Kenan Distinguished Professor of Jazz in the Department of Music at the University of North Carolina Wilmington.
Eli Fountain joined M'Boom in 1981. He has performed with Muhal Richard Abrams, the Temptations, Aretha, Franklin, and Geri Allen. His compositions include the percussion ballet "Play," written for New York's Complexions Dance Company.
Ray Mantilla entered the international spotlight in 1960 with flutist Herbie Mann, and later embarked on a series of tours with Art Blakey and the Jazz Messengers. In 1977, Mantilla became the first North American Latin musician to play in Cuba since the Cuban Revolution. He has recorded on more than 200 albums. Some of his credits include Max Roach, Charles Mingus, Ray Barretto, Gato Barbieri, Sonny Stitt, Bobby Watson, Herbie Mann, Tito Puente, Cedar Walton, and Freddie Hubbard. In 2003, Mantilla signed with Savant Records and released "Man-Ti-Ya." In 2007 he was voted best percussionist by the Jazz Journalist Association.  His latest CD is 'Good Vibrations on the Sarvant label.
Warren I. Smith has performed extensively in the studio and on Broadway, recording and performing with Dionne Warwick, Nat King Cole, Harry Belafonte, and Aretha Franklin. He began teaching at Adelphi University in 1969 and at the State University of New York in Old Westbury from 1971-1996.
World Saxophone Quartet
The World Saxophone Quartet were founded in 1976 after the four original members accepted an offer by Ed Jordan, the chairman of the music department at Southern University in New Orleans, to conduct a series of clinics and performances with and without a local rhythm section. The enthusiastic audience response to the unaccompanied saxophones convinced the musicians to develop the concept, and in 1977, the band recorded their first album, the almost completely improvised effort "Point of No Return" on the Moers Music label. The WSQ places consistently in the top five groups in DownBeat's annual Critic's Poll, and in 1987 was voted "Best Jazz Group" in the Playboy Readers Poll. Cited as one of that year's top ten jazz albums by Francis Davis of the Philadelphia Inquirer, their Nonesuch release "Dances and Ballads" "equals their previous best efforts," according to DownBeat, and "contains several new pieces that may someday be considered among the Quartet's classics."
Hamiet Bluiett (baritone sax, alto clarinet) has performed with the Black Artists Group, the Gateway Symphony, Charles Mingus, Stevie Wonder, Marvin Gaye, and the American Jazz Orchestra, led by John Lewis.
James Carter (saxophones, flute, and bass clarinet), a multiple DownBeat poll winner, is the recipient of one of America's highest cultural awards: the Dr. Alaine Locke Award, given annually to individuals who have provided exemplary service and leadership in the promotion of African American culture. Carter's groups include a traditional quartet, electric group, organ trio, and the World Saxophone Quartet. His CDs include "The Real Quietstorm," "Layin' in the Cut," "Chasin' the Gypsy," "Out of Nowhere," and "Gold Sounds."
Oliver Lake (alto sax, tenor sax, soprano sax, flute) received professional encouragement from trumpeter Lester Bowie. After teaching at the American Center for Artists and Students in Paris and studying at the Electronic Workshop, he moved to New York in 1976 and is currently leading his own highly stylized funk-reggae group Jump Up, as well as a jazz quartet. He is also a published poet.
David Murray (tenor sax, bass clarinet) has recorded as a leader with a trio, a quartet, an octet and a big band, with a style is rooted in, but not confined to, the work of John Coltrane, Ben Webster, R&D and Sonny Rollins.
M'Boom, World Saxophone Quartet 2010 tour
Tour dates
New York City: Birdland, 44th Street, Jan. 19-23, 2010
Milan, Italy: Feb. 14, 2010
Paris, France: Feb. 16, 2010
Hamburg, Germany: Feb. 18-19, 2010