The physical requirement of playing live music leaves little room for musicians to keep performing past a certain age. Although a handful of timeless artists such as Buddy Guy, BB King, The Rolling Stones, and Paul McCartney have been able to defy the limits of time, it goes to say that most careers decline past middle age.
This is certainly not the case with funk legend Maceo Parker. His most prominent years may have come during the days when he played with James Brown and with George Clinton's Parliament/Funkadelic; however this saxophone great has had a decidedly successful solo career that began over 20 years ago. Maceo may have turned 67 this year, but he is still performing like he is 37.
This was evident in Parker's triumphant return to the Denver area, his first in 4 years, where the music icon brought his band to drop the funk upon a nearly sold-out crowd at the newly renovated Cervantes Masterpiece Ballroom in the historic Five Points neighborhood. Cervantes was back in the day known as the Casino Cabaret, a nightclub that had hosted national jazz and soul greats such as Ella Fitzgerald and Count Basie, and it was only fitting that someone like Maceo can help carry on that tradition in a world dominated by rock and hip-hop.
The evening's festivities began with an electrifying warm up set by the Chicago pop/funk outfit Lubriphonic. Surely they were excited to be opening for such an honored hero, and it showed as they blasted through an hour and a half of rock, soul, and funk. Lead singer and guitarist Giles Corey is the quintessential front man, who kept the crowd fired up through the set. Believe it....this white boy has some serious soul.
Around 10:30 the headlining band (minus Parker) entered the stage and began with a jazz standard that set up the introduction of the man himself. Maceo strolled up to his many microphones amongst a sea of applause, and proceeded to belt out some seriously fervent saxophone.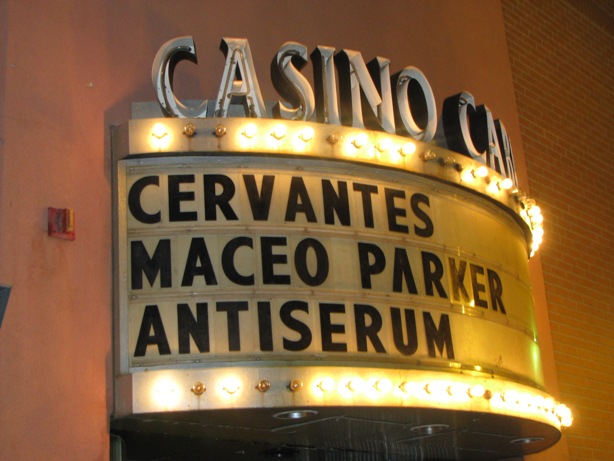 After a few technical glitches were resolved, Maceo and his band formally kicked off the set with the up-tempo "Off the Hook", a gem off his 2003 release Made by Maceo. If anyone in the venue had any doubts that a man approaching 70 years of age would have trouble commanding a room, they were shattered with this smoking funk number.
For the next two-plus hours Parker and his talented band mates continued stoking the flames of one fiery evening of classic funk and jazz, churning out classics such as "Make it Funky", "Gimme Some More", "Funky Good Time", and the hip-hop infused "Uptown Up" (complete with freestyle rapping by his son Corey Parker, also a member of the group).
Maceo even gave proper nods to his mentors with badass versions of James Brown's "Soul Power", and the classic Parliament jam "Give Up the Funk".
With the midnight hour passing, Parker displayed his finest performance with a mind-blowing rendition of "Speed Reading" off his 2005 album Schools In. This scorcher led into the closing medley of the famous J.B. Horns song "Pass the Peas" into his own "My Baby Loves You".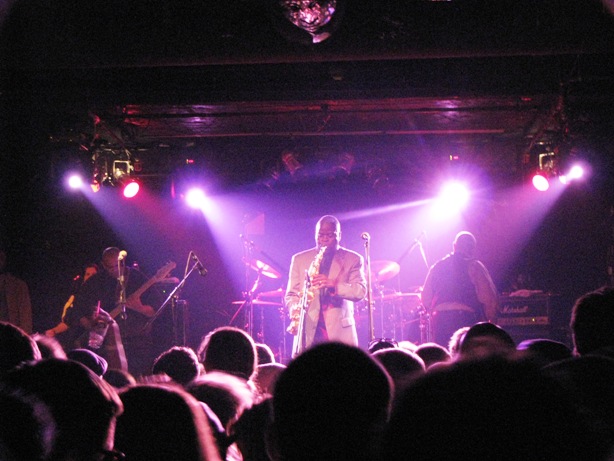 In his usual fashion, Maceo introduced each of his band members and repeatedly shouted to the crowd "we...love...you!", before they concluded the evening and said goodbye to the packed house full of sexy ladies and dapper dudes.
Just before Maceo and the band exited the stage, his son Corey announced over the PA that "there would be no hip-hop without funk". Let's take it one step further and say without Maceo, there might not be funk. He is the classiest guy in music, a genius to witness, and a legend in his own right who still to this day begs you to shake everything you've got.