The Magic Beans Release First Double Album Sites and Sounds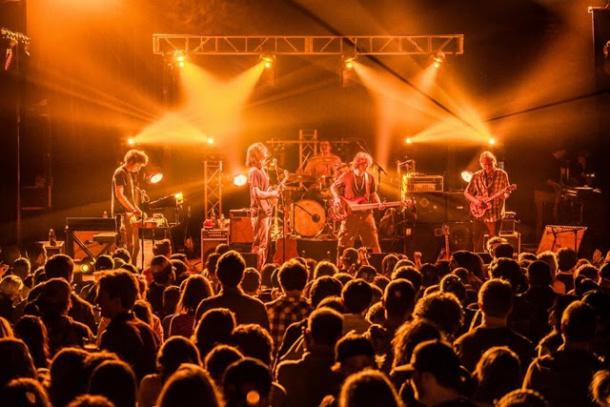 Nederland, Colorado natives, The Magic Beans are thrilled to release their first double album Sites & Sounds.  This double album showcases the band's multifaceted, genre-blending, music through original song writing and years of road-testing.  The first disc, Sites features The Bean's roots-music side highlighting their mastery of rock, bluegrass, and americana. On the second disc, Sound, the band dives into their groovy side exploring funky rhythms, guitar shredding, synth melodies and driving dance beats while remaining true to their all-instrumental roots.
The Magic Beans uses no pre-recorded tracks or samples in favor of a more traditional approach to music: original compositions, diverse instrumentation, and continual pushing of the musical envelope.  Their unique style of music inspires a good time and moves the mind, while tight booty shakin' grooves move the body and soul.  Drawing from a wide range of influences, The Magic Beans leave nothing off the table as they combine americana, funk, rock, jazz, bluegrass and electronica into a one sound, sometimes even one composition.  Their sound has been described by fans as spacefunk, ameritronica, and groove grass.  They seamlessly combine acoustic roots music and traditional instruments with modern technology and electronic dance music, making The Magic Beans as unique as their place of origin, the Colorado Rockies.
Sites and Sound, the band's first release in almost three years, consists of songs the band has played live for many years as well as brand new tracks, all written and recorded by members of The Magic Beans.  This album showcases the band's evolution since their conception three years ago.  After countless tour dates and a whole lotta livin', the band has matured and refined their sound and songwriting while maintaining their lighthearted, upbeat appeal.  The band's inspirations are boundless and they draw heavily from American music like jazz, funk, bluegrass, rhythm/blues, soul and folk and fellow contemporary Jam bands.  They also heavily cater to their fan base.  The Magic Bean's fans are very vocal and the band loves fulfilling their needs.
There are a myriad of special guest stars on Sites and sound, including Andy Thorn of Leftover Salmon on banjo, Zebulon Bowles of Whitewater Ramble/Big & Rich on fiddle, Scott Messersmith of The Motet on percussion, Cody Russell of Drunken Hearts on lap/pedal steel guitars and Mark Hanson of A 4 Animal on horns. Sites and Sounds was recorded at the gorgeous Crucible Studio in Eldorado Spring Canyon, CO. Their sound engineer was Andy McEwen.
The Magic Beans have released two singles from Sights and Sounds.  "Leave the Light On" off of the first disc, Sights and "Jabu Jabu's Belly" off of the second disc, Sounds.  The album is available for purchase on themagicbeans.bandcamp.com.  Hard copies will be available on Amazon April 19th.  For more information visit The Magic Bean's website at http://magicbeansmusic.com.
The Magic Beans are:
Scott Hachey – Guitar
Hunter Welles – Mandolin
Josh Appelbaum – Bass
Casey Russell – Keys
Cody Wales – Drums
 
Tour Dates:
4/18/2014- Barkley Ballroom- Frisco, CO
4/19/2014- Bluebird Theater- Denver, CO
4/24/2014- The Bottleneck- Lawrence, KS
4/25/2014- Euphoria Festival-Austin, TX
4/26/2014- LSU School Ending Phish After Party- Baton Rouge, LA
4/27/2014- Wild Wild West Festival- Tucson, AZ
5/15/2014- Joshua Tree Music Festival- Joshua Tree, CA
5/16/2014- The Mint - Los Angeles, CA
5/17/2014- The Griffin- San Diego, CA
5/18/2014- Sunshine Daydream Boat Cruise - Long Beach, CA
5/24/2014- The Mishawaka Amphitheater- Bellevue, CO
6/6-6/8/2014- Wakarusa Music Festival- Ozark, AR
6/13-15/2014- Beanstalk Music and Arts Festival- State Bridge Amphitheater- Bond, CO
7/18-19/2014- Groove Festival, Shadow's Ranch- Georgetown, CO
8/9/2014- ARISE Festival, Loveland, CO