THE MAIN DRAG's "Dove Nets"
Submitted by mike on Fri, 11/27/2009 - 02:25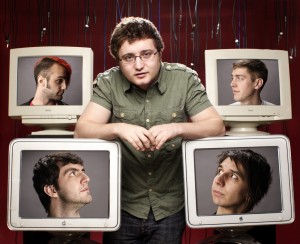 The Boston-based band, The Main Drag, make sophisticated and infectious indie-pop using music production as an instrument, cleverly stacking harmonies, synthesizers, guitars, strings, horns and drums within accessible songs. THE MAIN DRAG will release their third effort YOU ARE UNDERWATER digitally on December 8 via their imprint RPL Audio. Their rapidly growing fanbase was bolstered by the inclusion in the hugely successful video game Rock Band 2 and they'll also participate in the Rock Band Network--a new initiative launching in early 2010 that allows independent acts to sell their music to the Rock Band fanbase. In addition to the success via Rockband, they were named "Best Unsigned Artist" by Salon.com in 2007; garnered airplay and praise in key markets across the US and in Europe; had track "Love During Wartime" featured in the February issue of Paste Magazine; and released a cover of LCD Soundsystem's "All My Friends" exclusively to the Coke Machine Glow "Fantasy Covers" series to rave reviews.
Check out The Main Drag's new video:  The video mixes animation + real actors while wavering between surrealism + psychedelia. It even comes with a coinciding web-based video game! Check out both the video and game here.