Members of Zappa's Original Band, The Grandmothers of Invention coming to Boulder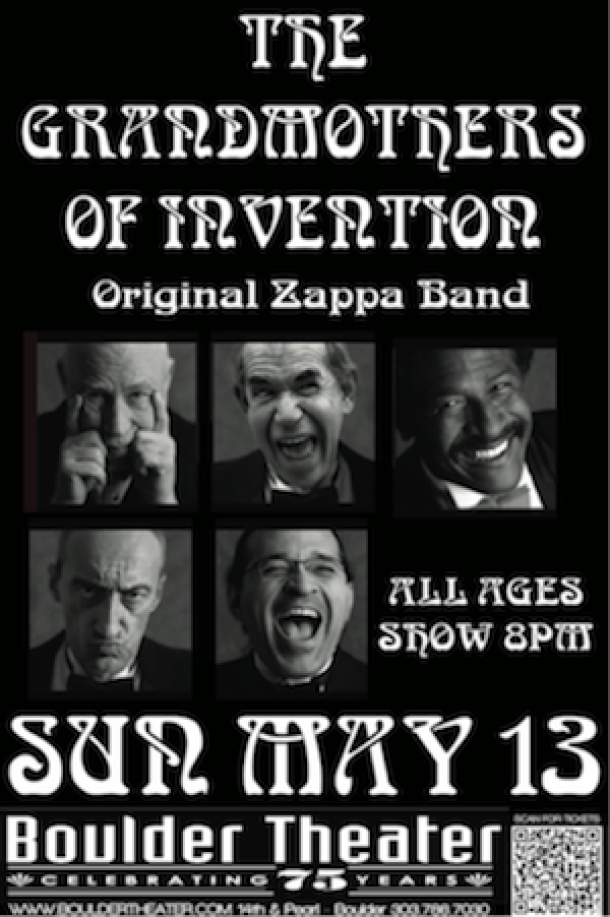 If you ever dug Zappa, you don't want to miss the GrandMothers of Invention. They are THE authentic live version of Zappa's music. This isn't just another comeback, this is the reincarnation of the Mothers of Invention! From Zappa's mid to late 70's Mothers bands, the GrandMothers are touring the world and keeping Zappa's music alive. The GrandMothers of Invention are the only Frank Zappa/Mothers of Invention alumni who have been consistently performing the music of the maestro since 2003. From the classic "Freak Out", "Absolutely Free", "We're Only In It For The Money", "Uncle Meat", and "Burnt Weeny Sandwich" - to - "Weasels Ripped My Flesh", "Apostrophe", "The Grand Wazoo", "Overnite Sensation", "Roxy & Elsewhere", "Bongo Fury", and "One Size Fits All" - they have performed on a very long list of classic Frank Zappa & the Mother's of Invention's albums, movies and other projects.
"Rare are the musicians who can even play Zappa's music, let alone make it live and breathe. So Thank the Lord for the GrandMothers of Invention." With three different Zappa eras represented, the GrandMothers have a wide palette of material to choose from. They served up vintage psychedelia - rock songs with surreal lyrics, jazz-like harmonies and melodic complexity, with flashes ofwacky satire.
The GrandMothers of Invention are: NAPOLEON MURPHY BROCK (with Mothers of Invention / Frank Zappa from 1974 thru 1984), on vocals, tenor saxophone, flute, suavenicity, and dancing(!) - TOM FOWLER (with Mothers of Invention / Frank Zappa from 1973 thru 1976), on bass, hats, and musical M.D. - DON PRESTON (with Mothers of Invention / Frank Zappa from 1967 thru 1969, 1970, 1971, and 1974 as a Special Guest), on keyboard synthesizers,electronics, IPOD, magic tricks(!), and vocals. Also featuring the incredible ROBBIE "SEAHAG" MANGANO  on electric guitar and vocals, and the masterful CHRISTOPHER GARCIA on drums, percussion, marimba, and vocals. The GrandMothers were formed in August of 2002, when four legendary former members of Frank Zappa's "The Mothers of Invention", Napoleon Murphy Brock, Roy Estrada, Bunk Gardner, and Don Preston were invited to perform the music of Frank Zappa in Leipzig, Germany. It would be the first time that these esteemed "Mothers of Invention" alumni would be getting together to rehearse and perform classic Frank Zappa material. The list of dates at clubs, concert halls and festivals is long, and includes headlining the Frankfurt Jazz Festival, the Zappanalle Festival, the Vancouver
Folk Fest, performing classic Frank Zappa material with the Bergen Filharmonik Orkester in Bergen Norway, performing the orchestral music of Frank Zappa under the baton of Kristan Jarvi, the Ottawa Blues Fest, the Winnipeg Folk Fest, the Sarajevo Jazz Festival, the Winnipeg Jazz Festival and the Vancouver Jazz Festival.