Michael Martin Murphey set to release 'Red River Drifter'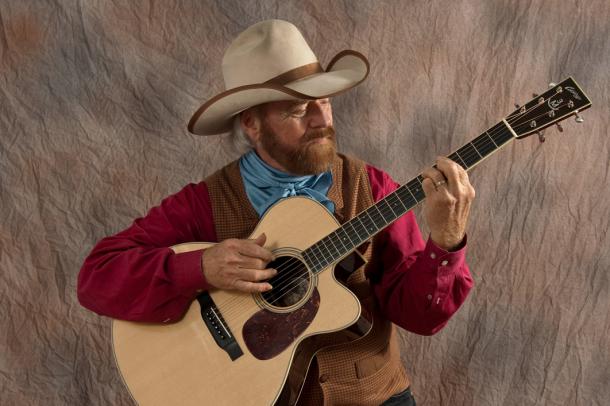 The preeminent cowboy musician of the last half century gallops into the Freight to present his "Lone Cowboy Show." Michael Martin Murphey was the original Cosmic Cowboy back in the 1970s when, along with folks like Jerry Jeff Walker and Willie Nelson, he helped launch the music scene in Austin, Texas into the stratosphere. He was one of the original country rockers with hits like "Geronimo's Cadillac," "Alleys of Austin," and his biggest seller, "Wildfire." He's also had a long love affair with bluegrass, dating back to his time as lead vocalist in the Earl Scruggs Band. Many bluegrass greats have performed on his 32 albums, including Ricky Skaggs, John McEuen, Jerry Douglas, Mark O'Connor, Rob Ickes, and Rhonda Vincent. His songwriting has gone far beyond any single genre. His songs have been recorded by Cher, Lyle Lovett, Kenny Rogers, John Denver, Hoyt Axton, Roger Miller, Bobbie Gentry, Michael Nesmith, and the Monkees.
Michael grew up in Dallas, Texas, spent a great deal of time in on his grandfather's ranch, and is still involved in ranching in Colorado. In 1990, he released the album Cowboy Songs, featuring new versions of cowboy classics like "Tumbling Tumbleweeds," "The Old Chisholm Trail," "Spanish is the Loving Tongue," "The Streets of Laredo," and "Happy Trails," as well as his own song, "Cowboy Logic." The Chicago Tribune called it "not only one of the finest albums of the year but also one of the finest of the last decade. Its 22 riveting cuts represent a labor of not only love but also scholarship; it raises a cult musical genre to the level of mainstream art." The "Lone Cowboy Show" presents Michael and his music, plain and simple. "I'm a songwriter first," he says. "A good song shouldn't' need a lot of production and bells and whistles. The format of this show is fun for me because I get to share these songs exactly the way they were written."
July 9th marked the release of "Red River Drifter" Michael Martin Murphy's latest CD. "Red River Drifter" is a departure from his previous albums which addressed cowboy themes and were bluegrass tinged. In his newest CD the themes of love are explored, encompassing the vagaries of romantic love, love between friends and family and the love of God's green earth. The song-craft on these tracks is complex, multi-layered and demonstrates some of the most beautiful melodies Michael Martin Murphy has ever written. His beautiful tenor voice has become more husky and appealing with age that speaks of a lifetime of experience. Michael will incorporate these new songs into his "Lone Cowboy Show" performance at the Freight.
Location: Freight & Salvage Coffeehouse
Address: 2020 Addison Street, Berkeley, CA 94704
Date: Sunday, August 4, 2013
Showtime: 8:00 p.m. (doors open at 7:00 pm)
Tickets: $36.50 advance / $38.50 at door
Tel.: 510-644-2020
Website: http://www.thefreight.org