Michelle Obama Speaks in Boulder
Submitted by sam on Thu, 10/02/2008 - 18:55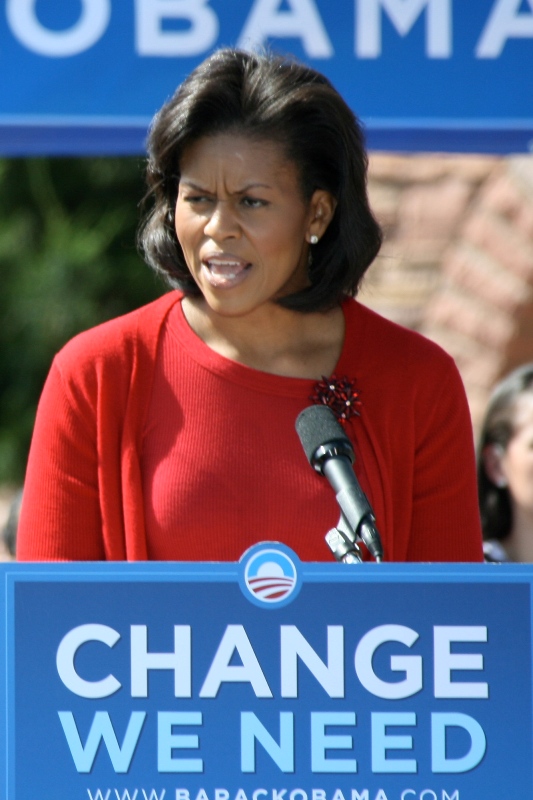 Earlier this afternoon (Editors Note: 10.1.08), several thousand people gathered on Farrand Field at the University of Colorado, Boulder, and it wasn't even to get together and smoke pot (like they do on 4/20).  Today, it was because future First Lady Michelle Obama was coming to speak on behalf of her other half, presidential hopeful Barack Obama.  Gates to the field opened to the public, who was allowed in on a first come, first served basis, at 10 am, with Michelle being due to speak at 11:45.  I got to the field at 11, and it was already starting to fill up, no way could I bustle my way through to the front at this point.  I decided to make a go at the press platforms, but all I had in terms of press creds was my camera and a Grateful Web business card.  But transparency is the name of the game for the Obama campaign, and after I put my name down on a sign-in sheet, they gave me a wristband and let me in.  They're not in the business of turning the press away, any press is good press after all, but I can't help but feel that if it had been a McCain event, I would have been beat up and had my camera taken away, and possibly destroyed.  That's just the feeling I get from Johnny Boy, he doesn't really seem to like anyone anymore, and I'm certain he wouldn't like me.
By now you've probably realize that I'm not a typical member of the so-called Liberal Media, whose definition of fair and balanced has turned into pathetic and cowardly.  I understand why it's necessary to avoid taking sides, people trust the media after all, and when opinion is presented as fact, that's when there is serious trouble.  But is it not also biased when you fail to point out when someone, especially a political candidate, is lying through his or her teeth?  Is in not biased to cover that lie simply by saying that the other side disagrees?  I think so, and I won't do it.  Certainly both candidates are guilty of stretching the truth, but only one candidate is guilty of out and out lying, and that candidate is John McCain.  Doing your homework on the subject is no where near as difficult as it used to be, thanks to the Internet, you just have to make sure your sources are credible.  Skip the McCain and Obama website for fact checking and go to a site like factcheck.org, a non-partisan database that has closely scrutinized both candidates over the last year.  What you will find will astonish you.
But enough about Mr. McCain.  Today was about Barack Obama, and what change really means for this country.  Change is Obama's main talking point, but unlike McCain, who co-opted the term and consistently fails to clarify what he means by it, Barack Obama presents an actual plan for HOW he means to bring about change, and at least in my state, is the only candidate with a television commercial talking about his plan rather than simply badmouthing the other guy.  Obama's got ads like that too, make no mistake, but when there is so much there to badmouth, who can blame him?  And as far as McCain's ability to change Washington Politics, well, as he's said many times, he's been doing it for years, but he must not be very good at it, because Washington politics have been getting worse and more corrupt over the last few decade, and the "change" that McCain and those like him have supposedly been enacting on The Hill has brought us to where we are today: to the verge of economic collapse, and mired in not one, but two seemingly wars.  Maybe McCain should steal a line of Kang and Kodos's political playbook (these are the slimy green aliens on The Simpsons, in case you were wondering): "The politics of failure have failed! Its time to make them work again!"
But seriously, enough about McCain.
Boulder-based band Meniskus opened the ceremonies, entertaining the ever-growing crowd, and probably picking up a few new fans along the way as well.  The political portion of the rally on the University of Colorado began with a brief address by the university's democratic candidate for regent, Joe Neguse, who himself graduated from CU several years ago.  He, like many others who would come after him, stressed the importance of voting, and the youth vote in particular.  Neguse was followed by democratic congressional candidate Jared Polis, who won the congressional primaries in Colorado largely because of the youth vote.  "Change doesn't come from Washington," Polis said, echoing Obama's sentiments almost exactly, "change goes to Washington, and it's our job to send it there!"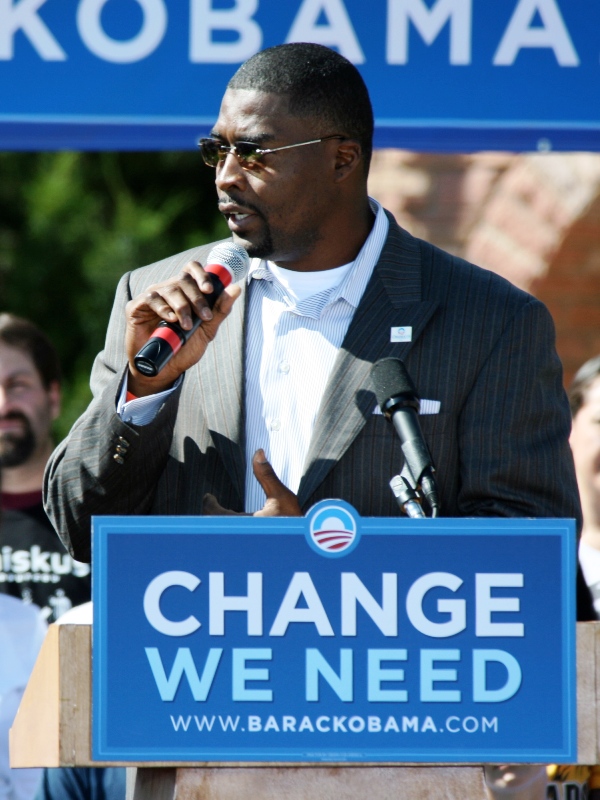 Rod Smith, former Denver Broncos wide receiver, was the next to speak, and next to Michelle's speech, his was the highlight of the rally.  He stressed what an honor and a privilege it is to vote, especially for him, since his ancestors fought and died so that he would have the right.  Smith recounted how in all the years he's been eligible to vote, he never had until the 2004 presidential election.  "I'm ashamed of myself," he said, "but now I know that I don't have any right to complain if I don't vote."  Here here!  "For many of you, this might be your first opportunity to vote in a presidential election," he said, appealing directly to the student population in attendance, which was huge, incidentally (who says young people don't care about the issues?).  "My daughter just turned 18, and she will vote this year, I guarantee it!"  Smith went on to say that he had put off registering to vote this year specifically so he could do so then and there, at the voter registration table set up on the north side of Farrand Field.  "I hope anyone out there who isn't registered will come and join me."  Leave us not forget that the last two presidential elections have been devilishly close, and the youth vote could have made all the difference in those few states that ultimately decided the outcome.
Maggie Fox, the wife of Senatorial candidate Mark Udall, spoke at the rally as well, encouraging people not only to vote for Barack Obama, but also to vote Mark Udall into the U.S. Senate.  "My husband has been working to change Washington since he was elected to congress in 1996," she said, "and was working to pass renewable energy legislation since before it became popular to do so."  The bill she was referring to passed the House when it was introduced, but fell one vote short in the Senate, a mistake that would not be made again, she said, after her husband was elected.
By the time Michelle Obama came on stage, the crowd filled the field, and spilled out in all directions – into the streets and onto the steps of the dormitories that surround the field.  Mothers, fathers, and students of all creeds and colors were in attendance, sporting more varieties of Barack Obama tee shirts (Editor's Note:  Grateful Web Make Love Not War tshirts on sale now!), buttons, and stickers than there are hipsters at an Indie Rock music festival.  Blue signs reading "Change We Can Believe In," filled the air directly above the heads in the crowd, and there were more than a few homemade banners in hand as well.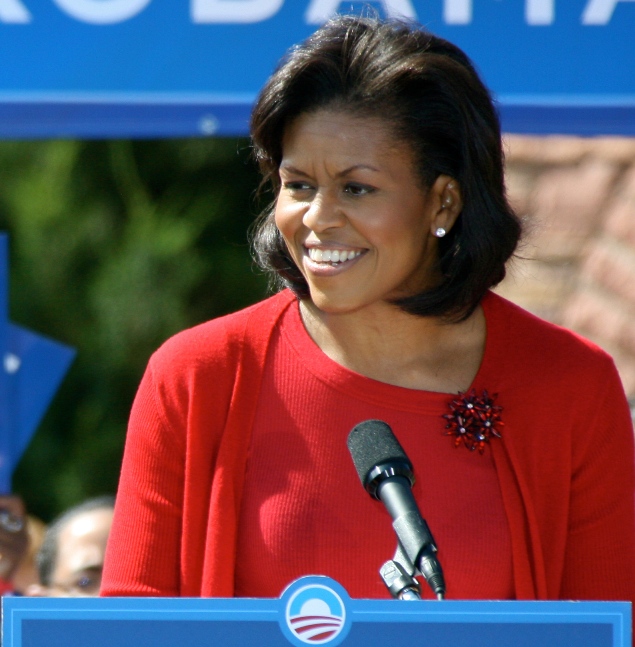 Michelle is, in my opinion, as good a speaker as her husband, but while Barack's speeches are lofty and filled with rock star energy, hers are based on a deep and emotional connection between herself and the audience, drawing the eye to the similarities between all of us.  Not that a rock star speech is a bad thing, anything that gets the populace excited about being involved in the political process is a good thing in my opinion.  I would much prefer to elect a rock star than a maverick, someone filled with positive energy, hope, and intellectual charisma rather than a fear-mongering John Everyman whose intellect goes no farther than the battlefield.  But maybe that's just me.
Pushing once again the importance of the youth vote, Michelle said it was her goal to register 4100 new voters on the CU campus.  "We're half way there," she said, and reminded everyone that registering to vote is only half the battle, the other half is to actually get out there and vote.  And Michelle Obama gave us every reason to vote, and to vote for Barack Obama.
Connection was the main theme of Michelle's speech, that and change for the better, but that's almost a given by this point in the campaign.  Michelle spoke to the audience as a mother who wants only what's best for her children and all other children too.  She spoke as a wife who knows more about Barack Obama than anyone else in the world, and who believes in his abilities down to her very core.  She spoke as a daughter who knows how bad it can be when a parent, her father, is diagnosed with an incurable disease and is unable to pay the sky-high medical bills, while her mother selflessly shouldered the burden, working all her life to support the children.  She spoke as a student, swimming in a sea of student loans, who was only able to pay them off because her husband happened to write and publish two best-selling books.  Most of all, she spoke as a patriot, someone who believed in her country so much that she was not afraid to criticize those who were ruining it.  She charged that change should be more than just a slogan, and there is only one candidate who has it in him bring it about.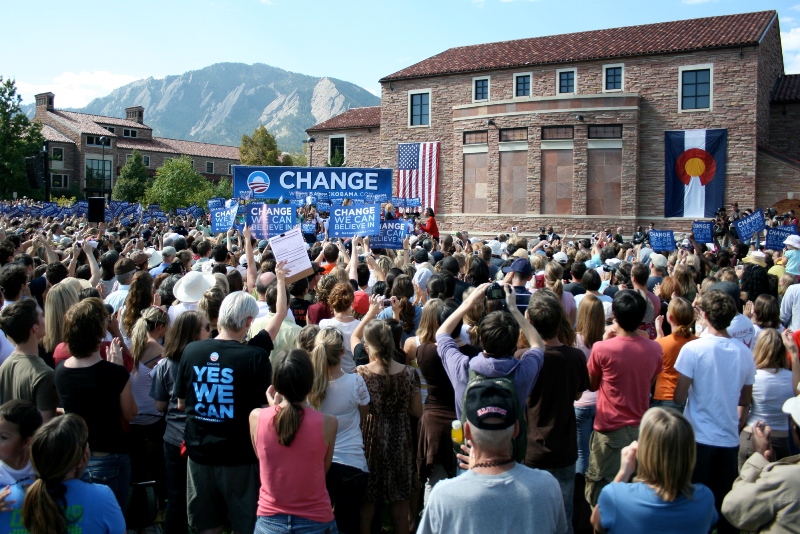 As far as Michelle Obama is concerned, there is only one candidate for president.  To paraphrase: There is only one candidate who knows what it is like to grow up in a single parent home, and to see a loved one survive off food stamps and welfare.  There is only one candidate who knows what it means to be working class.  There is only one candidate who knows what it is like to be over your head in student loan debt, and only one candidate who knows that public service is more rewarding than having your future planned out for you, only one candidate who knows what it's like in the inner cities where families can barely make ends meet.  There is only one candidate who "gets it," and that candidate is Barack Obama.  "Don't we want a president who brings perspective?" Michelle asked the crowd.  Roughly 8000 people screaming an enthusiastic "yes!" greeted her.  By providing the context behind Obama's goals of helping the working class, Michelle was directly tackling one of the biggest criticisms of Barack Obama levied by those who cannot be bothered to get to know him – that he is nothing more than a stuck up elitist.  By showing the people that Barack is more like them than they may have known, she sought to build up the sort of mutual empathy that Barack Obama's campaign thrives upon.  I think she succeeded.
"We can change our future," Michelle Obama said to immense applause, "and perhaps we can change the world!"
Yes we can!
To see more photos from the Obama rally in Boulder, please visit the Gallery, and check out my Flickr page too!