Renowned vibraphone, percussionist and lyrical mastermind Mike Dillon is one of those traveling musicians that might not always draw the largest of crowds, but is embraced by many musical communities and fans of altering genres. Boasting a resume filled with his numerous projects, including Garage A Trois, Dead Kenny G's, and the Mike Dillon Band, which he brought in tow to Denver, and working with artists spanning all reaches of the musical spectrum, he is one of those guys who you find working every nook and cranny. A staple on Jam Cruise, Dillon and his percussion set can be found jamming with everyone from good friends Galactic to the Funky Meters, but it is his vibraphone, crazy antics and snarling rap like approach to his vocals that separate him from the pack.
With tattoo splattered arms, a scarf, and his mop of always graying hair, Dillon looked like an out of place punk rock veteran as he stepped on stage at the tie-dye adorned Quixote's. With elements of go-go, free form jazz, punk rock and hip-hop, the tunes that are produced by the quartet of the Mike Dillon Band can take you from one style to another, usually within a single song, much like Professor Arturo in Sliders could time travel anywhere in the past or future within a given episode. This is aided in part to his wild cast of musicians, featuring the balls to the wall driving force of Adam Gertner on the drum kit, Cliff Hines on bass and guitar, and the wildly eccentric and stunning Carly Meyers on trombone, Moog pedals and also getting wild on the vibraphone while keeping the crowd jumping around with her nonstop Rio Carnival whistle and cheek to cheek grin. One certainly can't forget to mention the Beetle Juice black and white striped pants she wore th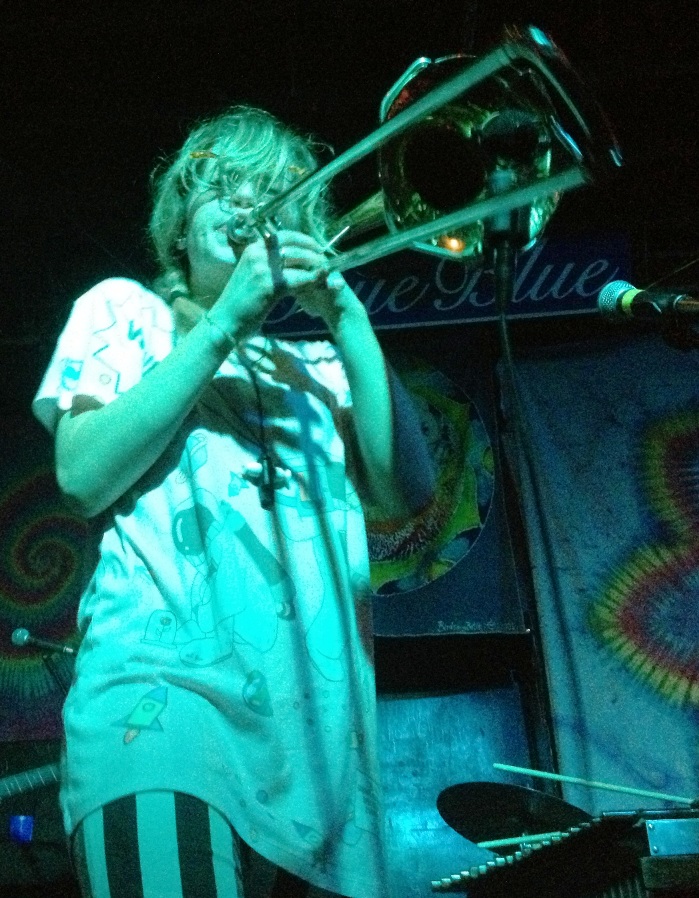 roughout the show as well, which helped her dazzle the crowd all night. I really can't say enough about Carly. Her energy level surpassed my expectations of what I had previously heard about their live shows, and her party vibe perfectly complemented the hard-edged yet humorous Mike Dillon.
Performing a slew of tunes from his various bands and projects and quite a few Mike Dillon Band songs, I tried to keep up with the ensuing madness and steer through the rough as rusty nails vocals to capture the essence of his lyrics. The drums and guitarist kept the band tight, with Cliff playing bass notes on his guitar. Adam can certainly keep a beat with the best of them, and when joined by a local guest on bass for the majority of the second set, he was the one orchestrating and leading him through the intricacies of Dillon's compositions. I remember being immediately captivated by Carly, however, and finding myself stare at her while she jumped around in her physical interpretation of the music. She even found her way into the crowd during the song "Get Small," blowing her whistle in a fervor that would leave most people who aren't used to the altitude winded and gasping while clutching an oxygen tank.
"Tortoise in a Can," a song from his work with Hairy Apes BMX, is one of the first songs to catch me and pull me into what they're doing on stage. With Adam playing a break beat style, the song bounces around and feels like a fusion of hip-hop and funk, and one can tell why artists such as Skerik and Les Claypool gravitate towards the percussion master for various projects. As Dillon slaps away at his vibraphone, each hand clutching two mallets, a slew of humorous facial expressions accompany the music and his vocals. While Adam and Cliff hold down the beat, the expressions, growls and attempts at off-beat harmonies between Carly and Dillon help keep a serious yet silly demeanor about the band, which is also how the lyrics to many of his songs unfold.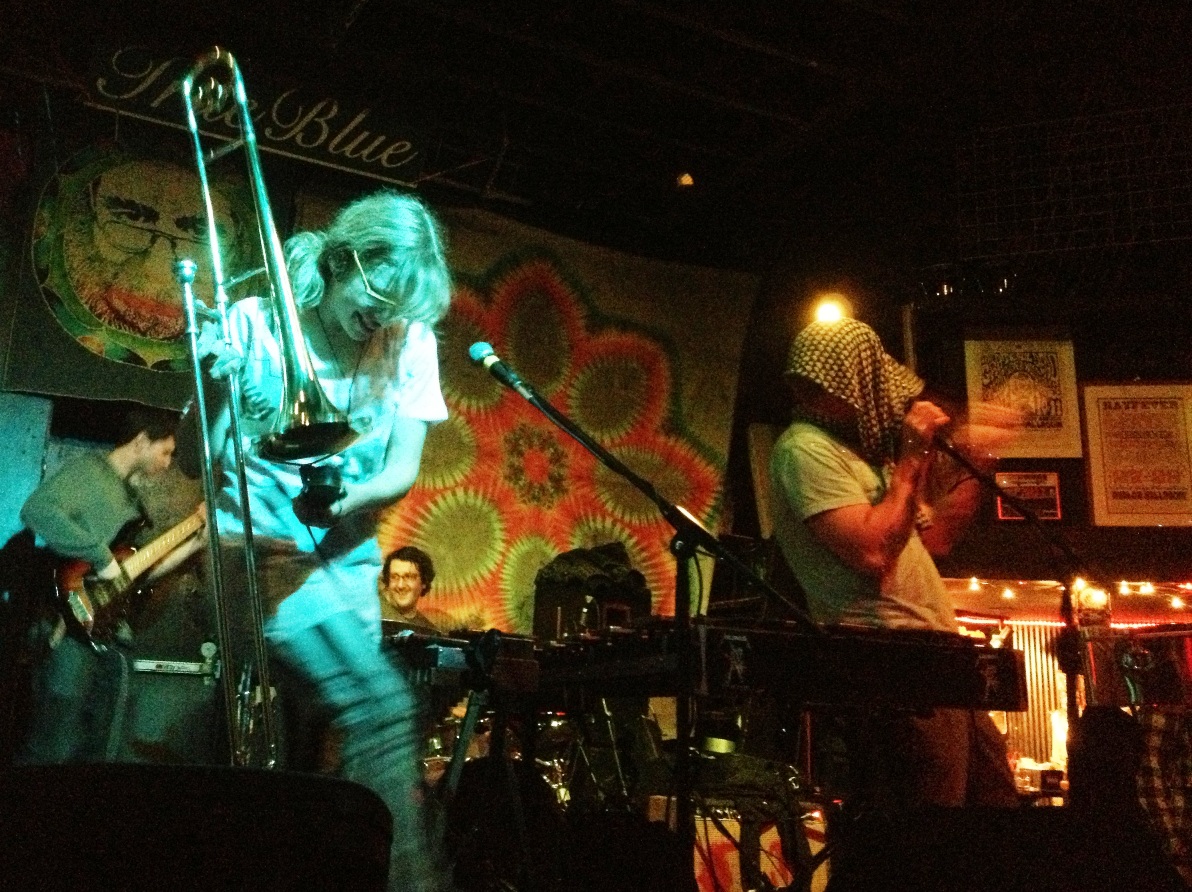 "Leather On," a song from the Mike Dillon Band's newest release, "Urn," is a wild, funky number that had the bass groove in full swing while the vibraphone and trumpet formed a ghastly melody accompanied by lyrics chock full of references to Joey Ramone and Count Basie. Dillon squeals the chorus of "Motha Fucka!" and it seems appropriate for this hip-hop minded track. He raps the vocals, which have a wildly paced be-bop feel to them that is only heightened by the trumpet. This is a continued theme throughout the night, and one fully embraced in his alternate identity as MC Silver Ice, which fully explores his urban influenced interests. "Saturn Returns" is another song where he raps the lyrics and also from "Urn," and I couldn't make out half of what he was saying until I listened to the album a few times.
While hip-hop holds a prevalent part in Mike Dillon's music, being born in the Lone Star State and currently residing in musically rich New Orleans has added layers to his influences that can come out at any point during his live shows. As many jam bands weave songs into one another, the Mike Dillon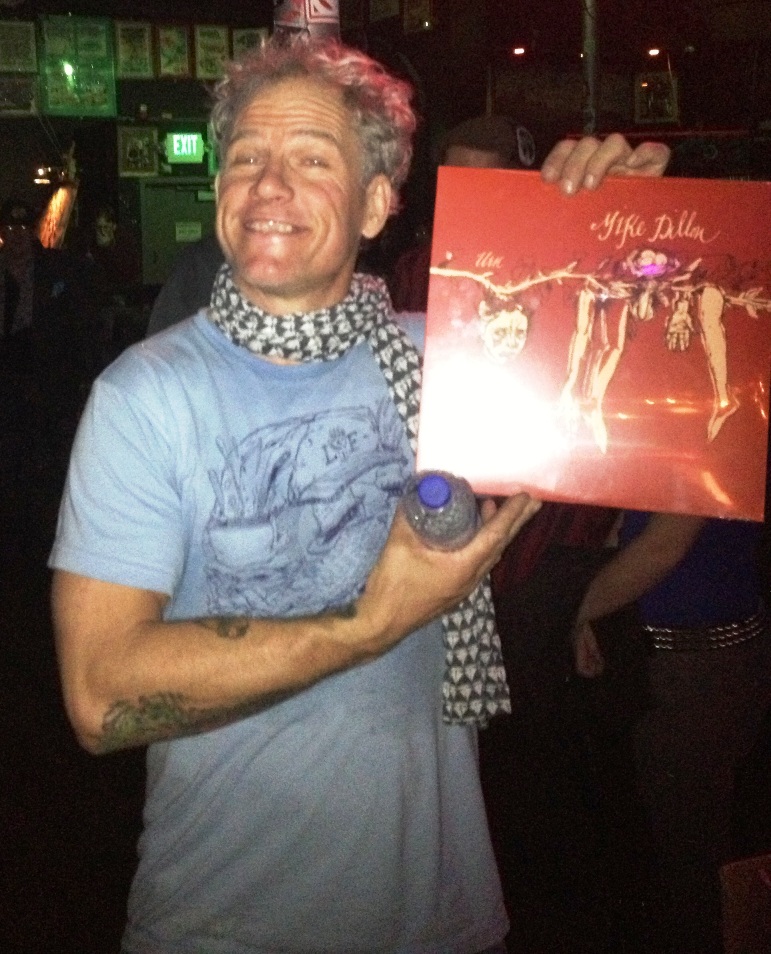 Band blends musical styles and directions into a single song. From the metal and punk rock snarls and screams to the drum and trumpet heavy New Orleans brass sound, you never know where a number is heading. Having had a multitude of projects over the years and the ability to play alongside so many talented musicians, the urban percussion fueled center of this band bleeds into every instrument and vocal, and while lyrical depth is front and center, there is no denying the talent the band brings to the music. If they were to simply jam out the instrumental tracks, the crowd would have been accepting because the group is that tight. Many bands associated with the MDB get stuck in the trap of being solely focused on instrumentals or vocals, but this quartet bounces away from labels before you can even apply them.
At some point during the show Mike started ranting to the crowd, thanking us for coming because our money goes to the big oil companies, as gasoline is one of the most taxing expenses on touring bands. He also asked for us to "give it up for Jerry, who is the only musician to keep a club open from the wall," referring to the late Grateful Dead guitarist's mural on the outside façade of Quixote's, which is a Dead-centric bar along with its brethren in Sancho's and Cervantes. I picked up a vinyl copy of "Urn" and Mike more than willingly posed for a picture with it and passed on a copy of his MC Silver Ice CD. Before leaving, I spoke to the lady who had been painting all night, and it seems that the best part about painting during a show is the ability to know when the piece is finished without the false luxury of second-guessing.