Mike Farris will play 2 sets at Bonnaroo
Submitted by mike on Thu, 06/04/2009 - 04:52
The Americana Music Association's 2007 "New and Emerging Artist" shows no signs of slowing down this summer and his audiences continue to fuel his incendiary live shows from Nashville to his recent performance at Spain's Azkena Rock Festival! Catch him whenever possible and don't miss him during his two performances at this year's Bonnaroo Music and Arts Festival!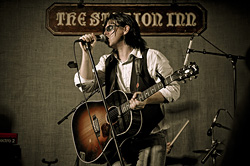 Farris' rousing and spiritual live shows have won over thousands of fans and his reputation as a force of positive energy continues to grow. This summer Farris will perform at the Bonnaroo Music and Arts Festival for the second year in a row and is one of a selected few artists performing more than two sets at the internationally respected festival. Farris, along with Phish, The Low Anthem, and Moe, to name a few, will play a full set at one of the festival's larger stages, Which Stage, and a short set at the dynamic Sonic Stage.
To round out the summer, Farris has been invited to appear at the Strawberry Festival in Yellowstone National Park in May, the Telluride Bluegrass Festival in June and the High Sierra Music Festival in July. In August, he will be opening for the incomparable Patti LaBelle at the Hollywood Bowl in Los Angeles.
These nationally and internationally respected appearances reiterate how energetic Mike's sets are live. From the SHOUT! Live record to summer shows, Mike gives everything he has to his live performance.
Featuring the McCrary Sisters and the Roseland Rhythm Revue, Mike Farris SHOUT! LIVE captures the energy, power and emotional conviction that has become synonymous with a Mike Farris performance. The album features songs from four nights of recording during the fall of 2008 and was released on both vinyl and CD on April 14th by INO/Columbia records.
Upcoming Tour Dates:
6/14/2009 - Bonnaroo Music and Arts Festival - Manchester - TN
6/19/2009 - Liberty Hall - Lawrence - KS
6/21/2009 - Telluride Bluegrass Festival - Telluride - CO
7/04/2009 - High Sierra Music Festival - Quincy - CA
7/05/2009 - High Sierra Music Festival - Quincy - CA
8/06/2009 - Heritage Place Ampitheater - Conroe - TX
8/07/2009 - Antone's - Austin - TX
8/14/2009 - Snowbird Resort - Salt Lake City - UT
8/15/2009 - Snowbird Resort - Salt Lake City - UT
8/16/2009 - Snowbird Resort - Salt Lake City - UT
8/19/2009 - Hollywood Bowl - Hollywood - CA