Minnesota | Altered States | New Music Review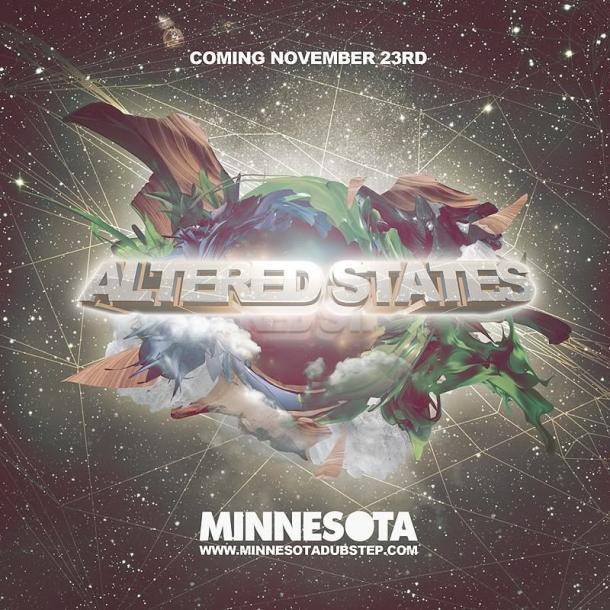 With 2012 wrapping up shortly and 2013 on the horizon, the future looks incredibly bright for 23-year-old music producer Christian Bauhofer, better known as Minnesota. Hailing from Santa Cruz, California this up and coming DJ has watched his career blossom over the last few years, sharing the stage with acts such as Big Gigantic, Ghostland Observatory, Benny Benassi, and Excision. Since the release of his first EP "Panda Snatching Tycoon" in January 2011, Minnesota has taken the electronic scene by storm by touring non-stop and constant studio work. Mixing heavy elements of bass and glitch, infused with melodic hip-hop beats has given Minnesota a reputation as one of the premier DJ's in the scene today.
Minnesota's newest EP, Altered States, perfectly captures the production skills and creativity that Bauhofer possesses. Blending many sub-genres of electronic music into a well-orchestrated piece, Minnesota's sound is unique and a breath of fresh air for the EDM scene. "I don't like to limit myself to one type of bass sound. I embrace many sub-genres of music including trap, moombahton, drum 'n' bass and more," says Bauhofer. Diving into a world of heavy hitting high-hats and trap-infused beats, Altered States provides us with a variety of different sounds. The open track off the EP, "To The Floor", shows Minnesota using slowed down vocal samples to propel a massively catchy beat. Hip-hop roots flow throughout the entire album; from the collaboration with Zion I on the haze-infused track "Float", to the opening minutes of "Yoga Pants", which gives off a 90's west-coast gangster rap vibe. All 5 tracks on Altered States are distinct and bring different components of electronic music to the table. Evolving constantly into new sounds, it's this versatility and creativity that makes Minnesota stand out from the rest of the current producers today.
There's no doubt Christian Bauhofer has been putting in work since his last release. Dominating the Hype Machine Charts with his #1 remix of Adventure Club's "Need Your Heart" (Ft. Kai), the future is only looking brighter for this young producer. Minnesota is set to close out the year with performances at Snow Globe Music Festival in South Lake Tahoe and Lights All Night in Dallas. Be sure to catch this beat monster on tour throughout winter 2013 and at a festival near you. So, when discussing what's in store for the future of electronic music, it's safe to say Minnesota is here to stay.