MLB Opening Day: There's Nothing Like It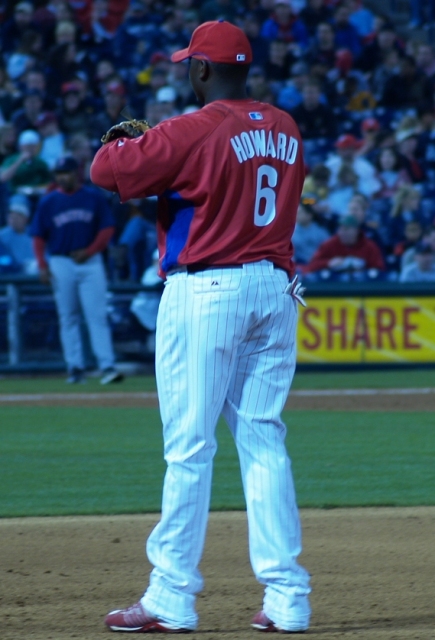 It was sunny and 78 degrees in Philadelphia for the Phillies home opener against their rival Atlanta Braves. People were out and tailgating for hours. The old rag time bands were playing outside of the stadium and people were wearing their brand new jerseys mostly representing the reining league MVP Ryan Howard and all-star Chase Utley. The U.S. Navy came down in parachutes and fireworks lit the day sky with colors for the annual opening day festivities. Opening day in the major leagues is truly like nothing else in sports. Many people make excuses to take off from work or school and over pay at sold out stadiums all over the country in order to take place in this special American tradition. I went, with my dad, like so many others to Citizen's Bank Park to watch our favorite team kick off their season.  Unfortunately, there was a disappointing result as Edgar Renteria's two home runs on the day ended up winning the game in extra innings. Although it was a decent start from starter Bret Myers, the Phillies bullpen is already showing signs of weakness.
But before this game, there was a rematch of last year's NLCS that took place the night before where the New York Mets took out the World Series Champions St. Louis Cardinals thanks in part to the 41 year old opening day veteran Tom Glavine. There were a lot of pre game celebrations at Busch Stadium for the champions. The Budweiser Clydesdales trotted out along with a motorcade of the all of the Cardinals led by hall of famers Stan Musial, Lou Brock, and Bob Gibson. Unfortunately for them, Paul Lo Duca and Carlos Delgado had other plans for the new season. Lo Duca posted 3 RBI's and Delgado put the Mets ahead with an early two run double.
Around the league yesterday another New York team made waves with their 10th straight opening day victory. The Yankees honored the late Cory Lidle, and then they went on the beat Tampa Bay 9-5 thanks mostly to an explosive offensive cast. Alex Rodriguez and Jason Giambi made their mark early and won over the tough New York crowd. Rodriguez struggled at times last year with the media, but with a leaner and his stirrups pulled up, A-Rod is looking for a new outlook on the season. Rodriguez's home run was credited to the fact that he hits behind Bobby Abreu, a specialist in hitting the ball to the opposite field.
American league rival Boston Red Sox didn't have as much fun yesterday. They were upset badly by the usual whipping post of baseball, the Kansas City Royals. Pitcher Gil Meche showed that he wanted to earn every bit of his club record five-year $55 million contract. On the other side of the spectrum, Curt Schilling displayed slower velocity in his fastball and a heavier appearance on the mound. "Physically, I felt fine. I just didn't execute and didn't adjust," Schilling remarked after being pulled after only 4 innings.
Another upset happened in Texas as the Pittsburgh Pirates stuck it to the playoff caliber Houston Astros in extra innings when Jason Bay hit the ball deep for a two run shot.
For the new look Cubs and their $300 million off season, the tradition of losing stayed the same. Lou Pinella or Alfonso Soriano couldn't bring good fortune to the only team plagued by a goat in the majors. The Chicago Cubs lost 5-1 to the Cincinnati Reds. Adam Dunn made Carlos Zambrano pay after he walked Ryan Freel on four straight pitches to start the game.
The Colorado Rockies manager Clint Hurdle and GM Dan O'Dowd were handed good news about their contract extensions just moments before they lost their first game of the year to the Arizona Diamondbacks. The Rockies are trying to have their first winning season since 2000. I'm routing for them because I know that the fans in Colorado need to see a good baseball product badly.
"Win Twins" has always been a motto that I would rout for. And win was what last year's Cy Young winner Johan Santana did. But, most of the credit belongs to Justin Morneau, who went 3-4 with a home run and 2 RBIs to beat the Baltimore Orioles 7-4.
Big Ben Sheets was tougher than ever in his healthy midseason form 2 hitter debut. "Opening day," Sheets said. "I've got a sumo wrestler wrestling in my belly. I was nervous." That didn't seem to affect his performance at all as he rolled past the Los Angeles Dodgers 7-1.
Dontrelle Willis' lights out 6 innings accompanied by Miguel Cabrera's 4 RBIs and Hanley Ramirez's 4 hits and 4 runs set the table when the Florida Marlins destroyed the Washington Nationals. Fredi Gonzalez enjoyed his first victory ever as a coach while on the other side newcomer Manny Acta not only lost the game, but lost a quarter of his starting lineup before the fifth inning.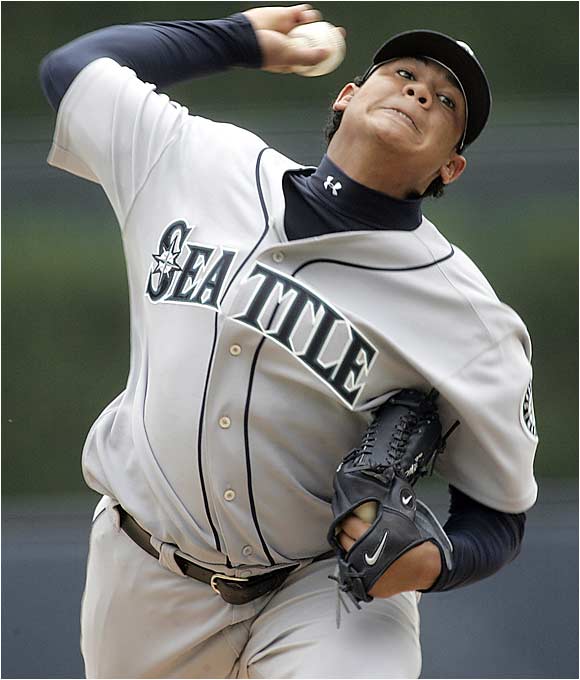 On the other side of the country, the 20 year old phenom pitcher, Felix Hernandez struck out 12 of the AL West champion Oakland A's batters and posted a clean shutout in his first appearance of the year. "That's as good as I've ever seen him - but in my mind, that's what he's supposed to do. He's got that good of stuff," said Mariners outfielder Raul Ibanez. This could lead to good things in Seattle.
The AL Champion Detroit Tigers pitcher, Jeremy Bonderman was not that fortunate. After getting roughed up in the first, his teammate Fernando Rodney allowed Troy Glaus and Alex Rios to make him pay for the runners he put on base in the 10th. Roy Halladay allowed just 2 earned runs on 6 hits in 6 innings for his first decent start of the year.
After many scares, John Lackey came through to lead the Los Angeles Angels to a late 4-1 win over the Texas Rangers, which spoiled another managerial debut. New coach Ron Washington will have to try again next game as he faces Kelvim Escobar tonight.
The blow out of the day was in Chicago where the White Sox got embarrassed by Grady Sizemore and his Cleveland Indians. Sizemore homered off of Jose Contreras on the game's second pitch. "You're definitely excited," Sizemore said. "I was a little jacked up there. The crowd was getting into it." The Indians haven't scored that many runs on opening day since 1925.
*************************************************************************
1.
Wakarusa Music and Camping Festival 2006 (6/19/2006 1:47:07 PM - http://www.gratefulweb.net/photos/photoInterface/photos.aspx?direct=Band...)
One of everyone's wives' and girlfriends' favorite bands came next. Michael Franti's energetic and charismatic stage presence allows people to fall in love with him and hang on his every word.
2.
Wakarusa Music and Camping Festival 2006 Part II (6/23/2006 5:23:27 PM - http://www.gratefulweb.net/photos/photoInterface/photos.aspx?direct=Band...)
I would like to end with a quote from musician J.J. Graves from Mofro. He said, "I'm not too good with genres. We are all individuals, and I don't give a shit about grouping. It's about relating." Wakarusa was about their musicians and their audiences relating.
3.
JGB @ the Fox in Boulder (7/18/2006 8:59:44 AM - )
The Jerry Garcia Band has been an inspiration and the "keepers of the flame" for serious dead heads for years now after the passing of the band's namesake. It is lead by the great Melvin Seals who Jerry nicknamed the Master of the Universe because of his many talents.
4.
N'awlins Funk Visits the City of Brotherly Love (2/6/2007 4:34:53 AM - )
"Y'all wish Ben (Ellman) a happy birthday," Papa Mali preached to the crowd as he strolled off the stage after a fun set of music. It was the first night of February at the Theatre of the Living Arts in Philly on its famous South Street. Galactic was playing only the second show in their long spring tour, and it was on, N'awlins style.
5.
Moest Underrated? (2/18/2007 8:32:38 AM - )
I have always felt that moe had never truly gotten the respect that they gratefully deserve. It is slowly dawning on fans of the jamband and other scenes that moe is for real. Coming off the release of an amazing new album The Conch, that even Rolling Stone gave 4 out of 5 stars to, moe came to Philly to rock.
6.
Charlie Hunter Resident Magician (2/19/2007 4:12:09 PM - )
Guitar player, bass player, virtuoso, jazz and blues legend, and magician are all titles that describe the sorcery that Charlie Hunter creates so effortlessly on stage. Taught originally by guitarist Joe Satriani with a $7 guitar in Berkeley, and since then collaborated with dozens of incredible musicians, Hunter has certainly made his mark at a young age as a guitar great.
7.
Skatalites: Inventors of a Genre (3/3/2007 5:12:16 AM - )
The Skatalites took the stage with a countdown and went right into a familiar Skatilites opener "Freedom Sounds." The crowd of mostly white ska swingers went crazy. It was so interesting to see ska dancers. These guys know how to move. It looked like a combination of swing dancing and moshing.
8.
The Bad Plus the Real O'Riley Factor (3/4/2007 5:49:44 PM - )
Searching for a completely new live jazz sound can be difficult these days. That's not to say that it can't be found. The Bad Plus is a trio out of Minnesota that to me created its own genre sound called: classical jazz. I call it that because of the mastery of the movement of sound that the band creates. This band can bring a familiar tune to your ears through a whole different avenue.
9.
Forever Evolving: The Slip (3/17/2007 5:46:33 PM - http://www.theslip.com)
Most of the night was graced with many of their songs from the highly touted new album called Eisenhower. This album got a lot of press this winter with its release, being that the band's sound evolved again drastically, this time to the extreme pleasure of many of its listeners new and old. The contemporary avant-rock trio has a long history touring, but for some reason this album captured the hearts of independent radio stations, other musicians, and people of all different musical tastes.
10.
The Raw Power of Rose Hill Drive (3/22/2007 12:21:13 PM - )
Tinnitus: the perception of sound in the ears or head where no external source is present. Someone with tinnitus often describes it as "ringing in the ears," but people report hearing all kinds of sounds: crickets, whooshing, pulsing, ocean waves, buzzing, even music.
11.
Page McConnell's 1st Show: Coming Full Circle (3/31/2007 4:37:21 PM - )
The only conversation topic welcomed by Page in this era of moving forward was the acknowledgement of being a Philly boy and his birth at Chestnut Hill Hospital. Page carefully deflected every question about Phish and his college thesis writing days at Goddard. He seemed dignified and determined to move forward, and although I miss those days as much as anyone, this project is a good time. The crowd has progressed as well. Let's face it we're older now too. The "Fluffhead" chants continued and the "woo hoos" brought back memories, but as Bob Dylan once noticed, "the times they are a changin'."
12.
Dean & Britta: New, Old, and Wistful (4/3/2007 1:23:01 PM - http://www.deanandbritta.com)
These two superstars along with their new band are touring in support of their new album called Back Numbers. They admitted being a little nervous since this was their first live show in two years, but their sound never dulls. They opened with the first song off the album called "Singer Sing." Britta's gorgeous and tantalizing voice crooned the lyrics, "while you were sleeping, I caught you dreaming/ singer sing that song/ driver drive along."