Molly Sweeney: Gold Rings and Fur Pelts
Submitted by mike on Mon, 06/27/2011 - 02:34
One of the most compelling new voices to emerge from the Montreal music scene, singer-songwriter
Molly Sweeney's
debut album
Gold Rings and Fur Pelt
s features nine songs that conjure up an elemental world of longing, passion, and poetry in a classic concept-album format. From a journey foiled by fate to a poignant French chanson of faithless love, these folk-infused torch songs explore the dark side of rapture, showcasing her sultry, dramatic vocals and enigmatic lyrics.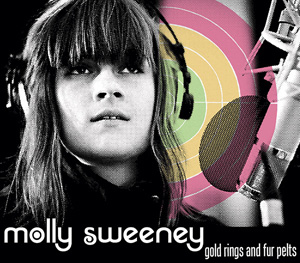 A regular on the Montreal circuit,
Molly
has shared the stage with a diverse slate of musicians including
White Magic
,
Elfin Saddle
,
Josephine Foster
,
Scout Niblet
t,
MV and EE
,
Simon Finn
,
Matana Roberts
and
Sally Seltmann
, and performs with
Sam Shalabi's
Land of Kush both onstage and on their critically acclaimed 2009 release
Against the Day
and 2010 release
Monogamy
.
--
Track List:
1. Swollen
2. Not Faithful
3. Florida
4. Gold Rings and Fur Pelts
5. Full Moon
6. Eros and Psyche
7. You Mustn't Worry
8. Spirit, Will I See You
9. Radiant Sun
--
Personnel:
Molly Sweeney: voice, guitars, tiple, autoharp
Jérémi Roy: upright and electric basses
Xarah Dion: keys
Molly McGivern: violin and morin khuur
Patrick Conan: drums
Gavin John Sheehan: electric guitar
Miles Perkin: upright bass
Becky Foon: cello
Gen Heistek: viola
Philippe Lauzier: bass clarinet
Jen Reimer: French horn
Jason Sharp: baritone sax
Sarah Wendt: French horn