"The biggest and most badass show in Motet history!" - Dave Watts
In music parlance, "masterpiece" is a word used to describe the crème de la crème of albums and songwriting. In a game of word association, I might respond to the prompt of "musical masterpiece" with Pet Sounds or Yankee Hotel Foxtrot…maybe Tomorrow Never Knows or Shine On You Crazy Diamond. But after this past weekend, studio creations would not be on the tip of my tongue. Instead, I would blurt out "Motet-Fillmore-4/20/13". In the 15 years I have been going to shows, I have heard my share of beautiful and complex music improvised to perfection. But I've never walked away from the venue with the word "masterpiece" ringing in my brain. On Saturday, Motet took me on a two and a half hour journey to a plane of aural – and physical – nirvana I didn't even know existed.
Dave Watts, the band's drummer and leader, said they put a lot of time and energy into preparing what he dubbed "the best show of our 12-year career". And it was salient almost immediately during the second song of the set: Nemesis. This Motet original was the perfect synthesis of pulsing groove, mid-tempo EDM, and horn section funk and it was executed like never before. The preparation was self-evident by the opulent syncopation and spacing of notes within any given bar – it seemed like each musician knew which quarter or eighth note he was responsible for and filled it accordingly. Nobody was playing on top of each other, but passing the baton effortlessly, in lightning quick increments. Garrett Sayers insinuated a very raw bassline to anchor this rhythm-driven instrumental. Matt Pitts took over about halfway through with a brilliant, polished tenor sax solo. I wouldn't have blamed him if he "overplayed" it (with too many notes) due to the plush tones of Sayers's bass, but he was patient with his voicing and enhanced the sound with generous doses of vibrato.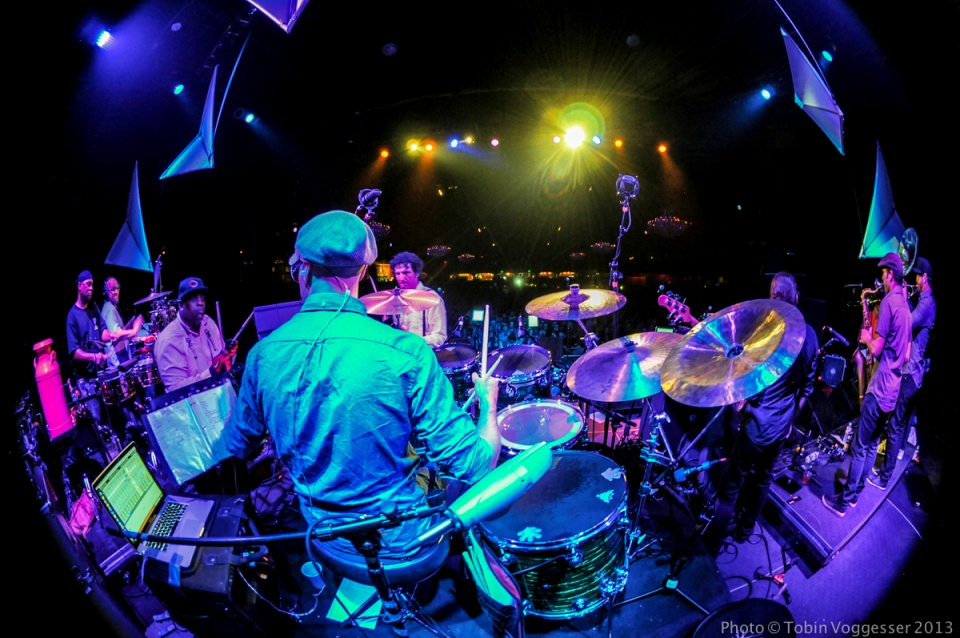 However, it was the final two minutes of Nemesis which made me realize that this show would be a wholly different beast than any other to which I've born witness. In the cradle of the groove, the sonic dynamics metamorphosed into a velvet sea, cloaking the crowd in all its sumptuousness. Joey Porter used a crystalline trance tonal effect on his keyboard while mimicking the bassline many octaves higher on the scale. The timbre made me think of lavender snow glazing my skin on a hot summer day. During this crescendo, Pitts, along with Gabe Mervine (trumpet) and Serafin Sanchez (baritone sax), hammered out protracted, single-note waves of sound that swelled and fell and swelled again. Finally, Sayers punched his strings in blasts of thunder and the entire Fillmore rattled and shook like never before. For those final bars, I doubt any of the 3,500 in attendance had both feet planted on the floor. I'm not sure it was physically possible.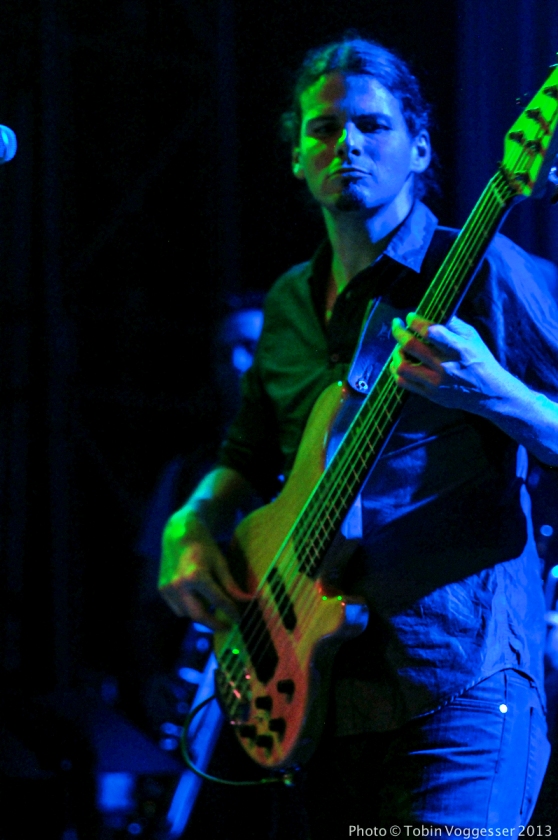 Nemesis could have been the highlight of the night, but it was matched on many other occasions, including Girlfriend is Better, Closed Mouth, and Shakedown Street. I cannot overstate how integral Sayers was to each piece. He developed a soulful, but wickedly potent, groove and then, when it was time for a crescendo or accelerando, he took the reins with the type of confidence I've never seen in him before. He attacked the groove with an air of total authority and the band responded in kind.
While last year was a two-set affair, this year the band performed one set to ensure maximum music before curfew. But one thing did not change – the 420 Medley. Pass the Dutchie > Legalize It were slightly down-tempo reggae pieces, with guest vocalists Kim Dawson and LaDamion Massey showing off both their singing and dancing chops. I know I mentioned this in each of my previous three Motet reviews, but I cannot help but point out how hypnotic it is to watch Dawson and lead singer, Jans Ingber, cast about the stage. They are not only phenomenal vocalists, but they wouldn't be out of place at any dancing competition. Their silky movement and joie de vivre smiles lather even more sex appeal onto a sound that is already teeming with it. At times, they motivate the crowd as much as the music does. Rick James's Mary Jane closed out the medley on a night that was, for those on stage and many in the crowd, a celebration of Colorado's vote to legalize marijuana last fall.
Motet finished the set with an 11-minute Parliament medley. After Handcuffs > Mothership Connection, they appropriately closed it out with Tear the Roof Off The Sucker (Give Up The Funk). In perfect upper register pitch, Dawson howled, for 12-seconds, "Yeaaaahhh!" and followed it with bursts of "Yeahh Yeahh! Oh-oh-oh yeah-hah! oh-oh-oh yeah-hah!....Yeah! Yeah! Yeah! Yeah! Yeah!" And I don't at all feel strange for transposing that single word in all its climactic incantations because Dawson was channeling the Fillmore crowd's feelings. We were all climaxing together and she simply gave voice to our collective ecstasy. It will be a long time, if ever, before I forget her sublime roar.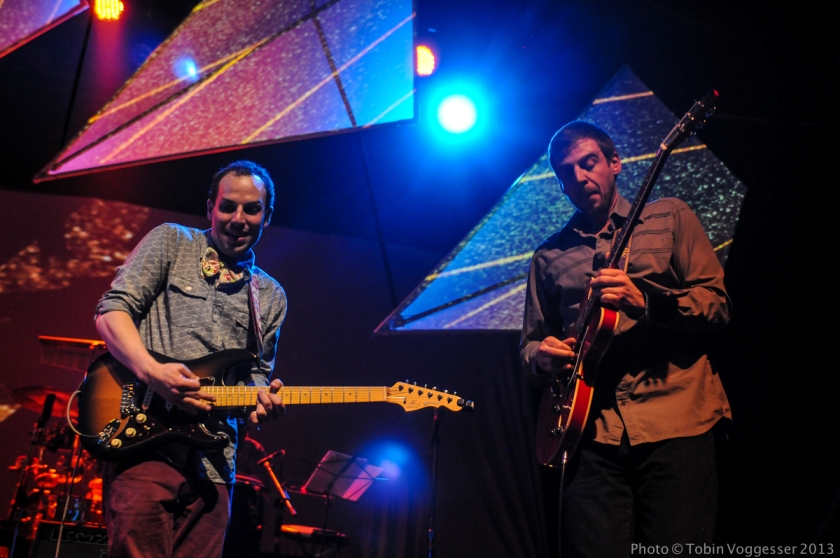 Dan Schwindt took over from Dawson with a commanding guitar solo that segued into the final refrain from the trio of vocalists. I'm not sure if they kept singing "And we funk you!" or "And we love you!" – but either way, the message was blasted loud and clear as the crowd erupted in a roof-shaking frenzy.
If Motet hit curfew after the Parliament Medley, I would have been more than satiated. But they had time to put an additional exclamation point on the evening and did so with a blistering Shakedown Street encore. Guitarist Ryan Jalbert paid homage to Jerry Garcia, using a tone that faithfully mirrored the heavy wah-wah of his Mu-Tron III. Not only that, Jalbert deftly phrased most of his disco-inspired solo either on top of, or behind, the beat – a common nuance that Jer deployed on this Dead powerhouse. Jalbert's exquisite solo segued back into the main riff, but after the next verse, Dawson, Ingber, and Massey surprised the crowd with a minute-long harmonized scat, reminiscent of the Phish vocal jam at the end of You Enjoy Myself (but far more textured and stylized). Porter then deployed his talk box to build off of the trio's scatting. The band closed out this monster cover, and a monster of a night, with a short but smoldering groove carved out by Watts and Sayers.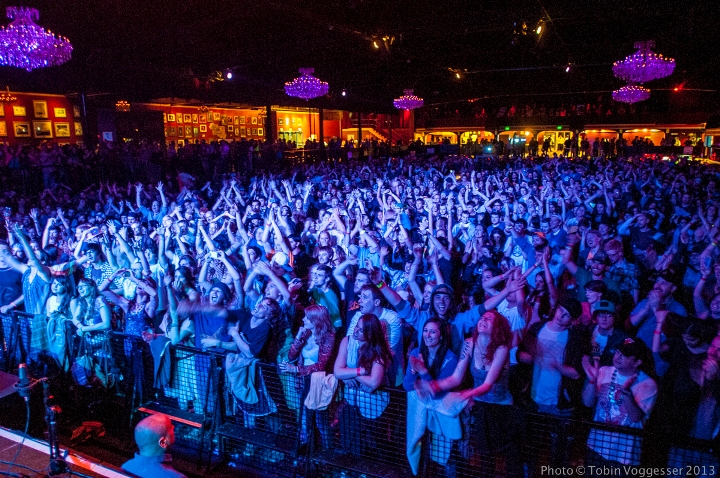 As I mentioned before, this is my fourth Motet review and I think it will be my last for a while. There are only so many superlatives that I can heap on a band before I literally run out. I know that there are a lot Phans and Deadheads who read reviews on this site. As you probably discerned from the last paragraph, I count myself in both of those clans. If you have yet to imbibe in the brilliance of The Motet, you are doing yourself a huge disservice. I've had friends who say they can see God during an extraordinary Reba solo or feel the touch of divinity when dancing to a supreme Eyes of the World. I don't doubt them for a second. I feel it too, but just couch it in different language. I like to describe those unique solos or songs as a slice of heaven on earth. But at a Motet show, you don't have to settle for a slice. You can have the whole pie! Hours - not minutes. This band is going to blow up. They played to a capacity crowd of 900 at Cervantes last April and, just a year later, almost sold out a 3,700-capacity Fillmore Auditorium. They're hitting the East Coast as we speak, Jazz Fest in May, and Wakarusa at the beginning of June. There are few guarantees in life. But if you attend a Motet show, you are guaranteed to "Dance Your Ass Off!"