The Motet | Fox Theater | Boulder, CO | 12/31/12 | Review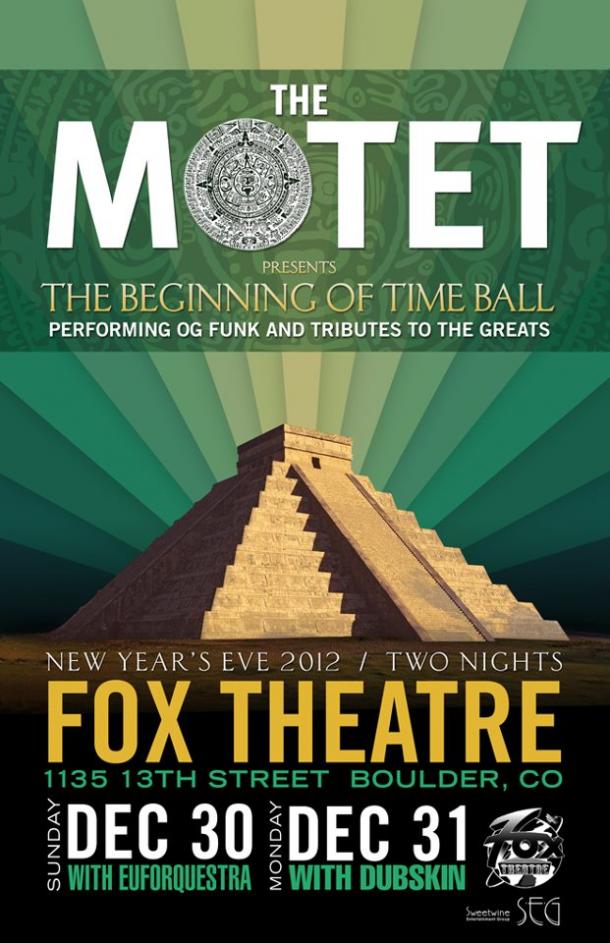 The first time it happened, in December of 2001, I was in a room roughly the size of The Fox Theatre in Boulder. I stood ten feet from the edge of the stage while my girlfriend and her sorority sister shared a stale rum 'n' coke beneath the east wall jungle mural. Ekoostik Hookah, an Ohio-based jamband, launched into the eurhythmic, tom-driven section of their epic piece, Ecstasy. Guitarist Steve Sweney trilled and leaned heavy on his wah-wah while Dave Katz made the music float on the wings of his organ's reverb. A minute or so into this final section, I looked down and was flabbergasted. My hips and feet were moving but I never remembered telling them to move. Similarly, I noticed my arms, shoulders, and torso were jerking and swaying and it seemed all but involuntary. I looked over at my girlfriend and she shot back a moue of horror and humiliation. Before that concert at The Canopy Club in Urbana, Illinois, we had attended dozens of shows over two years and neither of us ever deigned to dance – mostly because we weren't blessed with innate rhythm and wanted to avoid the accompanying derision. But the music insinuated itself into the deep recesses of my brain and I had no say in the matter. My dancing was awful, but any sense of embarrassment was drowned out by the feeling of…well, ecstasy. The music made my body come to life like it never had before. And the euphoria that ensued extinguished any self-consciousness.
Fast-forward 11 years to Motet's New Year's Eve blowout at The Fox. My own timing and rhythm has improved dramatically and I began dancing up a storm during their opening cover of Prince's funk reverie, 1 + 1 + 1 = 3. About two minutes in, I noticed a guy, 24 or 25, off to my left. His limbs twitched and jerked as if they were at the mercy of involuntary spasms. And that's when I had a vivid flashback to my Canopy Club awakening. Despite the awkward jolting of his torso and hips, I saw a man letting his desire for happiness override his fear of negative judgment. While I can't say this for my own girlfriend, his significant other danced ever so smoothly next to him and, to her credit, not once shot a discouraging look his way. He was breaking free from the rigidity of both his mind and body. I couldn't help but smile. And I imagine the nine musicians up on stage did the same.
So what the hell does this have to do with Motet's brilliant sold out NYE performance? This will be my third review of the band in 2012. In the first two, I certainly touched on visceral reaction fans have to the band's extraordinary funk, Afrobeat, and jazz aesthetic. But it's high time for me to make it a central focus. A concert review, after all, is not inherently a music review. The word comes from, among other derivations, the late Latin concertāre meaing "to work together". For me, this not only encompasses the musicians, but musicians and their fans working together to make the best music possible. In an earlier review, Dave Watts, Motet's sui generis band leader and drummer, averred, "We find that when the audience is excited about a song, that energy flows directly into the band and back out the music again, creating a positive feedback loop." I likened that positive feedback loop to an electrical circuit.
Since that December night at The Canopy Club, I have been to hundreds of concerts and some of them have been so memorable that I actually dreamt about them years later. But my body has never been infused with the type of searing electricity that it feasts from at a Motet show. When I think about why this is, my mind wanders not to the actual underpinnings of composition and improvisation, but to the intensity the band creates. I've lost myself in Michael Kang's (String Cheese) uplifting mandolin solos while spinning like a whirling dervish. I've shed tears of joy while doing the chicken boogie during an obscenely beautiful Harry Hood (Phish) jam. But I have never danced like a corybantic lightning storm until I set foot in the Boulder Theater for my Motet baptismal, Halloween 2011.
And exactly 14 months later, the wattage has only increased. Motet blanketed the evening with muscular covers by the likes of Earth, Wind, and Fire, Tower of Power, Michael Jackson, Talking Heads, and Fela Kuti while sprinkling a few original compositions into the mix. The horn section, comprised of Matt Pitts (tenor sax), Gabe Mervine (trumpet), and guest baritone saxophonist Serafin Sanchez, is always a driving force behind the arrangements, fashioning another layer of harmony, rhythm, and solo work. Its command and ebullience was on greatest display during the highlight of the night: Kuti's Expensive Shit.
The 16-minute long powerhouse was accentuated by Pitts's latin jazz and funk solo and Garrett Sayers's silk and thunder bass line. This was the song which actually made me start talking to myself: "Slow down! Slow down!" But I couldn't. While my personal rhythm might have improved from 2001, there was still a lingering sense that the music could coopt my body from my brain. But it was more than just the music. Lead vocalist Jans Ingber's perpetually sthenic, yet totally fluid, movement across the length of the stage was the catalyst that propelled me just as much as the sound. He is a phenomenal dancer who seems to incorporate everything from the ferocity of hip-hop to Michael Jackson's early '80s smoothness and ingenuity. Sporting a blue, short-sleeve Oxford shirt and skinny red tie, Ingber was the Pied Piper and Energizer Bunny rolled into one and convinced me, even when I was short of breath, to maintain the intensity throughout Expensive Shit. My brain pleaded with me to slow down, but Ingber and the music cut the brakes. And I'm glad they did because it was a moderately cathartic experience.
If you are a Motet veteran and came upon this review hoping to catch a glimpse of the music from New Year's Eve, I sincerely apologize. The aim of this piece was not to relay what was played or opine about the sound. Instead, I took this opportunity to influence fans who may be a fixture in the jamband scene but have yet to venture out to a Motet show. The Boulder area has a core of improvisational mainstays like String Cheese, Leftover Salmon, and Yonder Mountain String Band. While The Motet's arrangements and genre spectrum do not much resemble those of the other bands, its improvisational skills, adroit soloing, and overarching energy fit squarely in the jamband tradition; it is music that will surfeit you with emotional and psychic energy after draining the last ounce of stamina from your body. It is music that can convince just about anybody - like the guy who took his training wheels off during the Prince cover – to dance like nobody's watching. The band's enthusiasm and musical chops, combined with the crowd's energy, will all but guarantee a night to remember. New Year's Eve 2012 certainly was.