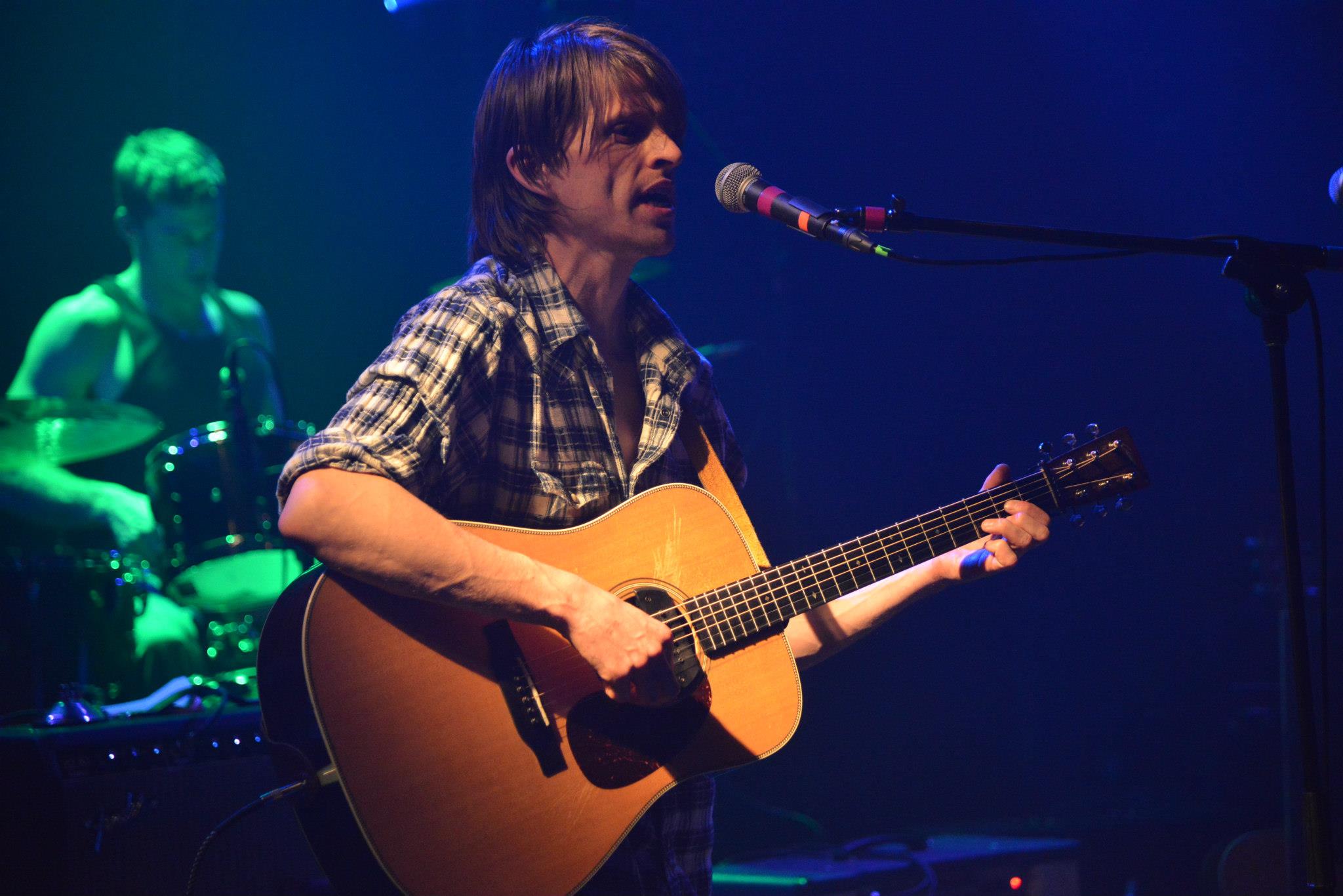 Boulder County favorites Mountain Standard Time and their annual front range Mardi Grass celebration at the Fox Theatre has become something of a right of passage, and a pilgrimage for Ned Heads, Denverites, and their fan base grown from classmates and neighbors. With Boulder's favorite venue filled with Mardi Gras beads, and a line forming down the block spotted with costumes, it was evident that word had spread. Whispers of a sell out were in the works. Crowds started forming at the bars. It felt like a Boulder reunion for all of the faces that had lost touch over the years. Nearly everybody knows somebody in the band, and they've come to support their musically talented friends on the stage that has propelled so many local bands into national prominence. Even if you descended upon the Hill solo, you'd be basking in the beer and whiskey in no time, embracing friends with a neck full of beads.
Lake Tahoe's Dead Winter Carpenters got things going early with Jenni Charles' hootenanny fiddle. They played a set full of traditional country-folk that the crowd certainly enjoyed and it was no surprise that Jenni seemed to garner the most attention. Joining her was Dave Lockhart on upright bass, Jesse Dunn and Bryan Daines on acoustic and electric guitars and drummer Justin Kruger. Their string composed, folk tapped harmonies focused around Americana and the west as if they were transplanted from another place in time. They covered "Black River Killer," Blitzen Trapper's lyrically progressive story of death and betrayal.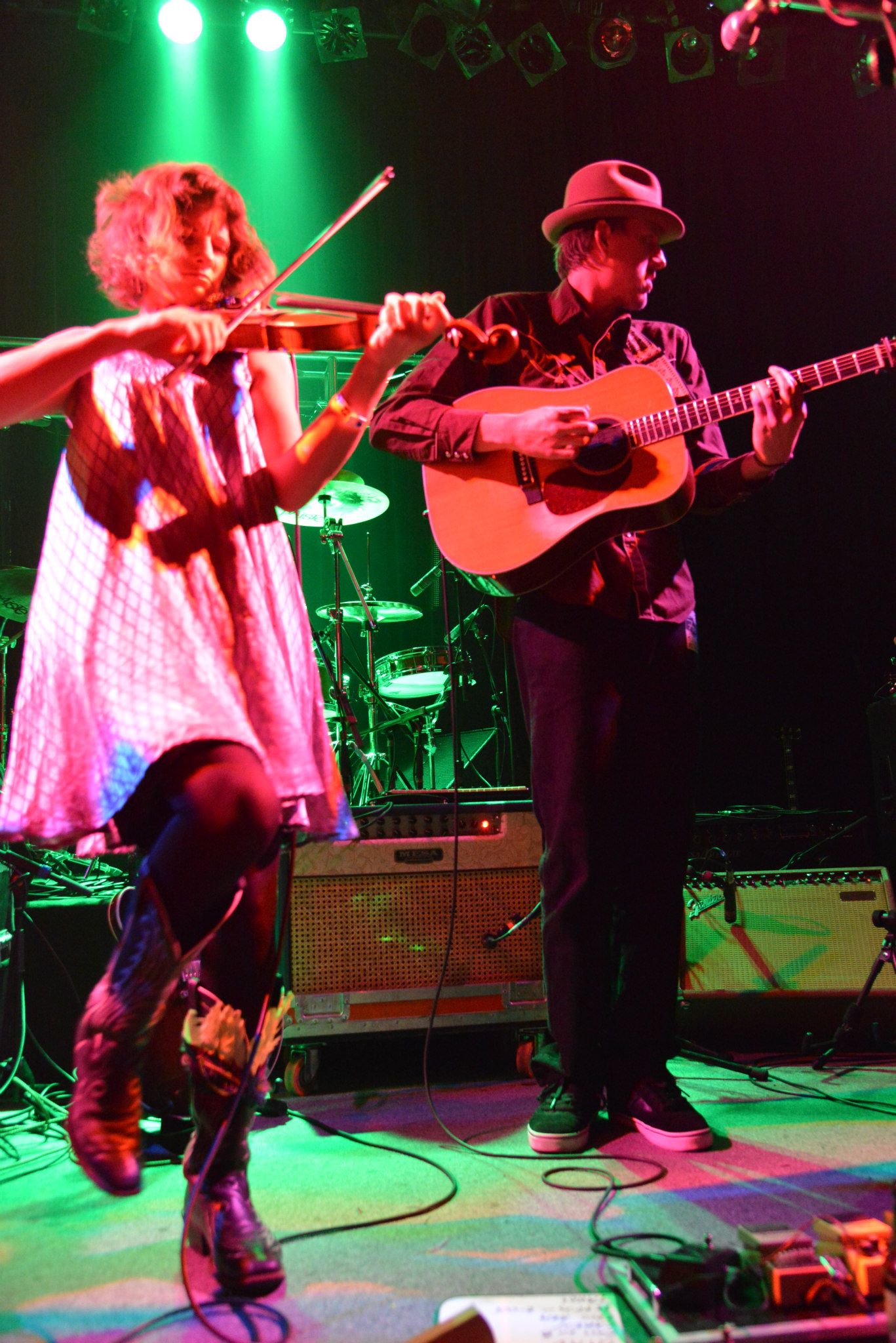 MST took the stage to a room full of eager friends and fans hooting and cheering before picking away any residual rust remaining after two rowdy shows in Ft. Collins at The Aggie and Denver's Bluebird Theater. "Fairy Meadows," an instrumental off of their brand new EP, "Sunny," allowed the band to get into an early groove and showcase their individual talents. Guitarist Stanton Sutton led the way as the only original member, though this in no way detracts from the music or the bands' cohesion, and in fact, the change in the lineup has rejuvenated MST. With Ryan Ebarb fingering the ivory, we're treated to a new dimension that has allowed them to move even further beyond the bounds of traditional bluegrass. Their arrangements and progressions definitely have the feel of a bluegrass band, but with the drums, electric bass and keys accompanying mandolin, acoustic and electric guitar, they have reached jam band territory, following the path of Boulder locals String Cheese Incident.
One of my favorite songs of the evening, and also off of "Sunny," is "Canyon Road." This is the second of four straight songs off of the EP in the first set, and has a lyrical presence that any Boulderite who has taken the trip up Canyon to Nederland can relate to. This song can immediately draw comparisons to String Cheese Incident's "Up the Canyon," also seemingly about the deep, curling drive from Boulder to Ned. Previous member Adam Pause joins the boys for "Katy Anne," lending his banjo to an upbeat number that I can't praise enough for the bass and drum interplay between Otis Lande and drummer Zach Scott. The chorus of "Come on up the mountain, come on Katy Anne," once again paints a picture of life in the smaller confines of Nederland. The piano also helps to bring this song to life, adding a balladic quality that past lineup configurations were lacking. Bluegrass is predominant in the flow of the song but the additional instruments bring on an electric, rocking boogie to their sound. Progressive, electric-fusion bluegrass with altitude comes to mind, and the deep layers of stories enrich the vocal additions. To the delight of the audience, Adam stays on stage to help with "Guitar Playing Man" and "Dusty Boxcar Wall," before stepping down and making room for Jeff Austin of Yonder Mountain String Band.
While Yonder has certainly helped set the stage for bluegrass bands out of Boulder County, especially those with long ranging influences from different genres of music, they don't normally have a drummer, keyboards or an electric bass, hence the name String Band. This prompts the more progressive bluegrass label that falls into place for Mountain Standard Time, and adds an entirely new element to the types of performances I'm used to seeing out of Jeff Austin. His immediate flare and knack for fast, wild acts in furious picking and strumming are instantly felt on songs like "Kentucky Mandolin," a bluegrass staple popularized by Bill Monroe, and the classic Rolling Stones' tune, "No Expectations." The latter, with its slow roll blues-ballad quiets things down as the first set comes to a close with Jeff Austin singing its descriptions of trains and despair. "Our love is like our music, it's here and then it's gone."
The second set kicks off with a jam that sees Stanton on electric guitar and channels the String Cheese sound before smoothly transitioning into Nick Dunbar's "California." One of the joys of this band is having solid vocalists and songwriters in both Nick and Stanton. Their songs may touch on living life on the front range and in Nederland, but as a result of coming from differing backgrounds and upbringings, we get a taste of the west coast on this number, going from the mountains to the salty smell of the ocean's breeze. They even go into a little reggae jam towards the end of the song, further embracing the beachside vibrations on what was a dark and lightly snowing evening in Boulder. This trickled into the next song; "Forgotten for Rotten," also on the new EP, and featuring the full frontal bass Otis is so capable of slinging around a room. The heat of the organ finds its way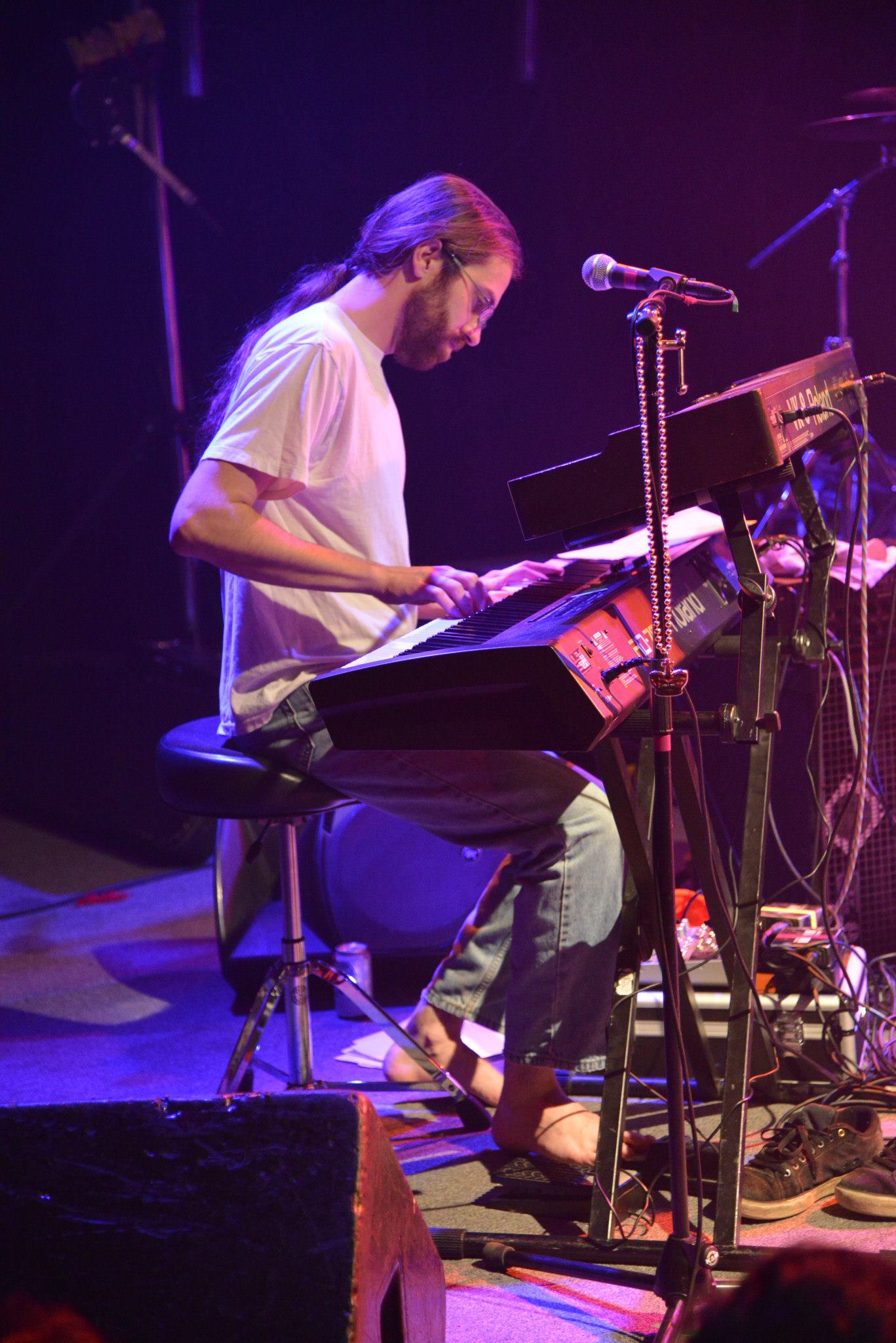 through the continuous thumping, and the song feels like it turns on a dime from an almost punk sounding rhythm to ska to an acid drenched rock ballad dancing with mandolin and back into a bluegrass barn burner. Like their geographical backgrounds influencing their lyrics, their musical backgrounds and tastes swell up and over on this song and Otis does his best Les Claypool romp.
Jenni from the Dead Winter Carpenters joins the band for "Wayside," adding her signature fiddle to the mix for a ripping version before being joined by Jeff Austin and past bass player Curly Collins singing "Whiskey for Breakfast." This starts an all out bluegrass jamboree that strays from the genre chameleons they began the second set with, and it's clear how much they're enjoying themselves. Jenni plods away while Nick and Stanton soar through another Nederland anthem before being cut loose for a solo that seemed meant for the occasion. She's an incredible talent and force for the Dead Winter Carpenters and showed she can hang with the best of them as she and Jeff Austin hoot, holler and egg each other on to go faster. Jeff goes off on a great version of "Crow Black Chicken" to the delight of his Yonder fans in the crowd. It starts with driving funk chords propelled through the mandolin and acoustic guitar as Ebarb worked out the steps with Nick. It was probably one of the funkier jams of the night.
The band left the stage after a version of "Outta Here," and came back for a lengthy, three song encore that pushes the curfew right to the wire. The final number, which welcomes back all of the guests from the evening, is the Beatles' "Just Scene a Face." The Fab Four's album version of this song already has the pace of a traditional, folksy bluegrass number, and Stanton and Adam Pause sang the lyrics like they never stopped sharing the stage. One can be reminded of an event like the Last Waltz when seeing so many talented musicians onstage for a last gasp and goodbye, however, it doesn't seem like Mountain Standard Time will be leaving us anytime soon, as they've hit a level with the new lineup that leaves crowds thirsty for more of that bluegrass moonshine they're brewing.