The Mynabirds Toast the Holidays with X-Mas Single
Submitted by mike on Tue, 11/23/2010 - 23:57
Today the Mynabirds release a limited edition 7" on Saddle Creek that features "All I Want is Truth (for Christmas)", an original (anti-) Christmas song, and a cover of the Zombies' "This Will Be Our Year" on the B-side. The first 200 copies from Saddle Creek's online store will be offered on white vinyl. A black vinyl version of the 7" is available at retail outlets, and all records include a free digital download. The songs are also available at all digital outlets. If you haven't checked it out at Brightest Young Things, a free mp3 of "All I Want is Truth (for Christmas)" is available now via Saddle Creek by clicking HERE.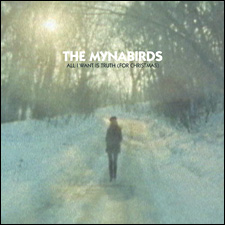 With charming chords descending the wurltizer keys like falling snow, the Mynabirds' "All I Want" starts out like a typical Christmas song. But by the second line, it's clear that this is singer-songwriter Laura Burhenn's cry for anything but another ordinary holiday. "All I Want" navigates global warming, messy politics, endless wars, and American consumerism, and brushes it all away to remind us of the snow-white core of the holidays: love. "Have yourself a happy little New Year," Burhenn sings, "'Cause the politicians will be at their same old arguments: Should we start another war or should we raise another tax?" Burhenn declares that she's opting out of society's endless back and forth to "sit down with [her] love and…remember what it means to celebrate without a single store-bought thing." Like a mug of hot cocoa served with a dash of John Lennon's "Gimme Some Truth", "All I Want" goes down like an old standard in a whole new era.
"This Will Be Our Year" is the perfect song to close out a year of haunts and minor catastrophes to look to something new. The slide of J. Tom Hnatow's pedal steel colors the Mynabirds' version of this Zombies' classic as a sweet, country-tinged take on the original. Both "All I Want" and "Our Year" were recorded to tape in a single day at Inner Ear in Arlington, Virginia with producers Chad Clark and TJ Lipple at the helm. A host of DC friends joined in, including the Roofwalkers' Elmer Sharp (drums), Ben Licciardi (backing vocals), and Raj Gadhia (bass and vocals); These United States' J. Tom Hnatow (pedal steel); and Winston Yu (strings).
What We Gained in the Fire - Video
Also out now is a new video for "What We Gained in the Fire", the opening track from the Mynabirds' debut album. The video premiered on Friday at AOL Spinner. Director Rob Walters layers new Super 8 footage of singer-songwriter Laura Burhenn traversing a snowy landscape with vintage footage of her own family's home movies that span three generations. Stretching from the 1940's to present day, the viewer gets a window into a family story, watching clips of young love blossom, of babies growing into men, piecing together what might really be going on behind the nuclear family facade.