It's interesting to be able to think back on the music of the 1990s, let alone the 2000s and what evolved in the live music concert experience. The reemergence of the multi-day music festival gave the jam band revival a venue to gig multiple shows at once and get closer with the fans. What also changed was what kind of music was being performing in a live setting. There was always a separation between the deejay persona and electronica music from the whole rock'n'roll bands that jammed. That certainly changed with the growing popularity of summer music festivals. Live bands began to use digital interface technology and computers to create live improvised electronica music. It took the feeling of being at a rave to the next level. Acts like Sound Tribe Sector Nine, Pneuma Trio and Bassnectar drew enormous popularity by combining the skills of an MC with the supremacy of live musicianship. Perhaps the most powerful of them all to come out of the livetronica explosion was Toronto's The New Deal.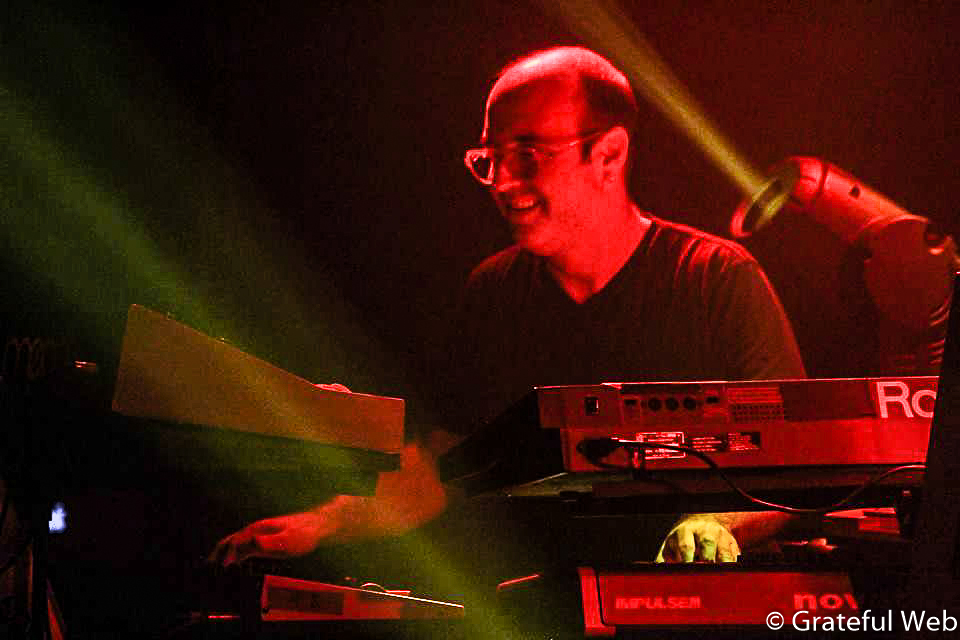 While most livetronica acts veer toward glitchy offbeat to create some sort of distortion, The New Deal continues to evolve with the musical purpose they began with: to emulate the good vibes of house music and the rave feeling with a psychedelic improvisational spirit. As only a power trio of synthesizer, bass, and drums, their music explores the sonic soundscapes of electronica and the groove based feeling of a live show. They brand their approach as live progressive breatbeat house. All indeed true but not limited by any style in particular, the trios popularity gained them unanimous respect and mounting popularity throughout the 2000s. Drummer Darren Shearer, bassist Dan Kurtz and keyboard player Jamie Shields formed a tight-knit bond with their dedicated fan base that grew at each show they performed. They were also one of the first electronica acts to not only allow taping of their performances but encouraging fans to distribute the music freely.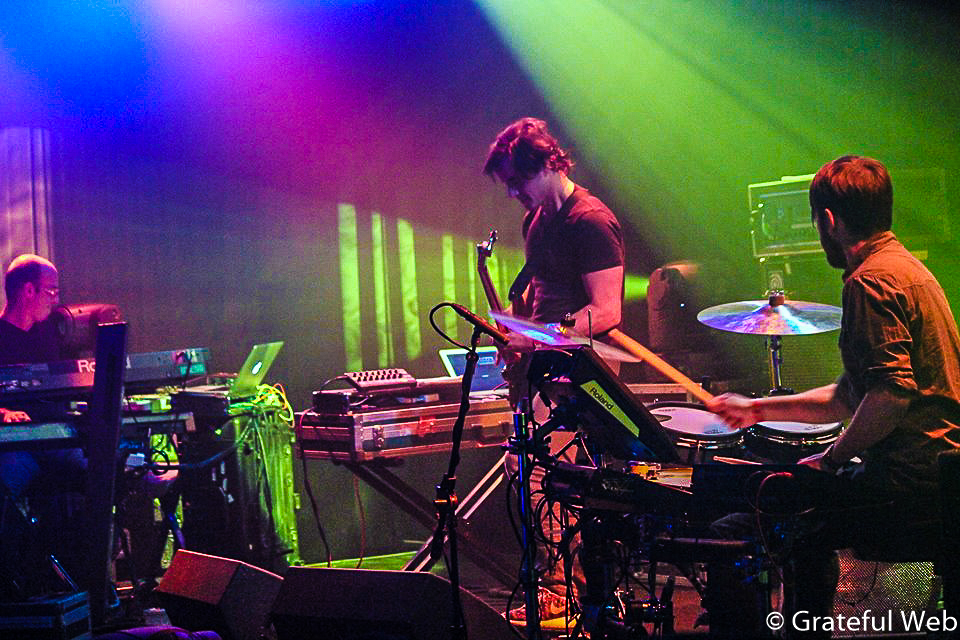 The music community was caught off-guard when the trio suddenly announced they're parting of ways in 2011. The music was becoming more infinite and their amount of followers was growing. Touring can be a taxing lifestyle, and the band called it quits for over four years, pursuing other projects and collaborations. Since they disbanded livetronica has gotten dubbier and more popular in the mainstream. Acts like Skrillex and Pretty Lights commercialized the once culty subgenre. Fans were equally shocked and thrilled to see an announcement in summer 2014. "The New Deal is back." Playing select summer festivals and a few isolated gigs. One fundamental difference came with equivalent disbelief. Darren Shearer, the powerhouse drummer of trio would not be joining the bands reunion. I remember being struck by Shearers authority and thought of him as one of the greats. Thankfully, the two returning members have found a worthy swap with Toronto based drummer Joel Stouffer. He's no stranger to the music of The New Deal, remembered as a sit-in for Shearer when he broke his hand in 2011. If Shields and Kurtz want to keep playing, and Stouffer is taking the music new places, then The New Deal is breathing new light legitimately.
California fans were thrilled when the band announced three dates for January including two at San Francisco's local favorite venue The Independent. A group of real hearty music appreciators operate and run the neighborhood venue in the city's Divisadero Street/Nopa neighborhood. Go out and grab a mescal cocktail at one of the streets many hipster bars then stroll into the venue with no wait or hassle. The Independent is never oversold and the staff takes really good care of everybody. The New Deal is no stranger to the Independent as reflected by the boisterous swarm of fanatics.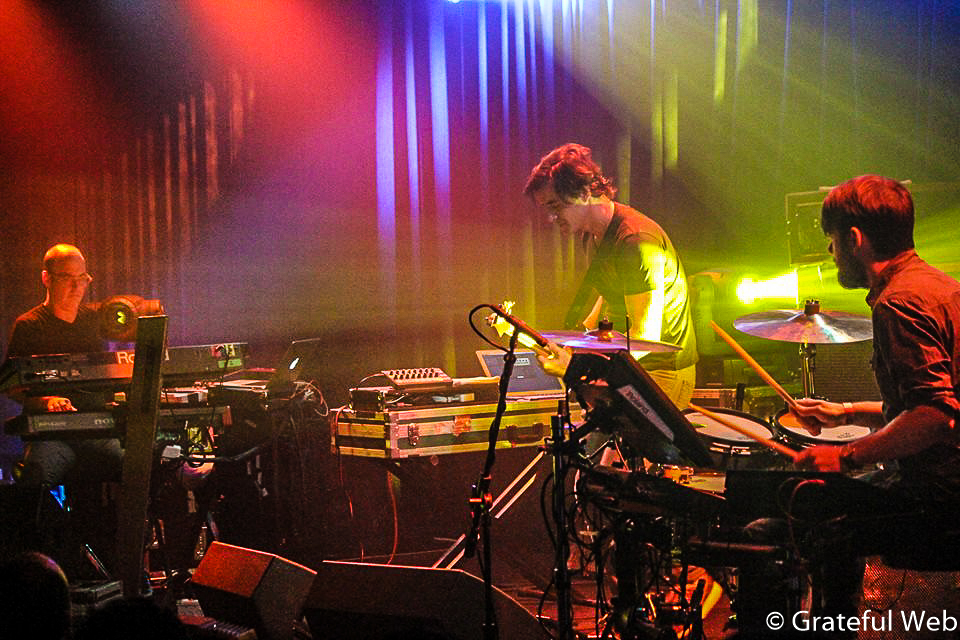 Grateful Web dropped in on the second of two nights and it was clear that the band and crowd were already high on each other. The trio jammed a supremely sublime two sets of livetronica. Kurtz stood between Stouffer and Shields, exchanging natural cues and glancing in glee back and forth. Their chemistry and ease in the new configuration was immediately apparent. The impressive lighting rig provided maximum visual stimuli with endless patterns and color schemes that aided the mood of the music.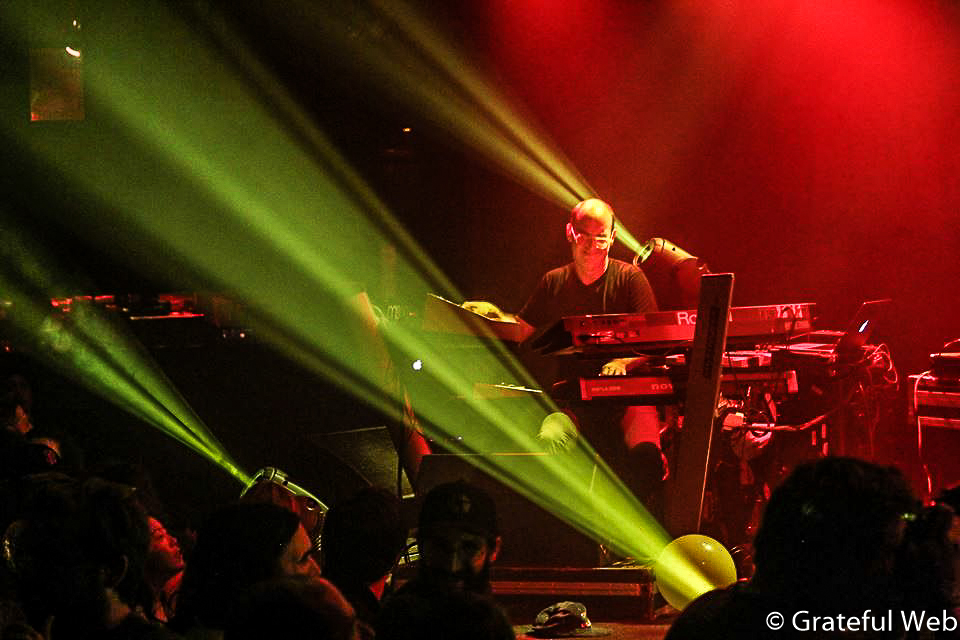 In certain ways they're turning electronica into a type of jazz music, expanding and exploring certain melodies and musical themes. It's great to experience a band live who doesn't pay much mind to what style or idiom defines their music and just goes with it. And during a particularly powerful keys and drum duel in the second set, Shields delighted ear-to-ear grin directed toward his new percussive accompaniment vied as verification of their true musical empathy. The New Deal doesn't necessarily play song after song to compile a coherently definitive set list. I recognized their signature "Technobeam" jam as the finale of the first set, recalling it from a particularly power show I saw in college in Boulder, Colorado. The evening of music from the live progressive break beat house trio last Saturday presented them in tip-top musical form ready to continue gigging fulltime. Colorado fans can look forward to some really exceptional shows next month. We certainly hope to see more from them.