Nick Luca on tour w/John Doe!
Submitted by press on Sat, 06/09/2007 - 14:09
Funzalo Records band Luca is putting out a new studio release in the Fall of 2007.  In the meantime, they've recorded a live CD, Coming In For A Landing, that will be available digitally at various outlets such as Emusic, HearMusic, AudioLunchbox, Apple I-Tunes, and all kinds of places that work with CD Baby. More information below.
The band's frontman, multi-instrumentalist and singer Nick Luca will also be selling it when he's on tour with John Doe.  Here's a list of the dates:
Thurs June 14, Sam Bond's Garage, Eugene OR
Fri June 15, Dante's, Portland OR
Sat June 16, Tractor Tavern, Seattle WA
Sun June 17, Nightlight, Bellingham WA
Wed June 20, Neurolux, Boise ID
Fri June 22, Lion's Lair, Denver CO
Sat June 23, Trilogy, Boulder CO
Sun June 24, Steve's Guitar Shop, Carbondale CO
Tues June 26, Blue Lamp, Sacramento CA
Wed June 27, 12 Galaxies, San Francisco CA
Thurs June 28, The Attic, Santa Cruz CA
- - - - - - - - - - - - - - - - - - - - -
Sat, July 7, Hootenanny Fest, Fullerton CA
Sun July 8, The Casbah, San Diego CA
Mon July 9, Plush, Tucson AZ
Wed July 11, Cactus Cafe, Austin TX
Thurs July 12, Granada Theater, Dallas TX
Sun July 15, The Abbey Pub, Chicago IL
Mon July 16, High Noon Saloon, Madison WI
Tues July 17, Vaudeville Mews, Des Moines IA
Wed July 18, 7th Street Entry, Minneapolis MN
Thur July 19, The Mill, Iowa City IA
Fri July 20, The Reverb, Cedar Falls IA
Mon July 23, Club Café, Pittsburgh PA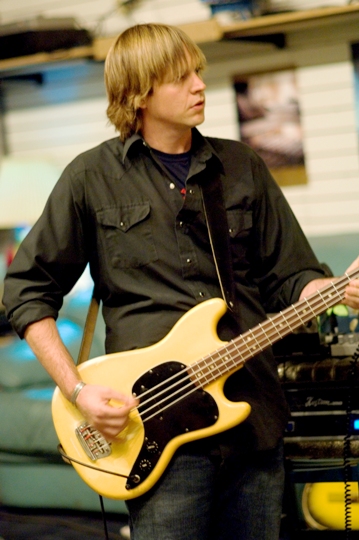 Luca's last CD, Sick of Love, moved the band's sound into rock territory and away from the jazzier stylings of their earlier incarnation as the Nick Luca Trio.  Since that last release, with the addition of guitarist Joey Unger and drummer Ryan Janac (both from Tucson sonic-popsters Sunday Afternoon), the band's sporting a more driving, guitar-based sound. (And yes, Nick Luca's longtime bandmate, bassist Chris Giambelluca, is still here.)
We thought it would be fun to capture Luca's evolution with a live CD, Coming In For A Landing, recorded this spring at a show at Tucson's beloved Club Congress. The set will be available digitally and sold at Luca shows.
Meantime, the brand new Luca studio full-length, Fractions, is looking at a tentative release date of October 2007.  Producer Sean Slade (Radiohead, Hole, Dinosaur Jr, the Pixies) spent a couple weeks in Tucson recording the new CD with Nick and the guys at Wavelab.
Cover songs on the new record include a Luca-ized version of Lou Reed's "Walk on the Wild Side" and Jonathan Richman's quirky "I Was Dancing in the Lesbian Bar."  The band's been performing both songs during gigs, and you can preview them on the live CD, Coming In For A Landing.
 
Over & out - Lee Gutowski, publicist - Funzalo Records / Mike's Artist Management / PO Box 35880 / Tucson AZ 85740 - (520) 628 8655
ON DECK:
Luca COMING IN FOR A LANDING - live CD, limited release Recorded during a show at Tucson's beloved bastion of bacchanalia, Club Congress, this fun, well-attended romp gives a healthy taste of the band's latest incarnations with more guitar power present than ever before.  Check out the funked-up cover of Jonathan Richman's "Lesbian Bar."
Mostly Bears ONLY CHILD - EP out soon
Newest Funzalo signing Mostly Bears are a smokin' three-piece outta (yes) Tucson with indie chops to spare.  With seemingly boundless energy, they're busting outta the gate with this 4-song debut, channeling some weirdness with howling, other-worldly vocals, a metal guitar-bass- drums attack and a roofie's worth of psychedelia that'll
pique your interest for the upcoming full-length.
NEW IN '07:
The Breakers.dk HERE FOR A LAUGH - May 8 2007
Yah, the Danes are bringing that crazy American ROCK.  And what more could you ask for in your rock band than a lead singer by the name of Toke?!  Stay tuned for glam-ass punk vocals that conjure Rod the Mod in full Faces glory, backed by a band that can kick it old school a la the Stones, AC/DC, Thin Lizzy ... It's a gasgasGAS!
Green Pitch ACE OF HEARTS - March 6
What do you get when you mix fragile Bjorkish vocals, music box twinkle keyboard and melodica sounds, dreamy steel guitar string washes and cryptic yet full-fledged emotive lyrics?  All the way from Copenhagen, Green Pitch show how strong quiet can be.
Tony Furtado THIRTEEN - January 23
This guitar playin man is a force to be reckoned with.  His last outing, the live Bare Bones, took him into uncharted territory when he did a solo tour and recorded it himself.  On Thirteen, he's put his own stamp on some unexpected cover tunes, as well as written new songs that surpass his previous work in depth as well as rock.  The title track is an affecting memorial of the Sago Mine explosion that trapped thirteen men and eventually relinquished a lone survivor.