"Nightfall of Diamonds" at the Fillmore December 7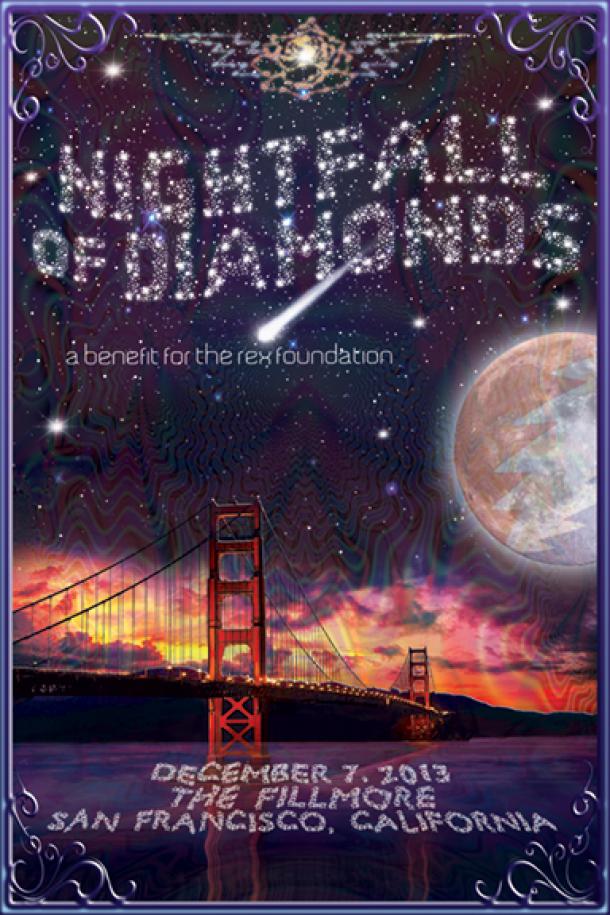 Tickets are now on sale for the Rex Foundation's annual benefit celebration at the legendary Fillmore Auditorium in San Francisco December 7, 2013. This year's event, "Nightfall of Diamonds," features gifted musician Keller Williams interpreting the music of the Grateful Dead with a notable group of collaborators.
Joining Keller in the first set are Nicki and Tim Bluhm; Tim is a founder of the Mother Hips, and Nicki has been winning fans from coast to coast with her band Nicki Bluhm and the Gramblers.
The second set revives another of Keller's projects, Grateful Grass, after a long hiatus. The original lineup returns, with Keith Moseley and Michael Kang from The String Cheese Incident, along with Jeff Austin from the Yonder Mountain String Band.
"This is a rare chance to hear some of the finest players on the road today in the intimate surroundings of the beautiful Fillmore," says Rex Executive Director Cameron Sears. "As our beloved founding board member Bill Graham would say, this 'is a once,' meaning that to be able to hear this group of musicians really may only happen once in a lifetime."
Besides raising funds for Rex's charitable work, the event offers a chance for the extended family of Rex supporters to gather and celebrate. "What makes this night even more special to us," Sears adds, "is we will be recognizing outgoing Executive Director Sandy Sohcot's 12 years of service, as well as the excitement of what the future may hold."
Tickets for reserved floor seating and the pre-show reception are available through the Rex Foundation at (415) 561-3135 and www.rexfoundation.org and GDTS TOO at www.gdtstoo.com.  Concert-only Tickets are on sale at Ticketmaster as of November 3, 2013.
About the Rex Foundation: Furthering what the Grateful Dead started 29 years ago, the Rex Foundation endeavors to fund grassroots programs that are often under the radar of larger funding entities, yet work in bold, innovative ways to carry out essential work toward a healthy environment, promotion of the arts, protection of indigenous cultures, assisting others less fortunate, building strong communities, and educating children and adults.  The Rex Foundation has distributed $8.9 million in grants to over 1,000 programs across the U.S. and internationally, while also carrying out fundraising initiatives that foster creativity and positive community connections.  Visit www.rexfoundation.org for a complete list of grantees and information about current initiatives.