Noam Pikelny & Stuart Duncan: Masters of the Banjo & Fiddle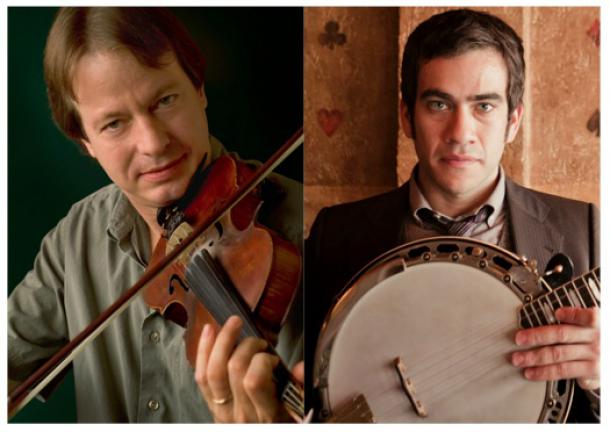 It's a rare opportunity for fans of American roots music to experience two modern masters of the banjo and fiddle together on one stage, performing a full set of originals and classics in a duo format. From May - July 2014, GRAMMY® Award-nominated Noam Pikelny and 4-time GRAMMY® Award-winner Stuart Duncan appear at the following venues and festivals: Forest Fest (Louisville, KY: May 17), Barking Legs Theater (Chattanooga, TN: May 18), Eau Claire Regional Arts Center (Eau Claire, WI: May 20), Dakota Jazz Club (Minneapolis, MN: May 21), Old Town School of Folk Music (Chicago, IL: May 22), The Melting Pot (Athens, GA: June 25), Downhome (Johnson City, TN: June 26), ROMP (Owensboro, KY: June 27), Franklin Theatre (Franklin, TN: June 28), and RockyGrass (Lyons, CO: July 25). Pikelny and Duncan again hit the road in October 2014 for a 3-week tour, which is followed by a 3-week tour featuring Pikelny and lauded vocalist Aoife O'Donovan in November 2014; tour dates to be announced in the coming months. Interviews of Pikelny and Duncan are available upon request.
The sound of the fiddle and banjo in duet is one of the most compelling musical textures to emerge from American Folk Music, and through the years has most commonly been featured interstitially within the context of a larger ensemble show (i.e. when the guitar player breaks a string!). However, it is now taking center stage with these two giants of the genre hitting the road. Both Pikelny and Duncan are undeniably among the foremost players on their respective instruments, often blurring the lines of what constitutes roots music in the 21st century. Winner of the first annual Steve Martin Prize for Excellence in Banjo and Bluegrass (2010), Pikelny is a founding member of the Punch Brothers -- a string ensemble hailed by the Boston Globe as "a virtuosic revelation," and which The New Yorker describes as "wide-ranging and restlessly imaginative." In 2012, his second solo release Beat The Devil and Carry A Rail received a GRAMMY® nomination for "Best Bluegrass Album." His follow-up 2013 album, Noam Pikelny Plays Kenny Baker Plays Bill Monroe, marks the first complete banjo adaptation of Kenny Baker's 1976 seminal recording of Bill Monroe instrumentals. The New York Times describes Noam's reinvention of the classic Bluegrass canon as "a token of reverence, a feat of translation and a show of dominion."
Over the last eight years with Punch Brothers, Pikelny has redefined the role of the banjo with his inimitable melodic work helping propel the instrument into mainstream music. Alongside Punch Brothers, he's collaborated with the likes of Wilco, Fiona Apple, Norah Jones, and Jon Brion for the soundtrack to This is 40, a feature song on The Hunger Games soundtrack, and a collaboration with Marcus Mumford for the Coen Brothers film, Inside Llewyn Davis. He's shared the stage with The Decemberists, Béla Fleck, Dave Douglas, Steve Martin, Marcus Mumford, the Los Angeles Chamber Orchestra, and members of the Lincoln Center Chamber Orchestra.
Most notably known for his recent work on The Goat Rodeo Sessions with Yo Yo Ma, Chris Thile, and Edgar Meyer, consummate sideman Stuart Duncan has graced thousands of recording sessions over the course of his celebrated career. Duncan is a four-time GRAMMY® Award winner, a six-time Academy of Country Music award winner for "Fiddle Player of the Year," and a winner of the International Bluegrass Music Association's "Fiddle Player of the Year" award for seven consecutive years. His keen ability to masterfully shift between diverse styles has garnered opportunities to record/perform with Nashville's biggest stars (Keith Urban, Reba McEntire, Dolly Parton), bluegrass music's finest pickers (Del McCoury, Ricky Skaggs, Béla Fleck), and today's top hit-makers (Jonas Brothers, Jewel, Brad Paisley).
"Stuart Duncan is the pinnacle of the American fiddle tradition," says Pikelny. "He has so masterfully assimilated so many of the great fiddle traditions into his own singular style; he's arrived at an utterly breathtaking intersection of finesse and soul. I've been lucky enough to get Stuart to play on my last two solo records and with that I could die a happy man. But we've been looking for an opportunity to make music together live, and finally found the opportunity, and decided it would be special to play as a duo. Fans can expect to get an intimate glimpse into the pairing of these two instruments -- a real exploration of the fiddle and banjo sound."
With the ever-changing landscape of the music business comes greater artistic independence, and some of today's most lauded stars are aligning themselves side-by-side with longtime sidemen. No longer are prodigious sidemen only providing that imperative backbone and shining with unforgettable prowess when in the limelight; they are now in the foreground as co-billing recording and performing partners (i.e. Vince Gill & Paul Franklin's Bakersfield). Social media platforms have also ushered in profound means and ways for eager fans to directly connect with their favorite players, bolstering the demand for sidemen to tour with their own projects. Pikelny and Duncan are of this ilk, and are ready to take the Americana music scene by storm as leaders of a new generation of exceptional bluegrass artists.
Don't miss this incredible opportunity to see these two virtuosos performing across the US this spring, summer and fall!
Noam Pikelny & Stuart Duncan 2014 Tour Dates:
April 26 - Charm City Bluegrass Festival - Baltimore, MD*
May 7 - Largo at the Coronet - Los Angeles, CA**
May 17 - Forest Fest - Louisville, KY
May 18 - Barking Legs Theater - Chattanooga, TN
May 20 - Eau Claire Regional Arts Center - Eau Claire, WI
May 21 - Dakota Jazz Club - Minneapolis, MN
May 22 - Old Town School of Folk Music - Chicago, IL
June 25 - The Melting Pot - Athens, GA
June 26 - Downhome - Johnson City, TN
June 27 - ROMP - Owensboro, KY
June 28 - Franklin Theatre - Franklin, TN
July 25 - RockyGrass - Lyons, CO
*w/ Noam Pikelny & Friends featuring Aoife O'Donovan, Chris Eldridge, Luke Bulla, Barry Bales & Jesse Cobb
**w/ Noam Pikelny & Gabe Witcher