Nineteen year old Adam Oberlin has been looking forward to this show for weeks. The recent Hampton, Virginia high school graduate got tickets from his parents, who are also Primus fans, from "way back," according to Adam's mom, Stacey. "It's awesome that Adam digs this, too," offered the father, as they all sprinted past me for a good location at the stage, as a family.
It's strangely accurate that a Primus fan might -- have a child that old.. Not so strange, really, that a Primus fan would buy their kid concert tickets to see Les Claypool. And Adam got a great graduation present, in turns out. Claypool delivered a strong set of high energy, and punk-injected funk, along with Brooklyn-based Oh death presenting an opener of delightfully-weird Goth-Grass music, at Norfolk, Virginia's beautiful downtown venue, The Norva.
"It's just about the perfect double-bill," suggested Jake Steitz, an active duty sailor stationed in Norfolk, originally from Brooklyn. "They [the bands,] are both out there, but in a good way," he said. Jake, a 24 year old radar technician, said he'd seen Oh Death three or four times back home in New York, and thought the band had really progressed noticeably in just the last few years. "I saw them just before going to boot camp," he said, "they were great then, but this is waay better. And Les [Claypool,] is up next? Are you kidding me? PERFECT NIGHT," he said with a flourish.. "PERFECT."
I must agree with Jake. The pairing of the freakishly-talented Claypool and that of Oh Death, made for an evening of nerve - jarring, feather-ruffling, thought-provoking musical THICKNESS. No easy passes on this night, with the opening notes of Oh Death's set – till the last of the "sprinkles on the cupcake," as Claypool so described his own show-ending encore.
Oh Death is a band I'd only heard 'of' and not 'heard.' I try not to research a band too much before hearing them the first time, and this night was no exception. I walked in thinking bluegrass, given the name of the band – but as many of you already know, I got so much more.
Writer John Ziegler called Oh Death's music, "an unsettling, strange sound," and indeed it is, upon first listen. Called Goth-Metal, Metal-Grass, or Thrash-Grass, the New York band is all electricity and psychological static. Combine a backwoods honky-tonk from the late 1950's with a punk bar from the late 1970s, and the energy is competitively similar.
I seemed to be the only person not already indoctrinated, as the venue was jumping throughout the entire opening set. Guitar, banjo, fiddle, trombone, all combine together with Oh Death, into one large spicy gumbo, combined with punk's requisite Molotov cocktail of drums and bass. Touring in support of their second studio release, "Broken Limbs and Skins," the band performed with manic- precision, roaring thru their material as if possessed by the spirits of Jack Daniels, Sid Vicious, and some kind of demented Bill Monroe.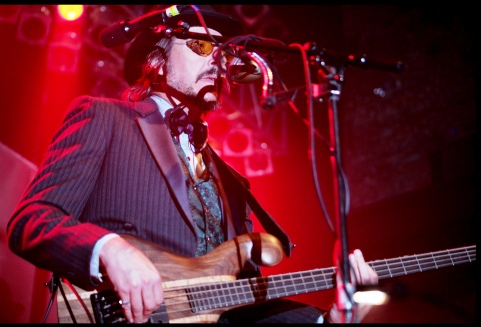 The twisted sounds of Oh Death were more than appropriate introduction to the evening's main attraction, Les Claypool. Where Oh Death combines punk sensibilities with that of bluegrass and Americana music, Claypool's punk roots are married to funk and in a larger sense – jazz.
It's been a while since I've seen Les. The writer, film maker, wine maker, and legendary bass player was in fine form, rolling deftly through songs from his current cd, Of Fungi and Foe. It's a musical salad tossed with elements from music written for a video game, Mushroom Men, to additional tracks from independent film Pig Hunt. Claypool served up several tracks from the new cd, including Red State Girl, the story of the 'Sarah Palin admirer, with 'powder on and up her nose.' And the un-nerving Boonville Stomp, that felt like the alternative sound track to The Blair Witch Project.
Claypool and Oh Death may have indeed been the perfect double-bill, as Jake the Sailor proclaimed. My truest barometer of the evening came just as the show ended, and young Adam and his parents were leaving the venue.. "It was fucking awesome!" boomed his mother. "Stacey!" replied her husband, in a mock-chastizing tone. "Well.. It WAS, wasn't it?" said Adam, grinning, as the threesome hit the streets, after the show..