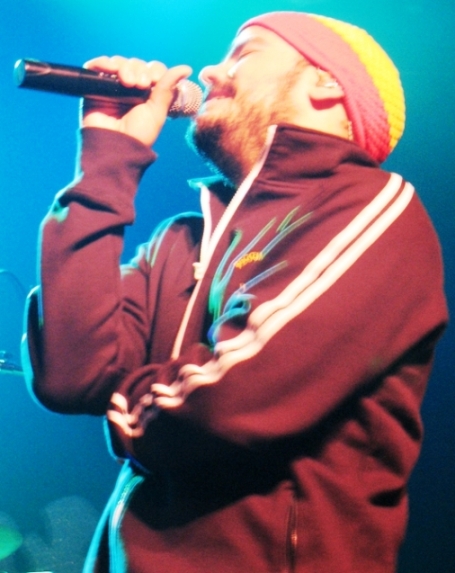 After a month of 25 and 35 below temperatures, North Dakota was treated to a tropical warm up of monstrous musical proportions. Last weekend, the Hub Entertainment Complex hosted an all day indoor festival on two stages: The intimate Cadillac Ranch stage and the bigger, more open Venue stage. Starting at 4 pm, eleven egional bands lit a fire in Nodak music fans and warmed up the facility for the Wailers, who stoked our frozen spirits. The headlining performance by this legendary band was a very rare experience for fans since The Wailers had not been in the region before (And it probably was a bit of a shock for those musicians because temps were warmer but only hovering above zero!).
The buzz throughout the festival was how could Fargo score such a big name at such a modest venue. That stroke of genius came from Jade Nielson, owner of Jade Presents, a local promotion company that handles some regional independent bands but also has arranged events for such well known artists as Leo Kottke, Derek Trucks Band, Neville Brothers, Dr. John, BB King, Tom Petty, Sheryl Crow, Lyle Lovett, Willie Nelson, and John Prine. His expertise and connections brought it about (and the fact that the Wailers were passing through the region sure didn't hurt!). This was one of many smaller stops on a swing through the US before they flew to Europe and Russia for a month's tour there.
Though the Wailers were definitely the draw, loyal fans of the regional acts on the marquee came to support their favorites. Unfortunately, festivalgoers had no idea when their favorites would be playing until they got to the entertainment complex and were given programs. Both stages did drop down screens between acts and projected the timetables for each venue so that attendees would know where to go. Some bands sent out email notices to their fanbases or posted notes on their websites with their specific playing times listed.
Unfortunately, some of the bands only got to play for 30 minutes, while others were put into 45 minute to one hour slots. Moreover, there was a lot of overlap, so that fans had to miss something of one set or another so that they could run to the other stage to catch the next act. And, no band, except the Wailers had everyone's attention.
Management's intention was to pack the venues from the minute the music started at 4 pm and keep both stages well attended, and not have the complex stormed with late night attendees crowding to see the Wailers. I don't know if that actually worked or not. There was light attendance in the early evening as anyone would have expected, with larger crowds packing the front of the stage as the night wore on. That just is the nature of bar venues. Patrons don't come out until later. Some bands in the region don't even try to take the stage before 10 pm—sometimes not until 11 because that's when the crowd arrives. And, frankly, anyone would know that the Wailers would be playing last.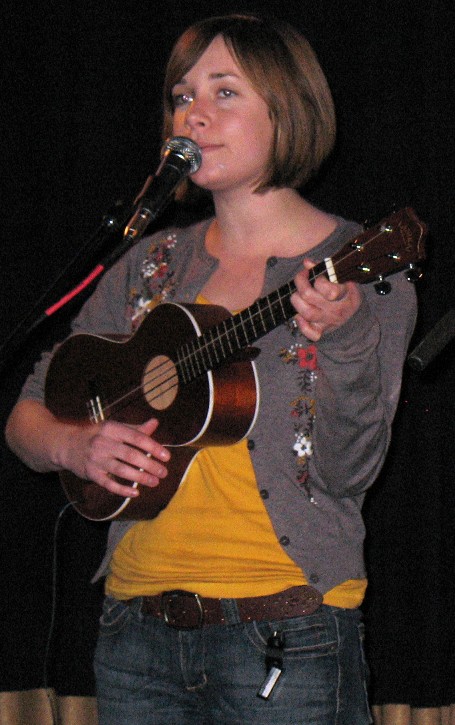 The early lineup, though, was phenomenal. It had some of the best regional bands around, including local Fargo bands the Legionnaires and the Johnson Family Band. Some came from the far north: Hobo Nephews of Uncle Frank from Holyoke, MN, and roots singer/songwriter Charlie Parr and speed bluegrassers Trampled By Turtles, both from Duluth. And, a bucket load of Minneapolis bands: the old-time acoustic duo The Floorbirds, a pop/rock trio The Parlour Suite, old-time stringband Pert Near Sandstone, those rocking bad boys the White Iron Band, and the rock/reggae wonder Public Property.
Fargo singer/songwriter Pat Lipsiea launched the event at the Cadillac Ranch, an intimate in-your-face stage facing a large dance floor. Though his work was young, they was a nice energy about him and his guitar.
The Floorbirds began their set after Pat Lipsiea, just before the wildly popular Legionnaires played on the Venue stage. Since a lot of folks weren't familiar with this duo, their act was lightly attended. What a show they all missed! The acoustic duo of Alyssa and Daniel harkened back to a time when old-time folksongs, beautiful voices, and finely executed instrumentation was something a lot of us heard in our living rooms and front porches. Their renderings of "Weeping Willow," "East Virginia Blues," and "Casey Whistle" brought a freshness to these traditional numbers. Alyssa's voice like a mountain bluebird is strong when she leads a song and when she does backup. Daniel's vocals are equally good, with both producing the close harmonies that need to be spot on for this time of performance. Alyssa kept the songs interesting with her flailing banjo and strummed bass uke against Daniel's guitar.
The Parlour Suite followed at the Cadillac Ranch stage, testing out their pop/rock originals on the audience. I only caught a part of that because I had to duck over to see the Legionnaires. This band began as a country parody band that shocked and endeared audiences across North Dakota and Minnesota with their raunchy lyrics and dark horror images. Today, this band is writing more mainstream rock, country/rock, and reggae songs, trying to move away from their past, and nailing that new sound instrumentally, lyrically, and vocally, often with three and four part harmonies. Audiences, however, still wanted their old standards, calling out "Gonorrhea" several times. The band did close their set with that number about an ill-fated romance where the guy says, "You got the worms and I got the gonorrhea."
Hobo Nephews of Uncle Frank, the latest band by regional songwriter Teague Alexi, set up in the Cadillac Ranch. Unfortunately, the room was a bit too small for their sound, though it was just bass, guitar, and drums. Also, Teague seemed to avoid his more thoughtful songs, preferring to keep the audience interested by providing more danceable songs with repeatable choruses.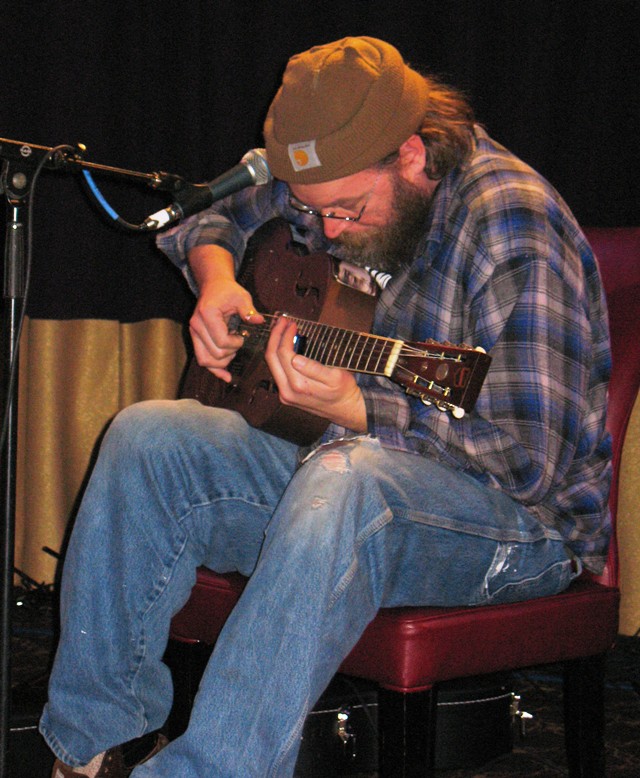 Duluth singer/songwriter Charlie Parr followed Hobo Nephews. I was really looking forward to seeing this performer live since I've interviewed him before and was very excited by his latest album. Parr set up with a National steel guitar and a six-string with a beautifully hand painted rooster on the back. He also brought out a percussive foot pedal that he worked through every song. Dave Hundreiser, who had played on the last two Charlie Parr recordings, joined him on harmonica. Because Parr plays often at the HoDo in Fargo, he's well known and the Cadillac Ranch was full. I was encouraged to see all of the young people pushing close to the front of the stage, getting into roots music. My husband remarked, "You wouldn't have seen this twenty years ago!" Though the fans loved him, for me, the loud, percussive foot pedal got in the way of the songs, making each one sound like the one before it. And, I know they all have different flavors on the album that I had heard. But, Parr has learned what his audiences want so in a since it is a phenomena of where the crowd shapes a performer.
The last act at the Cadillac Rance was Public Property, the brainchild of singer/songwriter/frontman Dave Bess. This band has developed into one of the premier roots reggae/rock/rap groups in the country, offering intricate instrumentation, varied rhythms, and vocal intensity. The backup singers don't just do-wop behind Bess; they answer his vocals or offer something more to the song. Sometimes even the bass or drums will offer a counterpoint to the main rhythm that Bess sets with his guitar and the melody line. This is refreshing music and very, very uncompromising. Public Property does what it does, finding new ways to do it, and never alters their message or their musicality to lure in audience members. They are always a pleasure to watch!
While these more intimate acts were playing at the Cadillac Ranch, the Venue was whipping audiences into a dancing frenzy. The Johnson Family Band, an old-time stringband from Fargo, whooped it up. These incredible players could also belt out a song with more soul than Aretha! Though you couldn't say that they were beautiful singers, they were accurate alright, but were able to capture the intensity of what my dad used to call mountain hollers. Crowed around two mikes, the singers weren't afraid to just let the song come out of them. The dobro player, though a cliché (and, god forbid, a parody) in a turned up felt had, long reddish beard, and hightop, heavy leather boots, kept the band fired up, stomping and jumping on stage, keeping time with each song. I heard Uncle Dave Macon songs and many more that I used to listen to on scratchy 78's and heard them recreated in fresh new ways.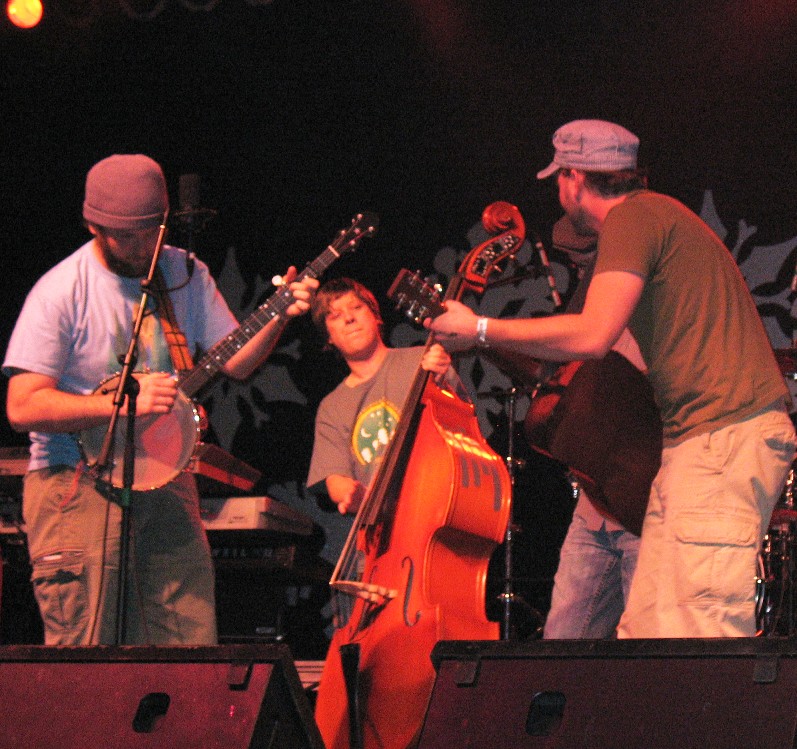 Another stringband, Pert Near Sandstone from Minneapolis, laid a more bluegrassy feel down, adding a clogger on a miked platform. The harmonies here were good, but not as uniquely refined as the Johnson Family Band's, but worked well for bluegrass. The male clogger, a human version of an Appalachian Limber Jack doll, added the beat that a drummer would have contributed. Though he was very skilled, there wasn't the flash you'd expect. When he took a solo dance break, he produced rhythms that could have been done by a guitar or bass and were almost notes. Pert Near Sandstone kept pumping out song after song, not stopping even when the guitarist broke a string, continuing on through a couple more songs until the fiddler did a number and the guitarist quickly whipped on a new string.
Next up was one of my all time favorite regional bands, the White Iron Band. Matt Pudas, the lead singer/principal songwriter/harmonica player, generously opened his stage to Trampled By Turtle's fiddler and a couple of local singer/songwriter, including Teague Alexi. Teague's song was one of his more thoughtful ones and sounded great backed up by a full band. The White Iron Band pulled out selections from their latest album and a couple of old standbys including "Minnesota Pride." The bass player's amp, however, was set up really high and ended up drowning out the nuances that this band can produce. Still, the audience loved them.
Trampled By Turtles, the speed bluegrass band from Duluth was the last act before the Wailers. These five guys don't stand up like most bluegrass musicians nor do they sit and crowd around a single mike like many old-time bands do. They each sit in front of a mike. The banjo player and guitarist lead most of the songs while other band members add vocal harmonies. They also use an electric bass, not a standup bass. Though fast songs, whether originals or traditional ones, are the hallmark of this band, they did do one slower song, but it was more of a dirge than a ballad. Their vocal harmonies, lyrics, and approach to their instruments set this band apart from other bands like Yonder Mountain Stringband.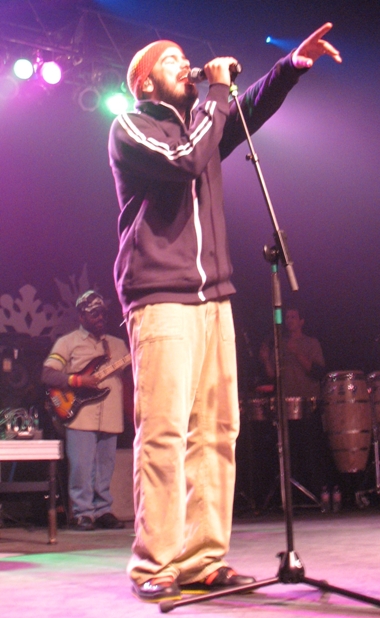 Finally, around 11:30, the Wailers took the stage and did a number to warm up the crowd. Rather like an overture, that number was really a medley of songs with a cutting of "If I Were a Rich Man" from Fiddler on the Roof spliced into the mix. That was sort of an intro to the Wailers' new lead singer, Elan Atias, who is Jewish, and cue for him to come out on stage. But once Elan opens his mouth, the audience only hears echoes of Bob Marley. Though Elan doesn't try to imitate the reggae legend, there is something so spookily reminiscent of Bob that if you closed your eyes, you'd think Bob was singing down from heaven. Yet, Elan has his own signature, a nuance that is only him. Mixed in with Wailers' favorites were a few of Elan's originals that many audience members worldwide continue to attribute to Bob Marley. Elan joined band founder and original Wailer, Aston "Family Man" Barrett on bass, veteran Wailer Keith Sterling on keyboard, Anthony Watson on drums, Audley Chisholm on rhythm guitar, Chico Chin on trumpet, and Everald Gayle on trombone. Elan was also backed up vocally by Audley Chisholm and two beautiful female singers: Brady Walters and Cegee Victory. This mix of young musical blood and old foundations made for a very memorable evening. The Wailers were supposed to play only until 12:45. After saying their good nights and thanks, they band left the stage for five minutes, only for Elan and Audley Chisholm to return to do a number. Then the entire band came back for about forty-five more minutes of music.
The Old Man Winter Blues and Brew Festival was a big success. Fans had a great time, and all the bands hung around to hear each other and especially to take in the Wailers. The ticket fee of only $25 was dirt cheap for an event like this, considering that most of these bands charge at least ten bucks each for a cover at any of the Fargo venues they play here. And with the Wailers, well, it was quite a bargain. Let's hope Jade Presents does this again next year.