Beer. Two Brothers brews it, Old Shoe sings about it. The sheer appearance of the sphere of beer and a brewery inhabited by beer enthusiasts inspires a severe tear that quickly disappears due to the cheer that surrounds the sound that you hear from music, sweet music. It was the meeting of two great gears like Venus and Jupiter both visible in the night sky in the open courtyard when Two Brothers Brewing celebrated its 15th anniversary on March 16th, 2012 at the newly acquired Two Brothers Roundhouse in Aurora, IL.
The evening began with a local organic buffet of delicious salads, fresh cut meats, fresh fruit and of course a dessert smear. No cashier, there were only wristbands for sale with the hostess that separated you and that beautiful buffet. I found the buffet a necessity to ensure my evening would begin right and provide perseverance for the beer sampling. Tapping of the mighty Monarch Spring White Ale began promptly after the food and after that a very limited quantity of rare cellared beers from the past 15 years were put on paddles. My favorite was the sour cherry brown ale, Askew, but I missed some others. By the time I returned for more they were out. Beer enthusiasts came crawling out of the historical landmark woodwork, swapping stories while they waited in multiple long lines. Has summer begun already?! Quickly gone were the Oaked Heavy Handed IPA, White Cane & Ebel Red Rye, The Black Hop Juice did last a little longer but that well dried up shortly after the bands begun.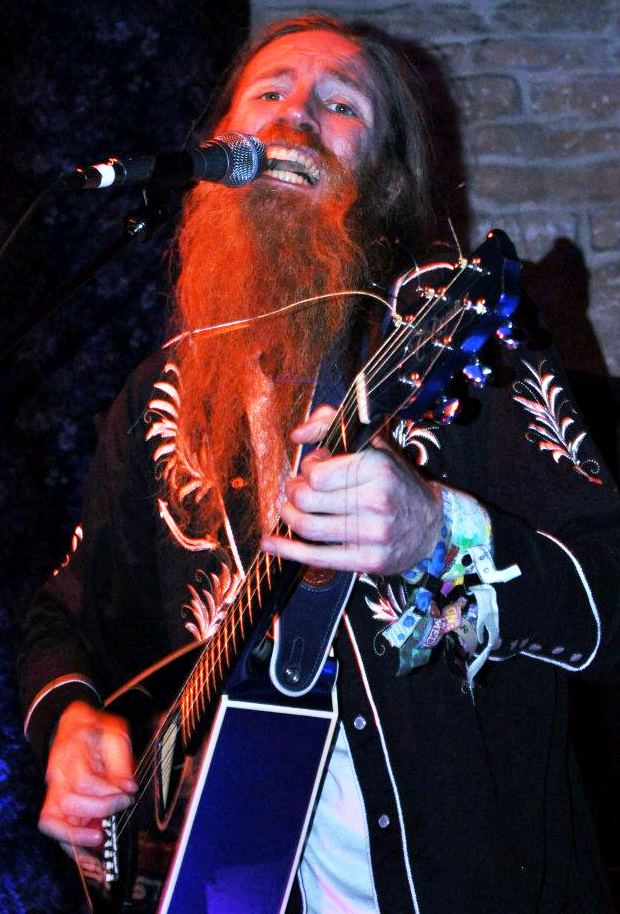 Jaik Willis opened the evening's music with his modest yet masterful solo set. I don't know if I'm applying my own sympathies here, but it seems to me that a solo artist often soaks up the energy of the audience a little more than when an entire band hits the stage. Jaik seems like a cavalier sincere pioneer with a beard. He can seemingly talk to anyone and everyone and carry on conversations of great length. He knows a little something about everything. I say pioneer because of his unique penchance for the beatboxing style. He beat boxed extended versions of When Doves Cry by Prince and Superstition by Stevie Wonder. He started off his set with strong numbers he carried with confidence and poise. Talking about Alcohol, Tobacco, and Firearms~ Sounds like a party to me! He can slip a little opinion into the mix without interfering with the buzz. To explain Jaik Willis, I can best sum it up by saying, you just gotta see him live.
Next up, Old Shoe kept the party alive and kicking by kicking off their St. Paddy's Day weekend of shows to a warmed up and wild Two Brothers' crowd. While I don't wanna use the term party band in a derogatory sense, I do wanna say Old Shoe's format of original, cover, original, cover promotes the party. They opened with their tune Beer then adhered the crowd to their dance floor locations with Soulshine, a lil Jack Straw then two of their originals -Day Rains Night and Rhett off their latest release, Let Yourself In. The show stopper built up enough anticipation for real rocks fans to return after the intermission when they asked Jaik back on stage and did a reverb'd out killer version of Led Zeppelin's No Quarter.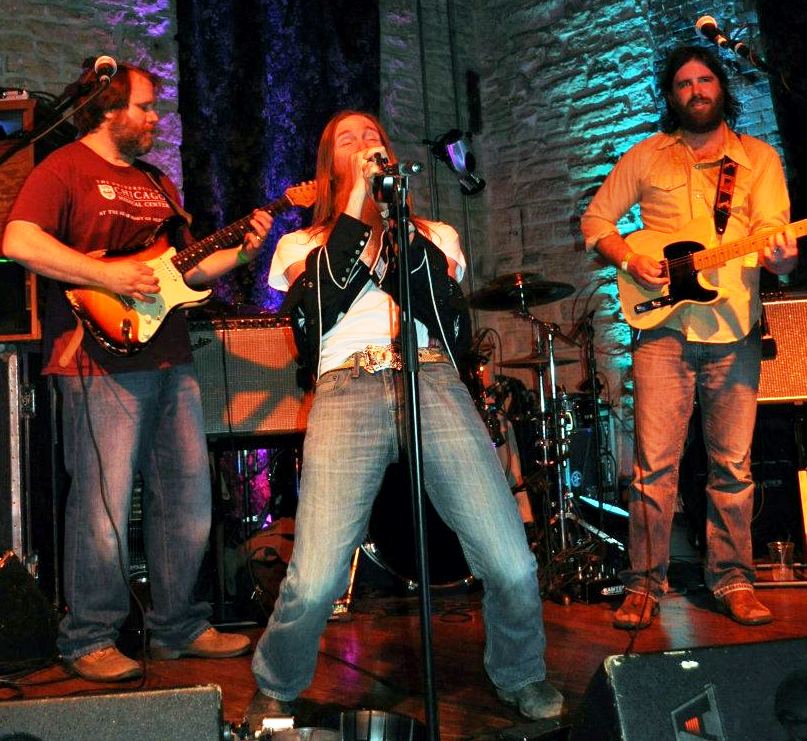 The second set was laughter and fun when it opened up with a giant St. Paddy's hat being passed around by the band and landing on the mic stand. They played V off their first self titled album and opened with Mouth of the Lion then right into Big River done in the style of the Dead. The family jamming continued when again Jaik climbed on stage now with the full force of his audience absorption and the camaraderie of the band. Being near the peers of weird engineers, we all Livelyied up Ourselves with Jaik on the frontier. He is such a showman.
Old Shoe played Eyes of the World. Couldn't say it better myself, "Wake up to find out that you are the eyes of the world, the heart has its beaches its homeland and thoughts of its own. Wake now discover that you are the song that morning brings, but the heart has its seasons its evenings and songs of its own." The memory of this evening will resound with those lyrics. Joe Day the keyboardist stepped up to vocals for that one and then they went into a new Old Shoe tune called Joe's Song that piques my curiosity about this party band. What cause will they support next…?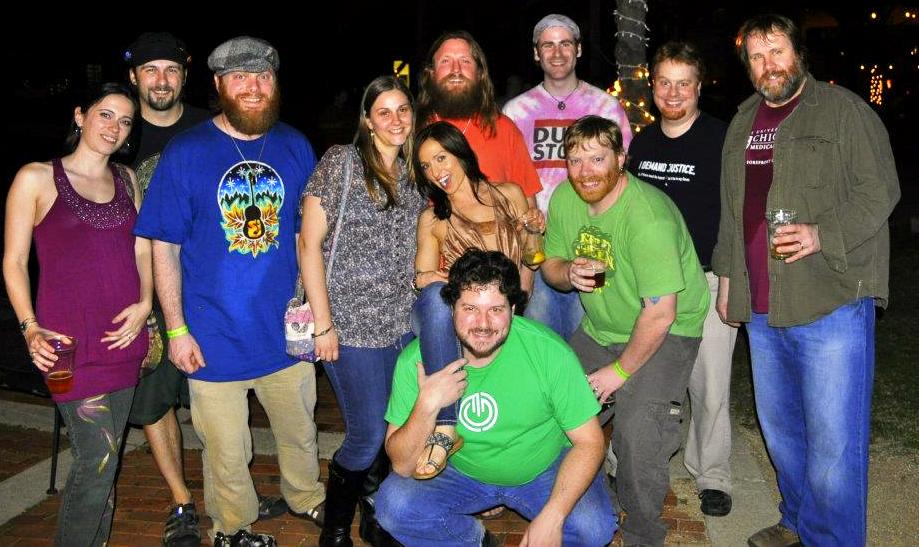 The souvenir for me was the veneer of the appearance that we're all here to just party. That's not it. We are here to stand for something. After all, when you stand for something, you can't just fall for anything. Two Brothers Brewing is a family owned business celebrating its 15 year achievement. They purchased the Roundhouse less than a year ago in their ever expanding operation. The Roundhouse is a historical landmark that is connected to the final stop of the BSNF railroad from the far west suburbs to the City of Chicago. They're not here to domineer the scene or be the pioneers of brewing but they are housing a coherent arts, music, and science scene. The mere chandelier above the tavern goers head has history behind it. I look forward to more fun times and goofy rhymes about life while I let my freek flag fly with the Old Shoe music fellas.