Orenda Fink: New Album Ask The Night Out Now
Submitted by mike on Fri, 10/09/2009 - 04:58
Orenda Fink's sophomore solo album Ask The Night arrived in stores on Tuesday. Following her heralded 2005 release Invisible Ones, the new album is an homage to her Southern roots and inspired by traditional American folk music and Southern Gothic literature. The album has been striking a chord with the press; the blog Captain's Dead remarked, "Orenda Fink's Ask The Night...plain and simple is a beautiful and haunting record and definitely one of my favorite sounding records of the year...Highly recommended!"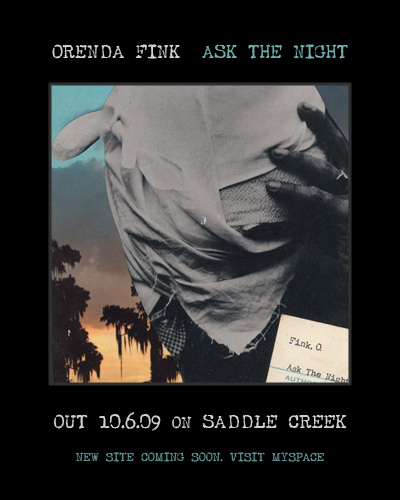 Yesterday, PasteMagazine.com premiered new album track "That Certain-Something Spring" here. A full album stream is also currently available on AOL Music's Spinner blog.  Prefix premiered her first single "High Ground" (featuring Isaac Brock of Modest Mouse) on August 25th; KCRW also named the song their 'Top Tune' on September 2nd.
Orenda will travel to New York City for the CMJ Music Marathon later this month to perform at an Oct. 21st day party presented by Rachael Ray's Feedback, The Syndicate, and Amnesty International, as well as the Saddle Creek showcase on Oct. 22nd.
OCT. 21         NEW YORK, NY         THE STUDIO AT WEBSTER HALL
(Day party; 5pm set)
OCT. 22         BROOKLYN, NY         KNITTING FACTORY - BROOKLYN
(Saddle Creek showcase; 12am set)