Palenke Soultribe | MAR | New Music Review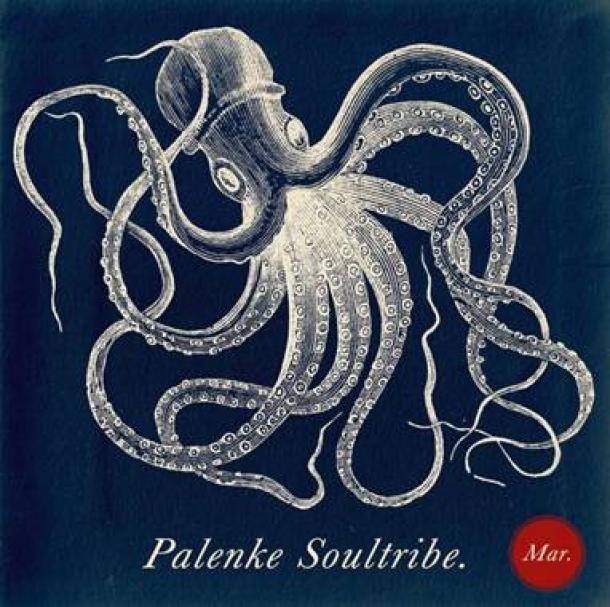 It's free and restrained, naive and formulaic; it's the trajectory of what's to come in tune these days and going forward. Palenke Soultribe's second entry in their recent audio trilogy, the foreign MAR, is right out of the textbook of the ethnic familiar-obscure.
Lately, there's been increasing notice given to these eclectic EDM-roots crossover acts. Everything needs a drop these days in the realm of pop, but the devil's in the details and a lot of artists are emerging from the clutter dead to rites. Palenke Soultribe tows the line, close.
MAR has so many tangible roots that you'd think it's utter overkill (at first); still, it makes sense in its own way. The trick, which this South American hybrid has refined more than so many of its self-proclaimed 'genre-jumping' compatriots, is in the consistency of the arch. Seems every other album today that plays with both the electric and the organic takes pride in the hodgepodge, the whatever-comes-next (it's all good) shuffle, and it's risky business.
So where does MAR focus? Best description off the top of my head, its near-trap tribal Sudamericana folk. Sometimes, it's a mess – "Las Penas Alegres" never rises far above electronic folk noise, while other tracks ("Boom It Up", "SOS Vitamina" especially) emerge with crunch and distinction early on (the mood set here largely carries through). Of course, exceptions exist – "Missing Information" reminds of Chronichitis-era Slightly Stoopid with its combo pack of digital wobbles n' drops and organic dub – sometimes (as with this particular track), the outside cuts are actually high points. Then you've got good-fillers like "This Song Is For Whoever Feels Lonely", which hops from its Latina base of operations to a chorus that could effortlessly latch onto the next Jersey Shore spinoff as a theme song. Yes, MAR is all over. So do you abandon the source and tap elsewhere? Hell if I know, but it's a fine line these boys are playing in the margins.
MAR is a pretty solid album, perhaps not as strong as its acclaimed predecessor, ORO, but no major complains nonetheless. Palenke Soultribe's stylistic blend of authentic South American roots and artificial drum-and-bass tightening is responsible for some solid summer party jams, and their record (mostly) works from start to finish. Still, it's damn easy to mix slush for the sake of exploration or making a name on the fringe, and this duo's one of those that could fall to either side of the tracks moving on; even a tight set like theirs doesn't make a body of work if it all falls to pieces in the grand scheme of things. For an hour, though, I'll let MAR play; it can't hurt.