PAM TILLIS' NEW CD, RHINESTONED, BRIDGES PRESENT & PAST
Submitted by press on Tue, 01/30/2007 - 21:37
Rhinestoned is Pam Tillis' first album since 2002's tribute to her father, Mel Tillis, titled It's All Relative.  Co-produced by the trio of Tillis, Matt Spicher (Marty Stuart, Ricky Skaggs) and Gary Nicholson (Delbert McClinton, Wynnona), the new CD is also her first independent release, set for release on April 17 on her own Stellar Cat label, marketed and distributed by Thirty Tigers and RED Distribution.
 
With the last CD, her tribute to her father Mel Tillis titled It's All Relative , Pam produced one of the most memorable discs to have come out of Nashville in years, largely because of her refusal to conform to expectations. Combing through her father's catalog, she chose songs that had an especially timeless quality, with built-in resistance to the whims of the market. It was a bold statement; more than that, it set the stage for the even more assertive statement that Rhinestoned would make.
 
"That was the first record I ever made where I wasn't concerned about having to come up with three singles," she points out.
 
That's one reason why Rhinestoned marks the first album to be released on Stellar Cat, Pam's own imprint. With total creative control, she let her heart lead the way toward material that she could perform honestly and emotionally. "This is an A&R-free zone," she says, smiling. "It's a bookend to the Dad album, except it has all new songs. It's like a bridge between the present and the past."
 
How past is this particular past? "If you look at my record collection circa 1974," Pam answers, "you'd see Emmylou, Graham Parsons, Waylon Jennings, Don Williams, Linda Ronstadt, and Neil Young. Flying Burrito Brothers – hippie country I call it – that was some of the best music that ever came out of this town. Maybe it wasn't happening on country radio at the time but it sold record and built careers. It was the vibrant scene on the fringes of country, which was very cool – just as it is today."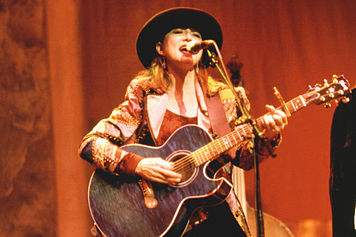 The Rhinestoned sessions started in 2004. Beginning with around 20 songs, Pam and Matt whittled the number down to ten, which they cut and set aside, like bottles of wine allowed to mature. A few months later they repeated the process. And then, after reflecting for a while on what she had accomplished, Pam decided something wasn't right. She talked about it with her trusted friend and writing partner Gary Nicholson and reached a critical decision.
 
"It needed to be more country " she sums up. "I played what we had for Gary, brought him into the picture, and suddenly it felt like we weren't wandering in the woods anymore The when I found the song 'Band in the window,' suddenly I could see and hear the whole project in my mind right down to the t-shirts, Tillis' laughs.
 
Since she began her country music career, Pam Tillis racked up six number one singles and 14 top ten hits racking up sales of over 5 million. In 1994 Tillis was crowned CMA's female vocalist of the year. Other milestones have included two Grammy awards and a slew of ACM and Grammy nominations.  Pam self produced her "All of this Love" album which yielded two Top 5 hits. As an actress, she starred in Leiber and Stoller's "Smokey Joe's Café" on Broadway as well as "Promise Land" and "LA Law." Pam was inducted into the Grand Ole Opry in 2000 and her last album, It's All Relative , a tribute to her father Mel Tillis, reached No. 4 on USA Today's top ten country records of 2002.  She continues to tour extensively to the delight of country fans worldwide.