Papa Grows Funk release "Needle In The Groove" March 27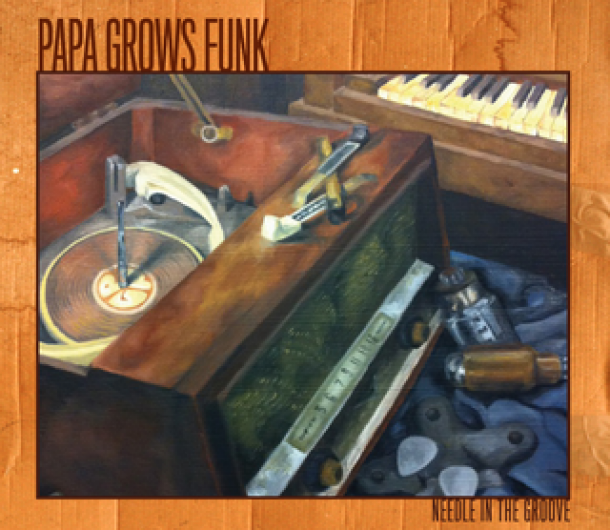 Booty shaking party music best sums up the inimitable Papa Grows Funk, one of the most successful funk bands to emanate from New Orleans. The group of all-star musicians teamed up with the legendary Allen Toussaint and fellow 'who dat' Tom Drummond of Better Than Ezra to co-produce their new album of  "Mardi Gras in a bottle" and PGF release Needle In The Groove on March 27 on Funky Krewe Records.
Rooted in improvisation and led by Hammond B3 keyboardist and lead vocalist, John Gros, Papa Grows Funk has built its enthusiastic vibe on a long-standing musical tradition that dates back to the hot jazz of the legends, Fats Domino and Louis Armstrong.  Like Dr. John and the Neville Brothers, Papa Grows Funk keeps that New Orleans lineage alive while always funkifying towards the future.
Papa Grows Funk has fused the individual talents of its members into one unique sound, but still retains the initial spark they ignited in the beginning while jamming together at the Old Point Bar. "While we throw in New Orleans classics, now our songs and our groove are all our own," says John Gros. "We still love playing together and that comes through in our music."
Playing over 100 shows a year, Papa Grows Funk will do what they do best and hit the road this month in support of the upcoming release with more dates being added.  For the 12th consecutive year, Papa Grows Funk will perform at the New Orleans Jazz & Heritage Festival on Saturday, April 28, 2012 on the Gentilly Stage.  Hitting venues across the world – from the Highline in New York to the Fuji Rock Festivan in Japan – Papa Grows Funk has brought their music to clubs from coast to coast and festivals worldwide.
With no play lists and no rehearsals every Papa Grows Funk performance is its own masterpiece of funk. On any given night, the band might change songs or grooves. But one thing is certain: whether it is jam band college kids or seersucker wearing professionals, five folks or 100,000, after John Gros announces "We're Papa Grows Funk from the great city of New Orleans," the crowd is going to go wild.
-
PAPA GROWS FUNK TOUR DATES
Fri, Jan 20 – Lake Charles, LA – Luna Live
Sat, Jan 21 – Baton Rouge, LA – Chelsea's Café
Sat, Mar 10 – Crystal Bay, NV – The Crystal Bay Club
Sat, Mar 17 – New Orleans, LA – The Howlin' Wolf
Fri, Apr 13 – Austin, TX – Antone's
Sat, Apr 14 – Houston, TX – Last Concert Café's Spring Fandango
Sat, Apr 28 – New Orleans, LA - New Orleans Jazz & Heritage Festival
May 20 – May 27 – New Orleans, LA – New Orleans Smooth Jazz Funk Cruise 2012