Pavlo and His Signature Guitars
At the beginning of this year, Canadian ethnic acoustic guitarist, Pavlo, taped a PBS special at the Ford Community and Performing Arts Center in Dearborn, Michigan. That concert extravaganza, "Pavlo's Mediterranean Nights," will have sixteen musicians and dancers, along with Pavlo, and will be aired on PBS stations across the country this month. It will also be available on DVD.
Pavlo was named World Artist of the Year in 2004 by the Canadian Independent Music Awards and his second album, Fantasia, won a Juno for the Best Instrumental Album in 2000. He is currently touring in support of his seventh album, Live at Massey Hall.
"After coming off of a huge show like the one we're doing, I long for a more intimate setting," Pavlo said in a phone interview in January. Immediately after the taping of that concert, he hit smaller stages in three cities in the Midwest. Those concerts weren't solo performances, however. He had five musicians traveling with him. "Sometimes, the music is even more well received when it's a little bit more naked," he admitted.
Pavlo is Canadian born, but his parents came from Greece in the mid-60s.  Two of his band members are of Greek descent. Spryos Gazetos, the longest serving member of his band, plays bass, keys, and bouzouki, a mandolin-type instrument, and George Vasilakos also plays bouzouki and guitar. Both are Greek. Gino Mirizio, percussionist and piano player, is Italian and is adept at a variety of handrums, including timbale, congas, cajon, djembe, doumek, and ud. Randy Rodrigues, bass, is of Portuguese descent, and Densil Femdios, the keyboard player, was born in Kenya of Portugese descent. These musicians add flavor to Pavlo's already rich mix of flamenco, classical, and Greek-inspired melodies.
Pavlo started playing guitar in earnest when he was ten. In fact, he played so much that his mother began to worry about him, encouraging him to go out side and play. "I enjoyed playing guitar that much," he said. But it was more than just learning his instrument. "I also started to create. Obviously, writing songs at the age of twelve - - they were pretty bad. But the intention was the there, the need, the desire to create music, to write music, to come up with my own melodies was sort of innate right from the start. This is some of the craft that I have built over the years, not playing my guitar behind my head and all this kind of stuff. It is writing music that means something to me.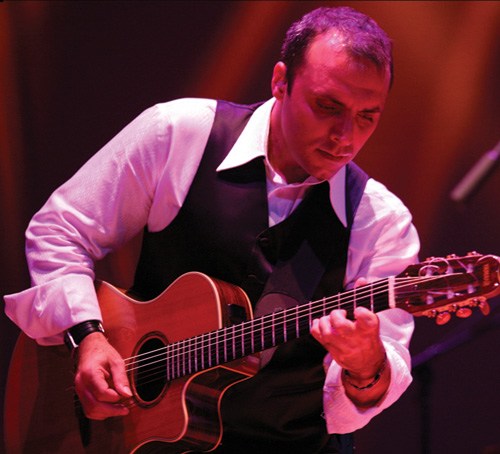 Though Pavlo played in a few rock bands in his teens and twenties and was writing melodies for them, it was trip to Greece that made a connection for him. He discovered what he called Mediterranean music, a joyful, celebratory music that moved him and began to move others. He wasn't able to attract a record label but toured all over North America and sold CDs out of the trunk of his car. Eventually, his second album sold a million copies. In the ten years since he has started recording, his music has been recorded on soundtracks for The Chris Issak Show, The L Word, and the film, Marine Life, starring Cybill Shepherd. He also has performed for His Royal Highness, Prince Charles.
One song that is close to Pavlo's heart is "BriAnje," written in honor of Brittany Mastronardi, the daughter of Ontario vintners Eadie and Tony Mastronardi. Brittany died of Batten Disease, a very rare and fatal neuro-degenerative brain disorder, at the age of 11. The Mastronardis named their first wine, a Riesling, after her, calling it BriAnji, which in Portuguese means "Angel Brittany." Pavlo was so inspired by her story that he wrote a song for her.
"But I'm not composing instrumental music to show everybody how fast I can play guitar. I'm composing music that has inspired me or moved me or changed my life in some way," he said. "I've been in this business a very long time. I have friends that write in Nashville, and all they do every day is go to their songwriting sessions and they write from Monday to Friday. That's not my world. I may write one song this month, and I may write seven the next month. It depends on how I'm moved." He said that he doesn't write songs just to record them. "When I complete a song, it's been written for a reason."
In the case of "BriAnji," she had passed on before he met the Mastronardis. "They spoke about this child whom I never met in such a positive light.  It wasn't, 'Why did she only live 11 years?' It was, "Why were we so lucky that she lived 11 years?' The perspective was very different, and she inspired a lot of people. Like every family, you have untimely deaths, but this struck me very different. The song that I wrote has a melancholic feel, but I think a very positive feel at the end of it." That piece of music has never been placed on a record and is available as a free download on his website (www.pavlo.net).
Throughout Pavlo's career, he has played many different guitars and has even been endorsed by Yamaha for years. "That's all fine and dandy," he said, "but, at every show I do, I always have kids come up to me and ask me about the instrument that I play." At first, he just showed them his Yamaha classical guitar. "I wanted to get more involved in it than just that," he said, more than just telling young players what brand he uses.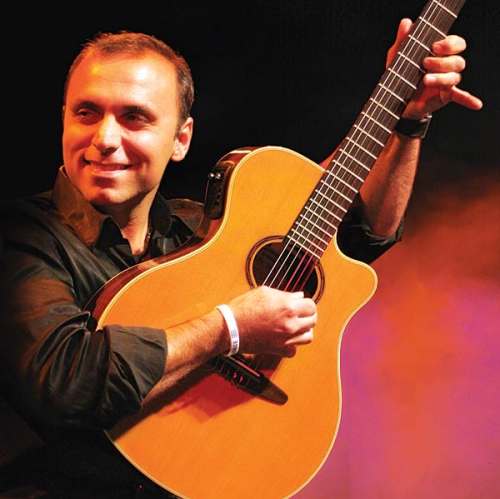 He realized that many youngsters needed affordable instruments that were good quality. Often, one of the biggest hurdles is getting a good guitar that will produce the sound that you want it to, but it's going to cost you $2,000 or $3,000. Big guitar makers do offer youth guitars but even these are often priced out of young hands or the ones that are affordable are just not up to the quality Pavlo thinks youngsters need.
"I'm at the level now that I can take over that end as well. I'm making an affordable guitar for them. They can play it, and it will be a good guitar," he said. "It's been about a year and a half in the works. I teamed up with a luthier. We found the company out of San Francisco that has manufacturing plants all over the world. The guitar will be a $1500 guitar that I'm probably going to sell to the kids for about $500 to $600."  The higher prices for good guitars Pavlo says are due to middlemen and distributors. "That's how these prices get inflated," he said. "I can minimize all that and have available to these kids a guitar that is very good. And I'm not talking about Esteban and a $100 guitar. I'm talking about a real guitar that will really play well because I'm going to play it myself, and I've got fifty guitars.  It'll play well, and it will be affordable."
These new youth guitars should be available sometime this year. The legacy of these guitars will encourage many young players to continue their classical, ethnic, and acoustic guitar studies.