PHAROAH SANDERS RETURNS to BROOKLYN
Submitted by press on Tue, 03/23/2010 - 21:47
Two of Brooklyn's vanguard organizations for African American music and culture, Central Brooklyn Jazz Consortium and International African Arts Festival, will collaborate to produce a Community Day Gala Concert, as part of the 11th Annual Central Brooklyn Jazz Festival, featuring saxophone great Pharoah Sanders. This event will take place on Saturday, March 27th at Boys and Girls High School auditorium located at 1700 Fulton Street in the Bedford Stuyvesant section of Brooklyn.  Tickets are $35 in advance, available online or by calling 718.773.2252 or 718.638.6700.  Doors open at 7:30 PM concert begins at 8:00 PM.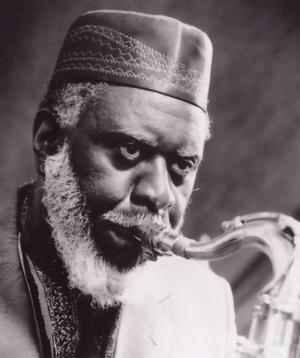 Grammy award winner Pharoah Sanders has not performed in Brooklyn since his days at the legendary jazz shrine The East. Pharoah's ascent to stardom began with collaborations with John Coltrane.  His distinctive sound has revered him among many jazz lovers.  Other jazz luminaries he has performed or recorded with include: McCoy Tyner, Elvin Jones, Sun Ra, Don Cherry, Billy Higgins and Alice Coltrane just to name some.  This concert also includes performances by Omi Yesa (Afro-Cuban and Yoruba folklore music) and poet Louis Reyes Rivera.
International African Arts Festival is a not for profit entity that began in 1971 as a fundraiser for the Uhuru Sasa School. Their cultural presentation was originally known as the African Street Carnival, fore runner to BAM's Dance Africa Festival.  Now in its 40th year the annual IAAF attracts nearly 75,000 people and presents musicians from across the African Diaspora.  International artist such as Fela Kuti, The Mighty Sparrow, Lauren Hill and Abbey Lincoln, just to name a few, as well as local artists present(ed) their musical styling's.
11th Annual Central Brooklyn Jazz Festival, March 27th thru April 30, 2010, will feature a lineup of international, local musicians; jazz forums; youth performances and a Brooklyn Jazz Hall of Fame & Museums (TM) induction ceremony.  Confirmed venues include: Brooklyn Tech Auditorium, Weeksville Historical Society, BAMcafe Live, Parlor Jazz, Dweck Center for Contemporary Culture-Brooklyn Public Library Central Branch, Bedford Stuyvesant Restoration Plaza, Afroarts Design, Sistas' Place, Hitchcock Institute for Studies in American Music at Brooklyn College, Two Steps Down, Brooklyn Borough Hall, Brooklyn Arts Council, Rustik Lounge, Brooklyn Historical Society, New York Aquarium, Sugar Hill Restaurant and non traditional music venues throughout the borough.
Central Brooklyn Jazz Consortium acknowledges Brooklyn Tourism and Visitors Center, Long Life Information & Referral Network, Brooklyn Arts Council, Department of Cultural Affairs and International African Arts Festival, Inc. for assistance with producing the 11th Annual Central Brooklyn Jazz Festival, the longest continuous running jazz festival in the borough.
Central Brooklyn Jazz Consortium/CBJC founded in 1999, is an amalgam of patrons, entertainment venues, faith based and community organizations and musicians.  Over the past ten (10) years CBJC has presented an annual spring festival, established a Brooklyn Jazz Hall of Fame & Museum (TM), and produced yearly programs that feature local jazz talent.  CBJC is a nonprofit corporation committed to preserving, promoting and supporting live music within the under served communities of Brooklyn.