Phish | Broomfield, Colorado | 10/10/2010
Submitted by mike on Mon, 10/11/2010 - 20:46
Phish is back in Colorado... just a mere two months earlier we were all out in Telluride to catch Phish at one of the most stellar locales in America.  1st Bank Arena, in Broomfield, Colorado might be in the middle of cookie-cutter American looking architecture -- but the promoters did get it right after renovating 1st Bank back in 2008>2009.  The place was a complete disaster when it first opened in 2006.  The place was riddled with parking problems, crummy acoustics and a real lack of interest from bands, special events, etc.   I guess the Colorado GOP had their little shindig there, which should give you an indication right away how lame this place was…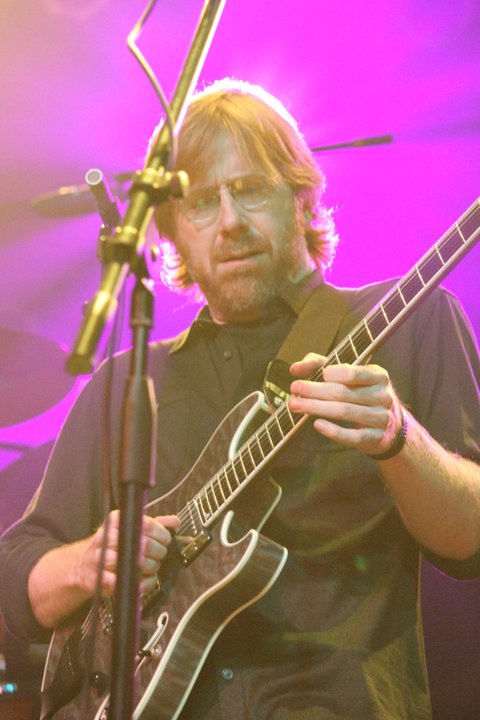 Now it's still the same building in the same cookie-cutter location, but what has changed has made all the difference! This place sounds good! Really good…it's small too, nearing about 6500 at full capacity.  You're not going to catch Phish in a smaller venue in 2010.  Sure us lucky folk who started seeing Phish in the early 90's will still boast seeing the band in a venue holding less than 500 (for me that was Liberty Hall in Lawrence, KS on 4/1/92 -- still my favorite Phish show.. get it!).  However, catching Phish in this relatively intimate venue is pretty cool considering the alternative…Pepsi Center or gag…Fiddler's Green (or whatever they're calling the schwaggy place nowadays).
Trey sounds great.  They really tore the roof off the place last night.  Highlights for me:  Julius was a rager – Golgi is always a lot of fun to hear.  Mike's Song > Simple > Ghost > Weekapaug Groove had a little bit of everything.   Trey introduced a new song last night titled: "My problem Right There" – Sure Senior Ernesto is one of the most prolific song writers out there… I will confess on average, however, I am probably fond of only 1/3 new songs Trey has brought forth over the past decade or so – But this song I liked right away. Most songs take a least a few listens before I know the song well-enough to gauge if I truly dig it – but this song is catchy, bluesy and I enjoyed it from the get-go.
The band is hot. They sound great.  Check out Grateful Web's videos from the shows – We'll have more up on Tuesday as well as photos and phan interviews.