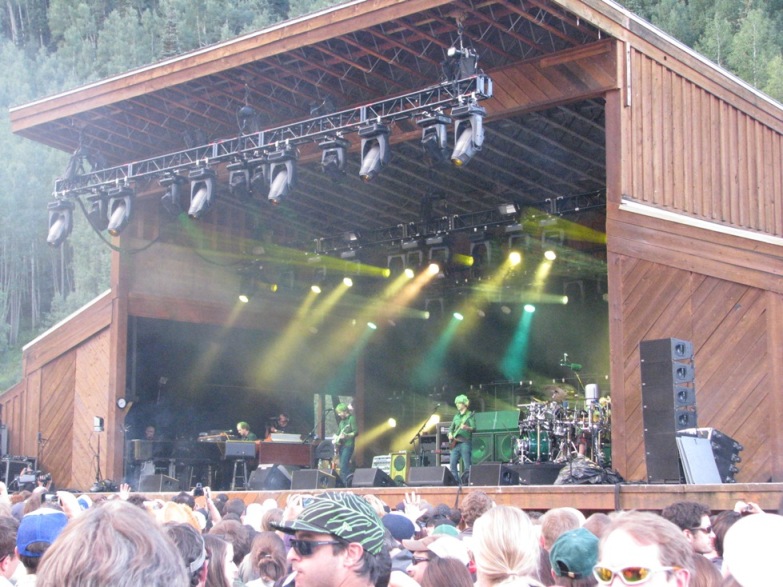 The Grateful Web trekked out to lovely Telluride, Colorado last week for Phish's shows in one of the most majestic places to ski, ride and see some of the greatest bluegrass, jazz, and in this case one of the greatest live acts to ever grace the stage in Town Park. Phish, who has not played Telluride since their 1991 shows, was in fine form for what many anticipated to be the best run of the summer. The beauty of Telluride and the 15th anniversary of the death of Jerry Garcia had many in the audience expecting some kind of homage to Jerry, and Phish did not disappoint. -- During their newish song, 'Summer of 1989," Trey began singing about the "summer of 1995" -- I am not sure if everyone in the audience noticed this more than subtle homage to Jerry, but my friends were all trying to fight back a tear or two during this kind moment.
Personally I found the majority of the 2nd night to be a bit more energetic and more well-played -- but bits and pieces of the first night had their moments -- Quinn the Eskimo > Tweezer Reprise was pretty special -- and the Julius to close out set 1 was full of life. The 2nd night had more highlights, including: Yamar, Antelope, Carini, Mike's Song > Crosseyed & Painless > I am Hydrogen > Weekapaug Groove.
Later in the evening Trey told a story about their first ever road trip as a band, which was supposed to be a big Colorado tour -- Instead -- Phish ending up "playing to the same 12 people" and the tour turned out to be a week in Telluride -- which is never a bad place to be.
Check out lots of photos and videos from the shows. We hope you enioy!
Thanks,
The Grateful Web