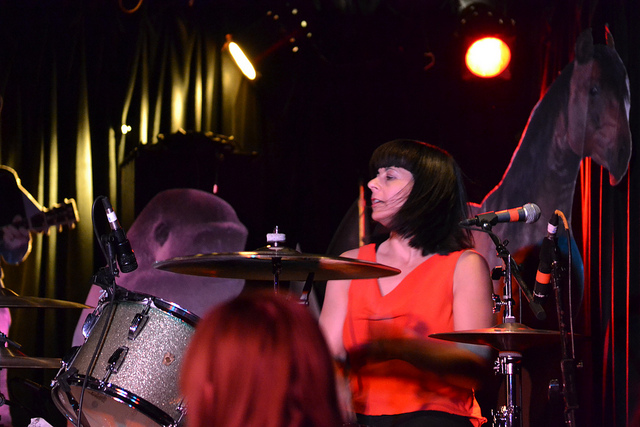 Some venues seem to fit the mood of a concert or the concert goers perfectly. The Hi-Dive in Denver is one of these places, with dim colored lights and walls plastered with retro pop art concert posters for the numerous upcoming bands that will be playing there scattered about the various odd knick nacks it screams this is a place to be for anyone who wants to hear indie music in Denver.
This is where I found myself last night for Quasi whose opener was Blues Control. With a stage covered in various Hollywood icons like Glinda, or other visual oddities like horses and gorillas that set the scene for what was going to be a trip of a show.
Blues Control took the stage first with the combination of a tape backed duo. Producing distorted and atonal combinations between the two of them. Russ Waterhouse and Lea Cho create an atmosphere with their instruments lit by small clip lights and wires strung from them like something out of a Sci-fi movie. Like a mix between DJing and a mash up sound collage with a healthy dose of free form jazz thrown in from the keys Blues Control creates an interesting feel for their audience. Explaining little and letting their audience members simply experience the shifts from one song to another with Russ as frequently bent over his mix of wires and tapes as riffing on his guitar to accompany Lea leaning over her keyboard slamming away at the keys almost with a sense of the rhythm that was at times near impossible to sense from the crowd.
After a brief break Quasi took the stage sitting down with a casual manner then opening their set with a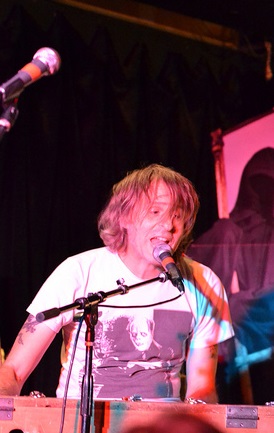 ripping start of drums and keys that proved to be a perfect example of how this band sets their sound and feel for their shows.
Quasi, featuring a striped down duo consisting of drums and either a keyboard or guitar is not afraid to use distortion to its fullest extent. Creating a sound much larger than the two of the band members themselves would be expected to make. Sam Coomes, sits lanky behind his keyboard sometimes working it so hard that it rocked back and forth on its stand. Alternating that with chunky guitar sounds and squeaking strings Sam allows the guitar to almost scream in front of him while Janet Weiss slams out drum riffs along with him. There were at times that Janet seemed to be working the drums so hard that she looked exhausted and I would have believed that they would have been moving equally as hard as the keyboard.
Moving from free flowing bits to songs that incorporate marching beats or honky-tonk stride piano feels, Quasi seems to deftly move from style to style while still holding on to a what has become the defining part of their sound, large heavy melodies filled out with Sam's keening wail of a voice and Janet's heavy rock beats. It was a concert that kept its distinct indie rock audience moving the entire time.