The Quick & Easy Boys Announce New Album & Tour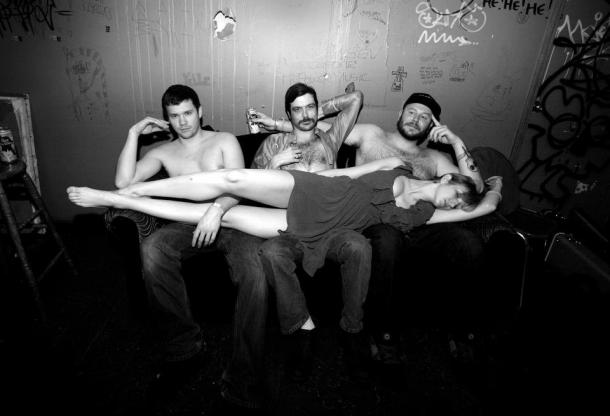 Portland, Oregon-based rock group The Quick & Easy Boys, who blend garage-pop, psychedelic rock, and funky R&B to create their brand of rock 'n' roll, are celebrating the release of their third full-length, Make It Easy, nationally on May 14, 2013.  Comprised of vocalist/bassist Sean Badders, guitarist/vocalist Jimmy Russell, and drummer/vocalist Michael Goetz, the power trio creates a sound that goes against the grain, but finds everyone dancing and partying.  Bottom line - it's all just rock 'n roll.
"It's Jimi Hendrix meets The Police playing at a house party hosted by The Minutemen," Badders, describing the band's sound over a couple of cocktails.  If that description sounds far-fetched or strange, you haven't heard The Quick & Easy Boys and the dynamic sound they bring to the stage - and recorded.  Following up 2008's Bad Decisions with Good People and 2010's Red Light Rabbit, Make It Easy is their most cohesive and melodic album to date, which also happens to be their most rocking as well.
"We have continued to grow as songwriters and musicians, which has lead to a more dynamic and unique Quick & Easy Boys' pop-rock sound on this album," further comments Badders, discussing the album.
Recorded with engineer Bill Barnett at his Gung Ho Studios in Eugene, Oregon, and produced by the band (with help from Barnett), The Quick & Easy Boys went for a more cohesive sound on their latest.  Whereas Red Light Rabbit, and especially Bad Decisions with Good People, genre-hopped from track to track, Make It Easy hones it all in, keeping the level of diversity that has garnered the band a devoted and loyal fan base, but ensuring their stylistic, genre-hopping uniqueness isn't traded in for production value.
"We really took our time recording and then assessing what should be put on the album as a coherent sounding mix of songs," recalls Russell.  "We did not rush this process at all.  We ended up cutting some songs and then adding some others.  We feel very happy with the choices we made in regards to the final track selection.  Also, by working with Barnett, we feel the entire production quality increased exponentially.  The album pops harder than our first two efforts."
This is none more evident than it is on tracks like album opener "Hey Hey Hey," a stomping, funk-laden 70s influenced rocker, or garage-rock dancer "Without You."  
"Dog On Its Reign" finds the band playing tight, punchy pop-rock, danceable groove in the pocket, and a slight psychedelic groove undertone that propels and pushes the song.  Meanwhile, "Trace Kincaid" sounds like Pink Floyd meets Frank Zappa, and the album's title track is delectable, buoyant quirky pop-rock.
Channeling early Red Hot Chili Peppers on "Let Me Get Down," the band proves they can do just that, get down with a rocker, making you dance and sweat, but still make the song grind with a guitar that prove they're a rock band at heart.
"Toothpaste" is the band's nod to folk-rock, delivering a slower, methodically beautiful melody that will put you in a trance.
Ending with "A Little Hell," the Led Zeppelin-inspired ballad that fuses arena rock with slow, charming pop rock, helps you wind down gracefully, putting the sweat-drenched raucous to bed and allowing you to feel every note in a different way.
In the past four years prior to Make It Easy's release, the band has crisscrossed the nation several times, playing everything from dive bars to festivals throughout, garnering a steady and consistently growing fan base in each market they bring their ass-shaking, good-time, beer-drinking brand of rock.  Influenced by the likes of Jimi Hendrix, The Who, The Police, Willie Nelson, Fela Kuti, Funkadelic, and countless others, the band has worked hard to get to the point where they're at with Make It Easy.
When asked if there is a theme or message running throughout the album, Badders quickly says that the album is "a mishmash of the of the feelings derived from living a Dionysian rock 'n roll lifestyle.  It deals with heart break, frustration, fighting change, submission to change, highs, lows, and generally all the reasons why one should choose to just Make It Easy."
With the Make It Easy attitude, the band just wants to continue to perform for growing crowds, enthusiastic concertgoers, and have a good time.  After all, if you can't have fun and do what you love, why put all your energy into it?  And, one listen to Make It Easy will prove that the band does indeed put all their energy into their music - and live show, which is not to be missed.
TOUR DATES:
5/08/13 - Applegate Lodge - Applegate, OR
5/10/13 - Liquid Lounge - Bend, OR
5/11/13 - W.O.W. Hall - Eugene, OR
5/16/13 - Nectar Lounge - Seattle, WA
5/17/13 - Wonder Ballroom - Portland, OR
6/12/13 - Martin's (FREE, 21+, doors 8pm) - Roanoke, VA 
6/13/13 - Doc Taylors - Virginia Beach, VA
6/14/13 - 8x10 w/ Cris Jacbos Band ($10/12, AA, doors 8pm) - Baltimore, MD
6/15/13 - Cantrell's ($10, 21+, show 10pm) - Fayetteville, WV
6/16/13 - Empty Glass ($7, 21+, show time TBA) - Charleston, WV
6/17/13 - PJ Kellys (FREE, 21+, show 9pm) - Clarksburg, WV
6/18/13 - Woodlands Tavern (FREE, AA, show 6pm) - Columbus, OH
6/20/13 - Lamasco's ($3, 21+, doors 8pm) - Evansville, IN
6/24/13 - Southern Sun Brewery (FREE, 21+, show 10pm) - Boulder, CO