Rachel Brown to Perform at Rockwood Music Hall | 12/22/12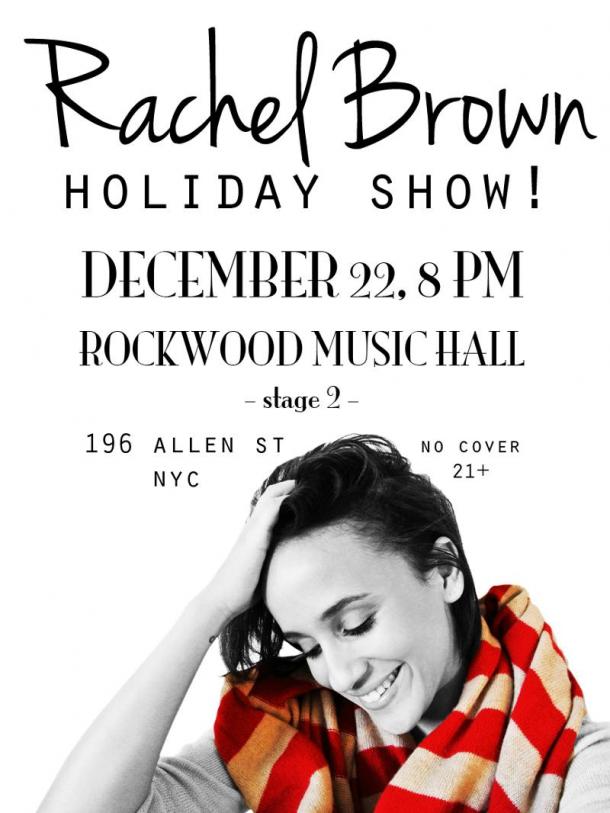 Rachel Brown, the ever talented songstress will be performing a holiday show at Rockwood Music Hall is on Saturday, December 22ndat 8pm. Come get into the holiday spirit while Rachel sings a mix of original tunes and holiday classics! The Rockwood Music hall is located at 169 Allen Street.
Rachel, who is receiving rave reviews on her debut EP, recently celebrated with and album release party last month at The Darby, where celebrities such as John Stamos, NY Giant Prince Amukamara and others came out to celebrate with her! She has gained a huge following in support of her album release, including one of her favorite musical influences, Wyclef Jean, who recently joined her on stage at The Darby during a performance!
Building Castles has already received the praise of critics and tastemakers alike. Glamour.com applauded the EP, writing that, "the songs...have a feeling of worn-in comfort. And her sensually soulful vocals carry the EP's captivating mélange of sounds - from Caribbean to hip-hop and world fusion - with uncanny ease, while conveying joy." DailyCandy declared that "the hype is justified."
The singer-songwriter, who was born and raised in New York City with Ethiopian, Bermudian and Southern roots, fuses pop, Caribbean, Hawaiian, country, hip-hop and world sounds into an original and captivating groove.
With no formal musical training, Brown found her voice organically. "I would pick up my guitar and teach myself how to play by writing songs," says Brown. "I just played until it sounded right." Having only been performing publicly since her junior year in college, the Harvard graduate's (she was selected as one of Harvard's "15 Most Interesting Seniors" in 2010) honest lyrics and melodic sound have secured exposure not often seen by a new artist. Brown has been featured by the New York Post and PerezHilton.com and has opened for the likes of Mary J. Blige, Robin Thicke, John Legend and Quincy Jones.
Who: Rachel Brown
What: Holiday Show
Where: Rockwood Music Hall- 196 Allen St. New York, NY
When: December 22, 2012- 8pm