Rocky Mountain Tour Ahead for Eric Lambert & Friends, May 3-19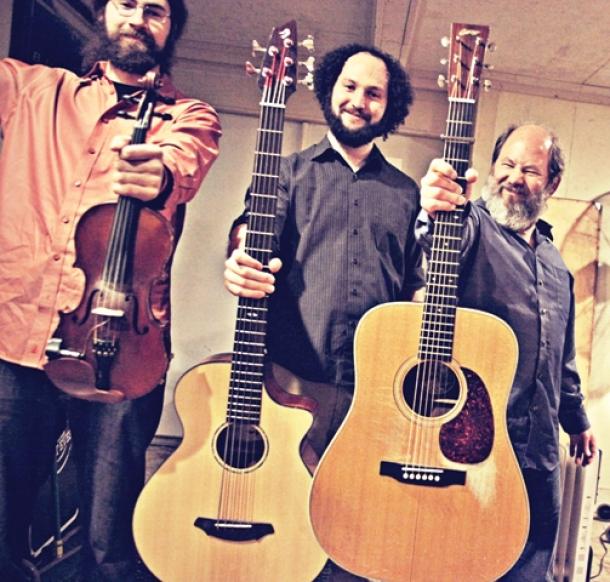 Rockin' Americana stringband Eric Lambert & Friends (ELF) return to colorful Colorado for a packed two-week Rocky Mountain Tour from May 3-19. The emerging trio, led by acclaimed guitarist, songwriter, and music educator Eric Lambert, along with friends Dan Rogers on bass, and Pat Fiddle on mandolin and fiddle, will be traveling peak-to-peak across much of the state from Fort Collins to Durango with many great stops along the way.
ELF shared their original music experience with the Front Range last November and are looking forward to returning and revisiting some of the venues they played, in addition to fresh locations they've been wanting to check out. Then they head west into the mountains for new towns and music-loving fans.
"I can't wait to visit all of my friends and fans in Colorado and share what ELF has been working on the past five months," said Dan Rogers. "The last time we came through we were welcomed with open arms and had such a great response that we knew we needed to come back as soon as possible."
Changes have occurred in the band, and they are more committed to than ever to progressing and delivering a good time, every time. "We are now a three-piece band," said Eric Lambert. "Musically we have grown immeasurably since our last visit to Colorado."
"Since we last visited Colorado, Lukas Simpson left the band, so we have invested a lot of time in developing our sound as a trio," Dan shared. "I'm very happy with how tight we've gotten. I think we all feel confident in ourselves and each other to keep the groove solid and bodies moving," he said.
"We love playing music for the beautiful people of Colorado," Eric said with a smile. "We plan to break out some new music and see a lot of old friends in Nederland, Denver, Fort Collins, and Boulder. I'm also looking forward to playing some new towns, such as Carbondale, Durango, and Grand Junction," he concluded.
Home to legendary music festivals such as Rockygrass and Telluride, and new-grass bands such as Leftover Salmon and Yonder Mountain String Band, the state's progressive views make it a great place for ELF to share their unique sound and experience. "Colorado seems to be at one of the epicenters of the Americana/Folk/Bluegrass scene, and we look forward to sharing our original music and take on traditional tunes in such a thriving music scene," said Dan. "Eric's precise flatpicking style, Pat's brilliant work on the mandolin and fiddle, and my approach to playing the bass makes for a pretty impressive sound and altogether great time."
From Chicago, IL, Eric Lambert & Friends are burning up the Americana scene and quickly becoming known for their interactive, improvisational music and high energy performances. The talented ensemble enjoys musical conversations among each other, creating a unique and inspiring experience. They are sweeping audiences off their feet, and bringing happiness and good times to everyone in their path through their rockin' original music.
Learn more at www.ericlambert.com.
ELF's Rocky Mountain Tour 2013 Dates:
May 3     Swing Station - LaPorte, CO
May 4     Twisted Pine Brewery - Boulder, CO
May 5     Whistler's Cafe - Nederland, CO
May 6     Sancho's Broken Arrow - Denver, CO
May 8     Barkley Ballroom - Frisco, CO
May 9     The Black Nugget - Carbondale, CO
May 10   Cruisers - Grand Junction, CO
May 11   Derailed Saloon - Durango, CO
May 12   Dolores River Brewery - Dolores, CO
May 14   Tommyknocker Tavern - Creede, CO
May 15   Front Range BBQ - Colorado Springs, CO
May 16   City Star Brewing Company - Berthoud, CO
May 17   Avogadro's Number - Fort Collins, CO
May 18   Quixote's True Blue - Denver, CO
May 19   Elevation Beer Company - Poncha Springs, CO
*Elevation's One Year Anniversary Celebration