Rubblebucket | Lincoln Hall | Chicago, IL | 3/22/12 | Review & Pics
Winter ends and the grounds warm to the seeds that bring spring time. Sowing seeds of lyrical genius into a flower of disco colors and glowing lights is the best way I can describe the Rubblebucket Chicago show at Lincoln Hall on 3/22/2012. Growing from the opening solo act of Kellen and Me to the coastal beach rock tunes of The Growlers into the full bloomed 8 piece Rubblebucket Orchestra was like a crescendo of organic green greatness. The concrete jungle of the cityscape came alive with music and artistic expressions that gave way to the human condition and the feelings that are evoked by art.
It was a Thursday night in the city of Chicago at a venue with plenty of different environments of which to see and experience the show. Kellen and Me opened up the show as if it were the bud just breaking from the ground. Kellen describes his muse as, "tape recorders, sensory deprivation, cymatics, and freeganism." This was certainly mimicked in his stage projections that looked to me like a human brain that morphed into the Celtic tree of life and another that inspired me was the shape that looked like a fingerprint slowly slipping into a snowflake design. His humble humming and looping tracks blossomed into the Indie rock tunes that turn me into mush and make me remember why I love music so much. Simplicity and strings to created a harmony that fascinated the crowd as they milled around deciding where to plant themselves for the rest of the show. "I was on the way to somewhere new, hoping I'd run into you… "When I closed my eyes and listened to the music, I pictured an old trail dog hiking along a switchback and kicking the rock along until he reached it and kicked it again. Keeping the beat looking at his feet, step by step coerced beautiful songs as they emerged. That cycle connecting the past and future was a great way to warm up an organic show like this.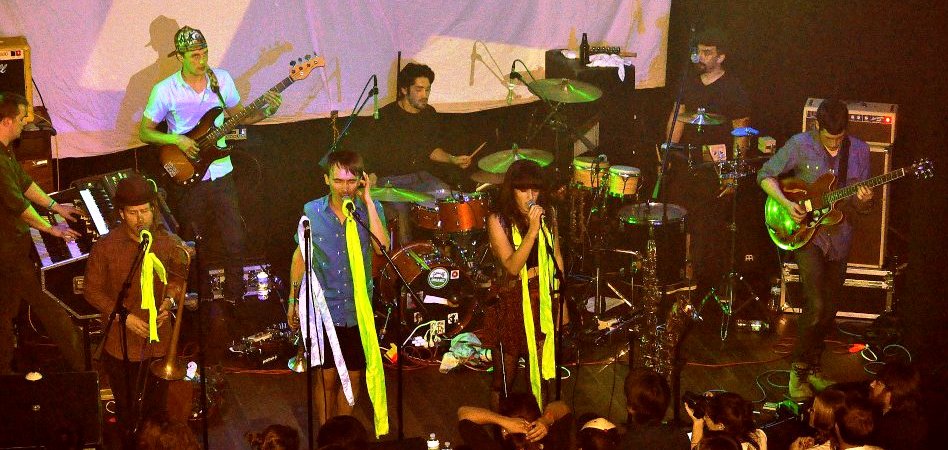 Enter the hallow tubes of an old television and watch the trippy hyacinths bloom in psychedelic colors. You're on a surfboard. You're at a luau. Whoosh! You're a Dolphin. The Growlers took the stage in a California curl of a wave that kept rolling out. At one point an audience member even jumped on stage and did the dance craze of the 60's, the swim. This happened a couple times actually and it didn't seem to bother any of the musicians at all. There were no security guards to rush the fan off stage or escort that man out of the venue. It was all part of the laid back jams that invited us all into the hula hula hideout. Check out their video for Gay Thoughts. Their ambient grooves into big wave surf tunes got the crowd moving. In a Jim Morrison meets the Beach Boys sort of way, I very much enjoyed the retro fit and unique style of a band such as The Growlers.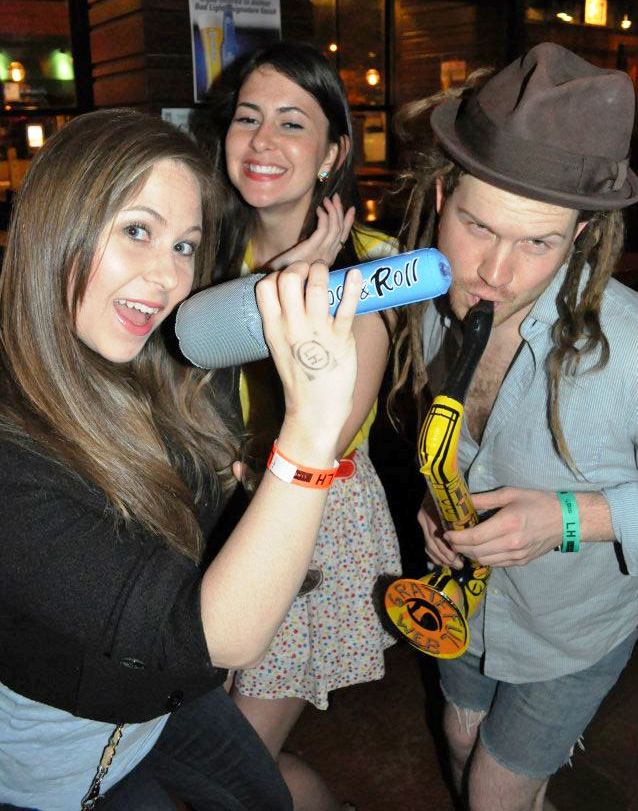 After a quick set break to refresh, or to dry out from the swim as it were, the 8 piece band assembled on stage. The projection screen was lifted to make way for the big sound of Rubblebucket. After hanging out in the crowd for the opening acts, the crowd chanted "Rubble-Buc-ket!" The band generously responded like old friends. The fourth wall between the audience and the band was non-existent. Chicago is a working town and that is not the norm. A band like Rubblebucket breaks the Chicago stare because indeed, there is no way to replicate what they are doing. The study session of what these musicians were doing remained upstairs and out of the way of the dancing and riotous fun on the main floor.
Impressive to get Chicago dancing this hard, Rubblebucket opened with Breatherez. Their music inspires crowds to DO something, similar to the feeling of when a marching band comes by in a parade and you feel the need to clap along or at the very least stand up! Breatherez is a sensation like you just woke up tingling. Rubblebucket are as danceable as Whitney Houston wanting to "dance with somebody" and yet they traverse thru the decades then transporting you from the 80's into an amazingly modern version of an Afrocuban beat Blondie. I lost my mind when they jammed into a lil Grandmaster Melle Mel, "White Lines". Rubblebucket truly is something like a phenomenon. "Freeze! Rock! Higher baby, get higher baby! Don't ever come down!"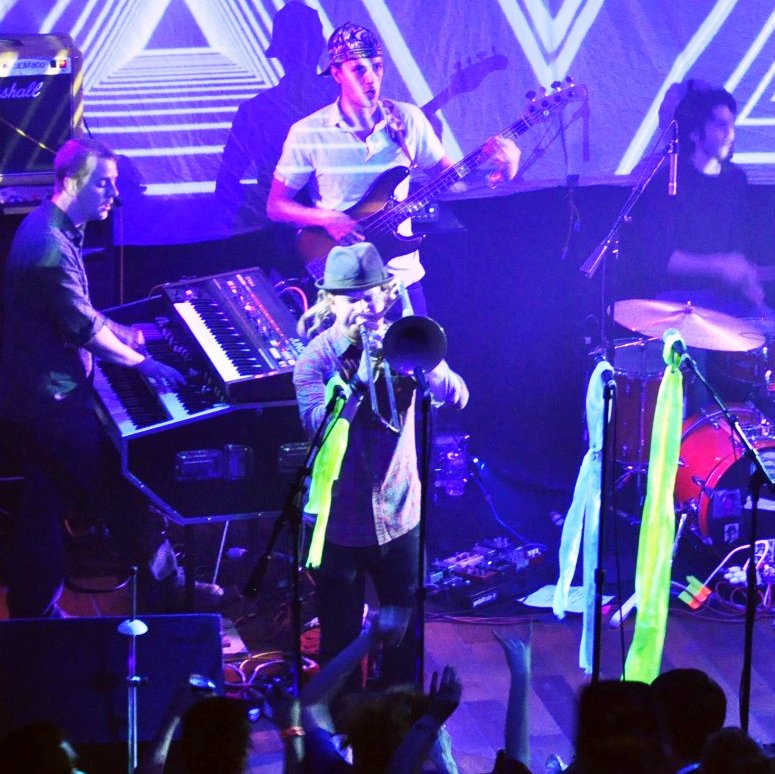 And then…Out came the robots. As Kalmia gave her best Aretha Franklin like white girl soul, Wrench the red-eyed-robot along with another robot friend came dancing through the crowd. Alex grabbed the cow bell and my fever found its prescription. Wrench had a striking resemblance to Bart Simpson and we all danced together until the dance police came to make an arrest. Frenzies of dance freak outs ensued as shouts of, "This new dance is gonna get cha!" came from stage. Safety in numbers my friends! If we all continued to dance there was no way the dance police could get us, hee hee.
Kalmia is one of my favorite ladies in the music scene today. I mean across genres, jam bands, hip-hop, electronic, bluegrass, folk…favorite ladies. She is a tomboy kind of gal, not glamorous but original and unique. She conjures up images of Claire Danes from My So-Called Life. Pretty but not gaudy. Fashionable but not a diva. Her carefree easy style is absolutely magnified by the rest of the band. They make writing a hit song look easy. Today I got the impression that she must be pretty comfortable here in Chicago because she was wearing a (gasp!) midriff top. Her thumb was bandaged up and when I asked why she said she had burned it. On a curling iron? Ha! No. She burned it pouring a cup of tea of course. Silly me.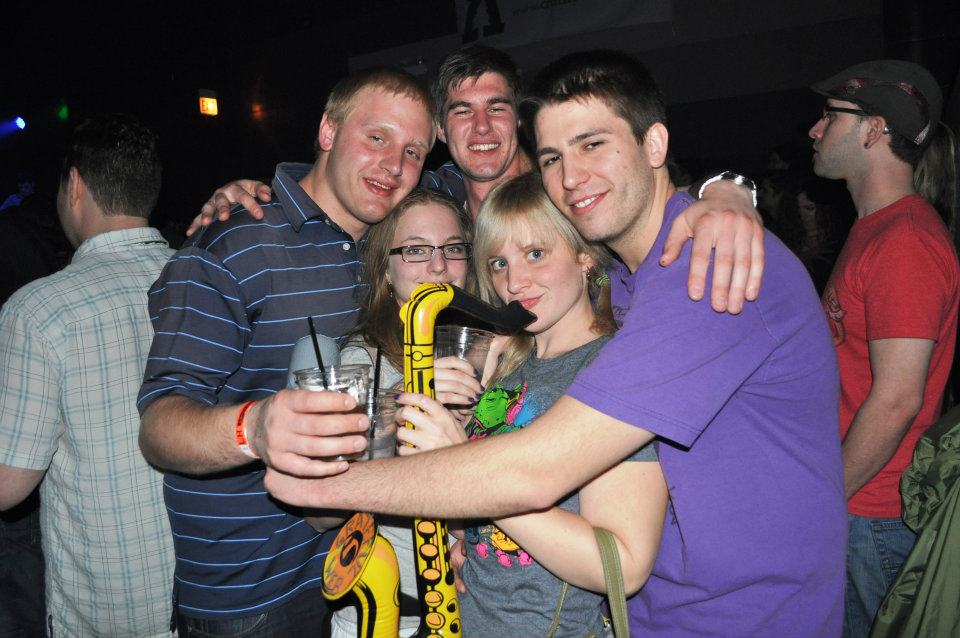 The team on stage projecting their glow-in-the-dark-black-light-love closed out the night in their blue Christmas light vests. They lit up the sweaty night air. They were so much more than a blue light special. The most powerful element I took from the show was their lyrics. It is an afterthought when you cool down from the hard dance that rules the show. I have the beat pounding in my head and I looked up their lyrics to add dimension to that perpetual groove on repeat when I woke up. How beautiful and humble and heartwarming are the lyrics for Came out of a Lady! "I used to wish I was never born, but now I don't cuz I found you, it's really cool you like me too, of all the places and all the times, apart from then, I can't believe, how could it be, you're here with me." Check out that video.
Again, the video is so silly and bright and colorful you lose track of the heartfelt meaning of the lyrics to set aside emotions of darkness. Rubblebucket are master gardeners that make planting seeds seem like farmers have a fun job. The "hard work" is dancing and the blossoms are the lyrics and positivity they generate. There is only room for light and love with this band. I am eternally grateful for the fresh cut flowers from a show like this.