This morning I received my hot off the presses CD/DVD combo, Rubblebucket Live in Chicago. I ripped off the plastic wrap to pop it in the player and pour over every detail of the jacket, the artwork, and the credits. It looks like the antithesis to the no wave buzz back in the late 70's. The packaging is similar to a Ramones promo circa 1979. The lettering has color but the photograph is in black and white with a nice contrast. Photo credits go to a couple of Chicago's finest photographers, Jeremy Frazier and Chris Monaghan. The entire package is a very realistic representation of a live Rubblebucket show. The fold out photograph has the token Miller Lite bottle held high in full cheers, slanted to the decorated tuba with Alex utilizing his hyperkinetics role of the band blurred in the corner. Yes, the artwork paints a pretty pure picture of the smile fest that is a Rubblebucket show. The angles of film shot at the Double Door Chicago club are fantastic, a real music video made new again. It opens from the first note when you rush to the front of the stage to an eagle eye view of dancing hip to hip with the band on the main floor.
The opening track, Breatherez (Young As Clouds) motivates. It's time to get up and dance! Like a motivational speaker or a great exercise video this DVD/CD combo gets you moving even if it's just your mind's wheel rolling along and you never leave your car seat. It's totally danceable as you stretch the limits of color and melody and sing along to the sensation. Inhale and exhale as you warm up for your work-out, or in this case, your eat-your-heart-out-soul-flexing-jumping-jack-spin session. There is a momentum that is never stagnant. There is chemistry on stage. A live one.
Rubblebucket is setting themselves a challenge by releasing this – the yes wave direction is on cue. Where will the green lights take them next? Kalmia Traver's voice is a mix between Sade and Janis Joplin, from smooth to passionate and don't forget to add in the baritone sax Aretha Franklin sound. What you've got is a versatile leading lady with curiosity and cunning leading the orchestra that is you, that is them, that is all of us. They create sounds of the past, present, and the after that. This cycle has tires that will roll on to the next city.
I like offbeat artists like Beck and Ween and on that list I have recently added Rubblebucket. They are a bucketful. They fill my love bucket. I love bands that whistle. I whistle while I work. I can barely call writing this review work as I glide through their upbeat versions of Bikes, Landing, Silly Fathers, and Triangular Daisies, make me spacey, for you… for you!
Red Line Beat is relatable to those with the city background. Anyone that has relied on the el, the Bart, or the subway knows the rhythm. As they climax to the peak of the show, Alex sets it up for Kalmia to knock down. He hollers, "Let's play some more Chicago!!" Then Kalmia proclaims on stage "you people know what to do, I don't have to tell you, but just so you know this song is about hearing the music, and letting it move you, and letting it bring you even closer and closer to letting yourself hear it!"
I believe these days that people want to see the love more than they want to give the love – they seem to have less tolerance for crazed fans – they are looking to be part of something, creating a great show together. There is a reason people say, "Have a good show" because it is a unified effort. Bouncing around like a zumba animal, on screen is Alex doing a mean robot and putting that trumpet out there like a metal extension of his arm. He and Adam playing trombone push hard on that front line. Trombone Shorty meet Adam Dotson. The N'Awlins funk has met a modern David Bowie like jam. The next track, L'homme, is the kind of song you put on during cocktail hour when it's trendy to show people how much enjoy other cultures. Lalalalalala! L'homme is universal with French Quarter flair. It has lyrics that anybody can sing along to with a delightful dichotomy of French language – ponce toujours le maintenan tu nuit never go again you pushing greedy you'll fall… not sure what they are saying exactly, something about still thinking about the night… I Would love to know if someone has the translation of those lyrics so I can look worldlier at dinner parties, heh.
The passion as Kalmia shuts her eyes tight giving her best performance is evident to anyone that has ever taken music lessons at all. They would see the training as she uses posture, pitch and performance the whole show long and especially through her foreign language song styles. How many languages does the collective Rubblebucket speak?
Can we add Rollercoaster Rubblebucket tongue? Not sure if this language has ever been spoken before, but it needs to be differentiated and substantiated. They take you up and then down, slow and then fast, but always move you along. When the chorus kicks in, Kal looks relieved to have the resounding echoes carry her over the tide and the la la's finish the song out.
Rubblebucket has been nonstop touring and crossing boundaries since 2008. Kalmia is a modern day Ella Fitzgerald, dancing through the crowd looking up at her Louie Armstrong Alex on trumpet. They share their love with everyone around them. Bringing jazz back and breaking through the finish line of neon streamers on stage, I look forward to what comes next. I talked to them a bit this past summer at Electric Forest Festival where they rowked a sunny hot stage at top energy. Check out that video.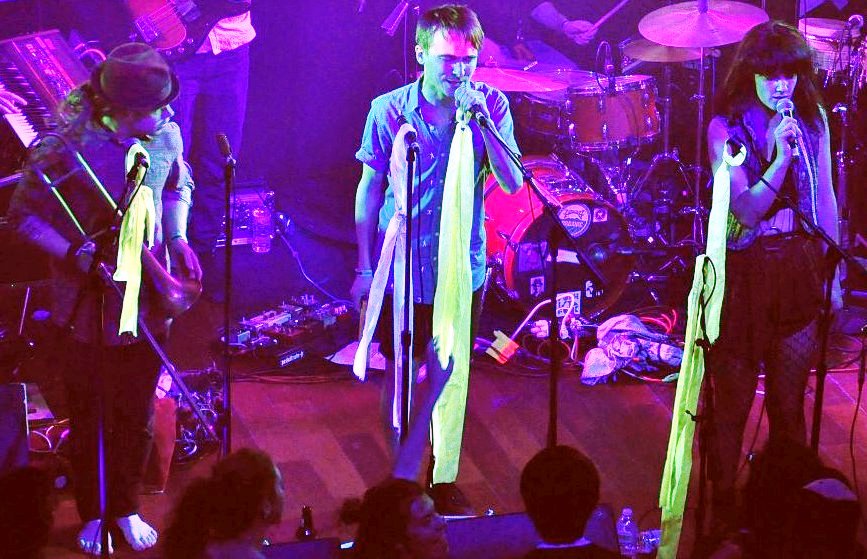 Like the leaves of a fern, the members of Rubblebucket unfold to produce a new branch of beautiful flowering music. They are the chutes and ladders of pushing the right musical buttons, bringing together yesterday and today in a musical dance party. I only hope the dance police won't make any arrests at my show. Or maybe I do. (naughty!!)
Kalmia smiles while playing saxophone and gives the audience the "you like that?!" look. They all keep you moving with a big, pull-it-out-from-the-heart, marathon endurance Came Out Of A Lady closer. Rosy cheeked encore begins with their style of smooth jazz. "Dressed to the tees tonight" The front line has florescent sashes tied across their foreheads. They close their all too short 14 song show with a double encore of Phillips Van and November. "Leave it all behind…!"
The Dance Police and I will be issuing a warrant for your arrest if you do not stop what you are doing right now and check out his fantastic live show captured for your dancing delight. Your cardio routine will thank you!