Rubblebucket Wind Down Tour in New York
Submitted by popgun pr on Thu, 11/15/2012 - 12:35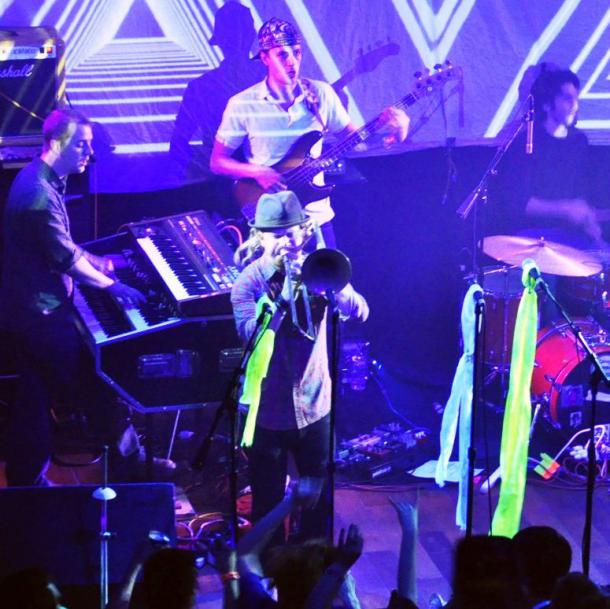 This fall has had Brooklyn's indie pop band
Rubblebucket
extremely busy, touring a mere full circle across America with good friends Reptar, while promoting their latest EP Oversaturated! Just in the past three weeks the band has dropped glorious remixes from pals Stepdad, which premiered over at
NOISEY
, and Geographer, which got a first look from
USA TODAY
- All songs are below via soundcloud for free downloading! The already danceable 7-piece still has two more very exciting remixes to unveil, so please keep your eyes peeled and your ears ready!
Last week, singer/saxophonist Kalmia Traver wrote a thoughtful, informative, and down right entertaining op-ed that was published by the renowned Huffington Post. The piece focuses on America's necessity to act on America's views, actions, and policies on renewable energy. Please read it here, and spread the knowledge! 
This weekend Rubblebucket plays a sold out show at NY's Bowery Ballroom on Saturday, with a second show at Brooklyn's Music Hall of Williamsburg on Sunday. These shows are not to miss, as the band readies to take time off of their constant touring to focus on the writing and recording of the much anticipated follow up to 2011's Omega La La. 
If you're not in NYC this weekend - there is still hope; as Rubblebucket will be doing their annual New Year's Eve stint, playing Northampton, Burlington, Rochester, Boston, and more - see below for all dates.
::TOUR::
11/15 - Portland, ME @ Port City Music Hall*
11/16 - Northampton, MA @ Pearl Street Ballroom*
11/17 - New York, NY @ Bowery Ballroom*
11/18 - Brooklyn, NY @ Music Hall of Williamsburg*
12/5 - Boston, MA @ Royale&
12/6 - Philadelphia, PA @ Blockley Pourhouse%
12/7 - Pittsburgh, PA @ Mr. Smalls&
12/29 - Rochester, NY @ Water Street Music Hall#
12/30 - Burlington, VT @ Higher Ground Ballroom#
12/31 - Burlington, VT @ Higher Ground Ballroom#
* co-headline w/ Reptar, Stepdad opens
% co-headline w/ Reptar
& co-headline w/ Reptar, Railbird opens
# Marco Benevento supports