Salvador Santana Band: Carving Out Their Own Sound
Salvador Santana has not just big shoes to fill, but legendary ones. His father is rock icon, Carlos Santana. Like many children of musical experts, he has pulled away from his father's instrument and even Santana's classic rock sound.
Recently, I was sent a five track demo by Salvador Santana and his band. It is a sampling of the group's jazz, hip-hop sound. Salvador has chosen the keyboard as his instrument of choice, and he's producing some sweet sounds. Assisting him on this EP, are Emerson Cardenas (bass), Eric Mendez (percussion), Rene del Fierro (guitar), Gene Coye (drums), Carla Holbrook (vocals) and Sam Totah (MC, vocals).
Five cuts aren't really enough to see the breadth of this artist, but I did see a sampling of his choice of lyrics, his writing style, and the avenues he was exploring. Though I found the first cut, "We Rock Da Mike" and the final cut, "SSB," to be self indulgent as some hip-hop can be, they gave me not only a taste of things to come, especially Carla Holbrook's haunting voice, but also framed the album. Both of these songs, like all but one of the others on the EP, were collaborations, and they clearly reflect the influences of MC Sam Totah.
Salvador's hip-hop and Holbrook's R&B create an interesting mix on "Simple Story of Love." That cut is enhanced not only by Salvador's tasty key work but by del Fierro's guitar and, most especially, by Mendez's percussion.
"Another Rainy Day"also pairs Holbrook with Salvador. In contrast, this moody tune is more jazz based, using mainly drumkit and keys, ranging from piano to synth. When del Fierro's guitar enters the mix, it is only to grace the work with suggestions of brightness.
"Electric Moon," Salvador's only solo written piece on the demo again is a tasty jazz-based instrumental. This is where this band shines. Those jazz influences no doubt come from absorbing music all around him as a child and also from his studies at Cal Arts in Calencia, CA.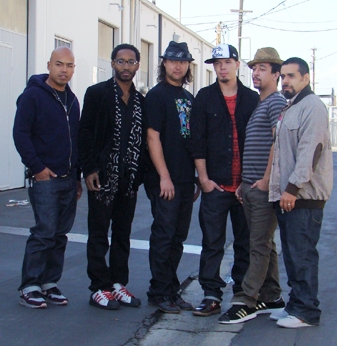 One thing that was especially unique about this demo was the choice to bounce notes from one channel to the other. This isn't just pumping out guitar from one speaker and keys from another, but to switch keyboard notes (and even sustained notes) from each side in succession. It does a strange trip to your head if you listen to the CD through head phones!
This EP is a precursor to Salvador's full-length self-titled CD out on Tsunami Record Group that is out this year. New band members highlight this new album. Emerson Cardenas returns on bass, but Salvador has added Woody Aplanalp on guitar and vocals, Tony Austin on drums, Quincy McCary on vocals and a second set of keyboards, and Jose Espinosa on sax, flute, percussion, and vocals.
The resulting new sound is heavy with an Afro-Cuban sound. It comes mainly from Espinosa's percussion that complements Austin's drums. That kind of percussion and drum work, for me, has always been at the heart of Carlos Santana's music. It is what drew me to Santana decades ago and what moves me still. But this time, Salvador has dressed it up with hip-hop, R&B, and lots of jazz.
Salvador's bandmates have been amassing their own body of credits before they became part of this band. Tony Austin has played drums with jazz artists like Billy Higgins and Charles Lloyd, as well as the Monterey Jazz Festival All-Star Big Band.  He also has played with Banyan, Rob Wasserman, John Avila of Oingo Boingo, and Erikah Badu. In addition, his work has appeared on NBC's "Studio 60" and "E-Ring," CW's "One on One" and "What I Like About You."
Jose Espinosa, also known as Crunchy, is a fellow grad of Cal Arts and helped found Ozomatli. A multi-instrumentalist, his work has appeared on recordings with Blackalicous and Black Eyed Peas, as well the films Cheaper by the Dozen, Along Came Polly, Havana Nights, and Any Given Sunday.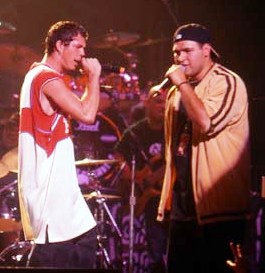 Quincy McCrary, founder of the LA act Burning Star and a player in Quetzal, also has had his work showcased in films, including Hook, Batman Returns, Dutch, Clifford, What About Bob?, Home Alone, and Captain Ron. He also has done tracks for the television shows Alley McBeal, Amen, the Arsenio Hall Show, and General Hospital. Though he is manning keys and doing vocals for the Salvador Santana Band, you can be sure Salvador will continue to add his own keyboard stylings.
Guitarist Woody Alpanalp has toured with some of the best ethnic musicians in the world. From 2004-6, he did a world tour, backing master Indian percussionist Trilok Gurtu. He has recorded and played live with African music legend Thomas Mapfumo. Also, Alpanalp has toured with Grammy award-winning hip-hop/R&B artist Lauryn Hill and jazz great Wadada Leo Smith's ensemble, the Golden Quartet. He also steals away to perform with his own eclectic rock group, Papa Woody.
Emerson Cardenas has played exclusively with the Salvador Santana Band.
Salvador Santana is presenting a new freshness on the musical landscape. Check out his self-titled album and you'll see what I mean.