Sam Sparro: Bringing Personality to Dance Music
Young Australian-born songwriter/producer, Sam Sparro, is a musical wonder.  Partly he comes by this honestly. He grew up in a musical family that explored a lot of musical styles.  His great-grandfather was a professor of music. His grandfather is a jazz trumpet player, who played with Frank Sinatra and Sammy Davis, Jr. His grandmother is an accomplished singer and dancer, and his father, Chris Falson, is a noted gospel singer.  However, when Sparro decided to venture into the musical world himself, he created something totally new and unexpected.
Sparro moved to LA when he was ten because his dad was going to record a gospel album there. Falson introduced his son to some of the best singers in the gospel realm by taking him to a local church that was home to many session singers, like the McCrary Family who had backed up Whitney Houston, Michael Jackson, and Chaka Khan. When Sparro and his father were visiting the McCrarys, Chaka Khan stopped by and Sparro sang a new gospel song for her that the McCrarys had wanted her to record. Her response, I'm told, was, "Damn, that white boy can sing!"
During stays in Australia, then London, and then back in LA, Sparro worked in the music industry and soon began writing songs. On a return to Australia, he formed a band called Sugar James. But it was when he finally moved back to LA that he found the LA music underground that was very reminiscent to him of the London scene.  His father offered to set up a speakeasy style club and Sparro and Rage Against the Machine's Tom Morello became regulars. Here, Sparro was discovered by Jesse  Rogg of Modus Viendi Music.
Sparro and Rogg produced a six-song EP called Black & Gold that is very difficult to find. I got a copy from his publicist and I guarantee it will become a valuable collector's item. It is the precursor to a self-titled, full-length album that is currently only available as a import from the UK.  The 13 songs on the new album have five of the cuts on the EP, but these are fleshed out more. The EP has Sparro and Rogg manning all of the instruments. The full album sports Sparro's vocals along with him playing keytar, guitar, and synths, and doing programming. Rogg plays synths and keys and does programming.  Laura Fares is the drummer, Charlie Willcocks handles another set of keys, and James Stephenson is on bass.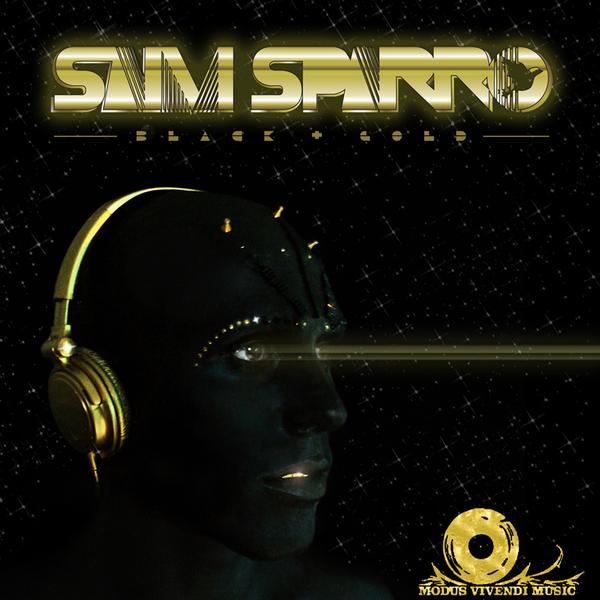 The Black & Gold EP presents a fun mix of dance beats with Sparro's fluid R&B vocals, which are sometimes electronic-altered. This is in keeping with Sparro's intent, which is to add personality in the form of a frontman to electronic music. It is a successful melding.
The title cut "Black & Gold" is ripe for a music video. It is the kind of dance music that is infectious. Though the lyrics were spawned in one of the lowest points in Sparro's life when he wondered if his life would have any direction musically, it offers such a haunting chorus, "I want to be next to you, black and gold."
"Sick" offers more of the throb of dance music, but the smooth vocals and electronic flourishes set the song above most music of that genre. The recurrent chorus, "It's a sick, sick world/But I'll be your medicine."
"Cottonmouth"is a whimsical R&B song about a condition any speaker or singer has experienced. It's a fun addition to the selections.
Then, Sparro moves into what could be a bitter song about a stalker relationship. Instead, in "Cling Wrap," he offers another humorous twist, couching bitting words into witty phrasing. He croons, "You must have thought I was a snack because you're sticking to me like cling wrap." Then, toward the end, he raps, "I'm going to need me a pair of pliers to get you off my back because you crossed your wires." The listener is prepared for something weird because the first sounds off the track sound like someone on helium.
Finally, "Miss Rexi,"the only song on the EP that isn't on the full-length CD, probably is the one song that should have been on that album. It is a song with strong social commentary, telling the story of "Miss Rexi, first name Ana," who really sounds more like she's bulimic than anorexic. Sparro says that Miss Rexi "was so skinny she thought it was sexy" then he sings, "I want to fatten you up/Get you back to a C cup," and "You don't have to be a bean/To be sexy on the scene/You're going to make yourself sick/There's no point in being a stick."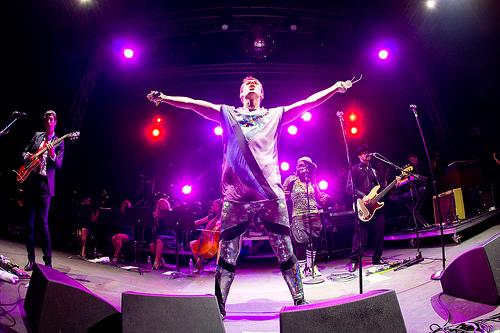 Sparro could reach a lot of young listeners with that song. It is a remarkable song housed in a fine piece of music. But, I was surprised by one reviewer who missed what was obvious in the lyrics, focusing on one line that says, "Ana listen to me/Put that in your mouth and start chewing," thinking the song is racy. If the reviewer listened more closely, he would have known that Sparro was talking about food.
Sam Sparro is experimenting with retro R&B sounds, saucy electronic beats, and a whole new realm of songwriting from someone who sees the world with very fresh eyes. His material is welcome in a techno/hip-hop/R&B world that has tended to grind out the same-ole, same-ole. Sam Sparro keeps it coming and get some of those tunes out here in the States!