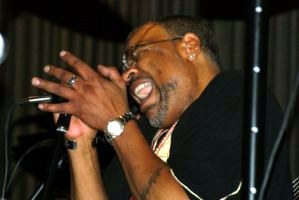 Before the New Year, well known power group, Sez Who returned to the Albuquerque stage at the Jazzbah, one of three premier jazz clubs in the city. Their sizzling sound is an eclectic mix of genres that are loosely labeled jazz, often turning that broad label on its head as they ooze out tunes.
Band leader and Yamaha Drum Artist Ken Lingad gathered band members after a twenty-year hiatus to relaunch this eclectic group. Adding zing and color to his steady beats are Rob "Milo" Jaramillo (bass), Steve Figueroa (keys), Daniel Ward (guitar), and Ric "Mookie" Jaramillo (percussion). They back up area R&B vocal legend Michael Herndon.
Their band name was a response to criticism of fellow musicians at the University of New Mexico Music Department where they all met and began playing together. "UNM Jazz was sort of like an informal lab where we all woodsheded--playing with each other and everyone else we could," says Lingad. They were supposed to be honing their jazz chops, appearing in several music venues of that era, but these musicians couldn't help but bring in music that they listened to and felt comfortable with. Bits of reggae, rock, blues, Latin, and R&B slipped in, even some country, folk, and classical licks appeared. They were told to stick with one style of music, jazz preferably. Milo Jaramillo's response was, "Sez who?" And the name stuck.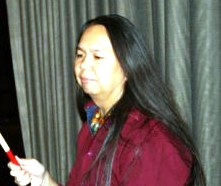 All of the members went on to pursue successful solo careers, sometimes meeting up with one or two old bandmates to play somewhere together. They recorded albums and played stages with some of the top name act around the world. But they always seemed to come back to New Mexico.
Steve Figueroa taught himself piano at age 17, becoming adept at playing many different styles, but focusing mostly on jazz and Latin music. That training allowed him an uncanny versatility not only with improvisation but being able to back up nearly anyone. He has performed with Tetragon, Ritmo Caliente, The New Shtetl Band, Sparx, Lorenzo Antonio, the New Mexico Symphony Orchestra, Clark Terry, Frank Morgan, and Doug Lawrence, among others.
One of Figueroa's side projects is Red Hot & Red, a Native-American jazz trio. There are a couple of native blues groups who have made a name for themselves. Indigenous, being the most famous, coming out of South Dakota. But native jazz groups? Red Hot & Red is a unique project that combines traditional jazz with Afro-Cuban rhythms—all played by New Mexico musicians of native backgrounds.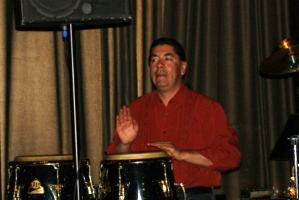 Milo Jaramillo joined Figueroa in Red Hot & Red and gladly plugged in for Sez Who. Though Jaramillo plays both acoustic and electric bass, he is well know in the jazz scene as being a versatile and eclectic bassist, being able to sit in with just about any style, including Latin, R&B, rock, world music, and reggae styles.
Master guitarist Daniel Ward holds a performance degree in classical guitar, and, like his bandmates in Sez Who, has toured and recorded with many reputable artists. His specialties include Flamenco guitar and dance accompaniment, classical studies, rock, R&B, world music, jazz, and folk music.
Mookie Jaramillo, percussionist extraordinaire, has been playing in the region for decades. His hand drum touches add flavor and color to each Sez Who performance.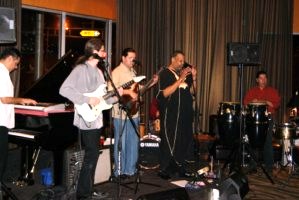 When Milo Jaramillo and Ken Lingad met for lunch a few months ago, they talked of old times and fantasized about getting a power group together. When they looked at who they wanted to play with, it ended up being their original Sez Who lineup. All it took was a single phone call to each member, and the band came back to life.
"After twenty years of gigs around the world, there is still no other group of cats I would rather play with!" says Lingad.
Michael Herndon also eagerly joined them to take his place as lead singer. Born and raised in New York City, Herndon has been an Albuquerque favorite since 1988. A true power singer, he has the restraint to offer sensitive phrasing as well as dynamic intensity to a variety of material. His vocal training is heavily ensconced in jazz, R&B, and gospel, allowing him a versatility to explore other styles such as funk, country, rock, and soul. Having released two solo albums, he writes original material for Fat City, for which he is lead male vocalist. Herndon has opened for CoCo Taylor, the Queen of the Blues, and performed with the Kenny Neil Band, the Kinsey Report, and Earth, Wind, & Fire.
Herndon's own vocal career was almost cut drastically short a couple of years ago when he was in the hospital for a double aortic aneurism. He survived that but awoke in the recover room realizing that the doctors had intubated him so quickly in his emergency situation that his vocal chords were severely damaged. After another surgery to repair them and a solid vocal coach, he came back more powerful than ever. Those who know that story realize that Herndon is a walking miracle every time he takes the stage, and he doesn't hold back, giving his audiences more than they ever could expect.
When Sez Who takes the stage, the audience is populated by regional musicians as well as old and new fans. The intimate stage at the Jazzbah always has room for someone to share a mic or plug in an instrument, and they are encouraged to come up and share a song. Often saxophone great Lee Taylor lends his soulful sound when he's not on tour. Fellow musicians and singers are always welcomed to the Jazzbah's stage when Sez Who plays.
The Jazzbah is an intimate dining establishment that opened in Aug 2011 at 119 Gold Avenue SW in the heart of Albuquerque. It offers an eclectic menu that is creative and boasts the best of southwestern cuisine from executive chef Robert Pacheco. Behind a bar designed with inlaid piano keys, their award-winning mixologist Daniel Gonzales offers inventive cocktails that have become signature drinks for the restaurant, many involving spicy southwest flavors including New Mexico green chilies. The wait staff is friendly and attentive, making your dining or after work drinking experience very pleasant. And, as always, the music runs the gamut from mellow and lively.
[Read a restaurant review at www.refrainmagazine.com]