Shawn Mullins readies new CD, 'Honeydew,' in March
Submitted by press on Sat, 01/05/2008 - 00:09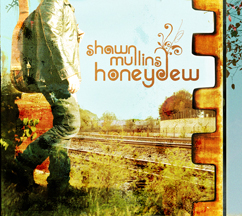 Shawn Mullins will serve up a new set of vibrant, character-driven songs with his new Vanguard Records CD honeydew on March 11, 2008. honeydew teems with humanity: railroad workers, traveling salesman , homeless troubadours, and several generations of family members, living and dead. It is a richly interwoven work, the most panoramic album of Mullins' career as well as the most intensely personal. "These songs are character sketches of people I've come across and places I've traveled through," he says.
 
Produced by the artist, the recording took place at Creekside Station, the rural Georgia studio of Gerry Hansen, Mullins' longtime drummer, who engineered and mixed. Along with other regulars, including bassist Patrick Blanchard, multi-instrumentalist Clay Cook, B-3/Wurlitzer specialist Marty Kearns and mandolin player Kip Conner, Mullins managed to snag guitarist Peter Stroud (Sheryl Crow) during a break in his touring schedule. Also making appearances are Atlanta blues and soul legend Francine Reed (Lyle Lovett) on "Homeless Joe" and the extremely catchy first single, "All in My Head," and Australian alt-country artist Kasey Chambers on "Cabbagetown."
 
Mullins is best known for his Top 10 hit "Lullaby," for which he received a Grammy® nomination that propelled the album Soul's Core to platinum-plus status. Exposed to music at an early age by his grandfather, who was a big band player, Mullins began writing songs and producing cassettes in grammar school. After attending North Georgia College and a stint in the military he launched his own label in 1991 and hit the singer-songwriter circuit, building a strong following in the Southeast. Seven independent albums later, he released Soul's Core on Sony Music in 1998. He signed with Vanguard Records in 2004 and shortly thereafter released 9th Ward Pickin' Parlour .  honeydew is his sophomore release for the label.
Early tour dates for 2008 have been announced:
 
January 9   NEW ORLEANS, LA   One Eyed Jacks
January 10  HOUSTON, TX  Mucky Duck
January 11 & 12 AUSTIN, TX   Cactus Cafe
January 13   DALLAS, TX   Poor David's
January 15   FAYETTEVILLE, AR   George's
January 17  CHATTANOOGA, TN   Rhythm & Brews
January 18   ASHEVILLE, NC Grey Eagle