Shy Blakeman To Release LONG DISTANCE MAN
Submitted by mike on Wed, 03/17/2010 - 01:44
Shy Blakeman, the Texas singer-songwriter with a colorful past and engaging character who was first introduced to audiences during the 2006 season of "Nashville Star," is scheduled to release his third album LONG DISTANCE MAN today.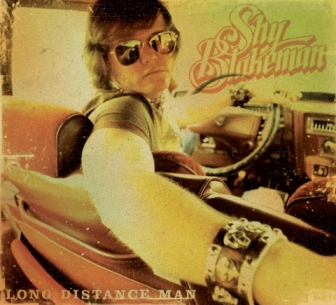 Influenced by the eclectic southern mixture representative of The Black Crowes, Waylon Jennings and Ray Charles, Blakeman succeeds in his efforts to break ground on a new sound by melding genres into an album that is equally pleasurable and viably commercial. This new venture allows the listener to go along for a ride with the "Long Distance Man" as he musically meanders through songs that cross the plains of Texas country at "Quarter to Three," hears the blues and tastes the "Swamp Water Whisky" of Baton Rouge, dances all night in a few of the "So Many Honky Tonks" that decorate the true country landscape, and establishes roots at the Americana homestead that is "Dragon Fly."
Produced by Ted Russell Kamp (Shooter Jennings) and Executively Produced by Warren Izard, the album also features a bevy of world class players who have graciously lent their time and talent to support the new project. Artists of note include Marc Ford (The Black Crowes), Audley Freed (The Black Crowes, Cry Love, Peter Frampton), Doug Pettibone (Lucinda Williams, Jewel), Kenny Vaughn (Steve Earle, Marty Stuart, Rodney Crowell), Michael Webb (John Fogerty), Jason Sutter (Chris Cornell), Ron Dziubla (Royal Crown Reveue, Ricky Martin), and Gia Ciambotti (Bruce Springsteen, Bonnie Raitt).
The rollicking title track was released to radio on February 23, 2010 and early commendations for the album are already rolling in. "I've been drowning in a sea of cookie-cutter music. Thank you Shy Blakeman for throwing me a life preserver [with] LONG DISTANCE MAN," says Kelley Peterson of KHKX/KMCM/KQRX in Odessa, Texas.
Blakeman will be promoting his new album today during a performance at the Kinetic Entertainment "The Early Bird Gets The Music" showcase at Annie's West, 706 W. 6th St. Austin, Texas. He has also been invited to perform for the CMT Awards after-party in Nashville, Tenn. Scheduled for June 9, 2010, this unofficial wrap-up to the CMA Music Fest activities will be hosted by Cowboy Troy, the 2006 and 2007 co-host of "Nashville Star."
For more information visit: www.shyblakeman.com