Siriusmo To Preview Debut Album, Mosaik
Submitted by mike on Wed, 01/12/2011 - 01:23
After releasing dozens of singles & EPs on various Berlin-based record labels and remixing artists, including Scissor Sisters, Gossip, Chikinki, Simian Mobile Disco, Boys Noize, Digitalism, Chromeo, A-Trak, Munk and more, for over a decade, the inimitable Berlin producer, graffiti artist, ghost-painter & illustrator, Siriusmo (aka Moritz Friedrich), is set to release his debut album, Mosaik, March 1st on Monkeytown Records.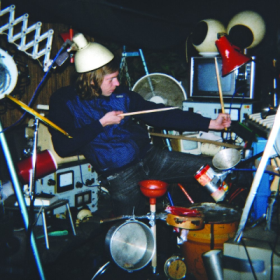 With Siriusmo's previous releases striding confidently through a rich array of genres – from dubstep to disco, hip-hop to house, electro to experimental – his work is invested with incomparable diversity, eschewing outright any danger of a four-four snooze-fest over the course of an hour. Indeed, in its premeditated hodgepodge of styles, composite sonic totality and rugged texture, Mosaik couldn't be more of a fitting rubric. Leading up this full-length release, Siriusmo is offering listeners a preview of what's to come by featuring snippets of the record on his Soundcloud page. Several bits are already up, and the rest will be added by March 1st.
Betraying influences from the 70s to the present day and beyond, one foot keeps the door to the past ajar while the other kicks the door to the future wide open. The palpable funk and thumb-slap bass of opener, "High Together", the pop-baroque of "Idiologie" and warped rap of "Bad Idea" all point towards Moritz's grounding in the records of Stevie Wonder, The Beatles and plentiful helpings of hip-hop. Any hint of nostalgia, however, is dragged kicking and screaming into a 21st Century discotheque where the bass is twisted, the beats are laden and space-age grandiosity envelops the whole.
Siriusmo's timbre-palette is strikingly visceral and his understanding and appreciation of the intricacies of harmony prevail; every note is a corporal experience as well as an aural one. And for every drop of dancefloor sweat, there's a soothing breeze to cool down. Individual melodic lines dance impishly around one another on "Signal", for example, as sonic warmth is woven on a loom in your ears. Throughout Mosaik, Siriusmo makes an arresting switch from the beefy to the beautiful, from the body to the mind, as elegantly tapped organ keys play a melody with soulful poise. It's this type of canny counterpoint that provides the stitching throughout Mosaik's vibrant patchwork.
--
Listen to Siriusmo album preview


Listen to/download Siriumo's "Mosaik"