Skinny Molly Causes a Haywire Riot on New Record, Streets 1/8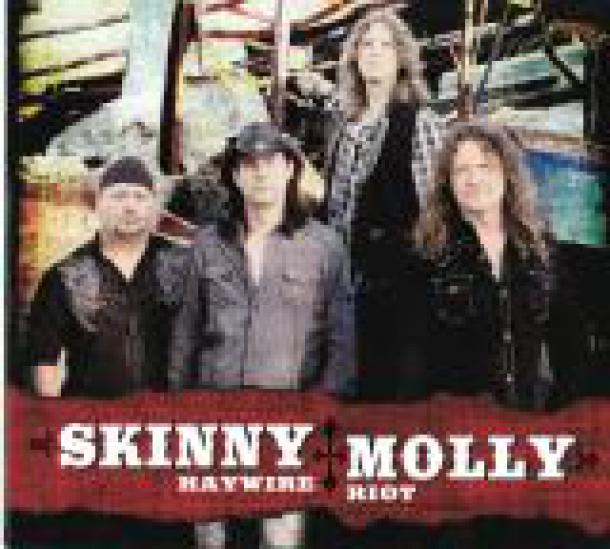 Ruf Records announces a January 8 U.S. release date for Haywire Riot, the new CD from rock quartet Skinny Molly, distributed nationally by the Allegro Corporation. Skinny Molly is led by lead singer/lead guitarist Mike Estes, a former member of the legendary Lynyrd Skynyrd, and also features Jay Johnson on lead guitar and backing vocals, Kurt Pietro on drums and Luke Bradshaw on bass and backing vocals. Haywire Riot was produced by Mike Estes and the band and recorded at Swamper Sound in Sheffield, Alabama, and Omni Sound in Nashville.
Skinny Molly recently finished an extensive tour of Europe, where the group has already built a substantial reputation based on hundreds of solid rockin' live performances, and intends to emulate that success in their home country with the release of the new CD here.
"This band was supposed to be for fun; we thought no further ahead than a one-off tour of Europe back in '04, but it ended up being what I always wanted to do musically," recalls Mike Estes about the band's founding.  Haywire Riot is the album that Skinny Molly was destined to deliver when Mike first hooked up in 2004 with Kurt and original guitarist Dave Hlubek for that "one-off" tour that never stopped. Soon enough, a debut album – No Good Deed – was pricking ears with its early signs of greatness on cuts like "Straight Shooter" and "Better than I Should." Now, with the lineup cemented and dedicated to the cause, it's time for the knockout blow of this new release.
"It's great to have another guitar player in the studio for once," says Estes. "The No Good Deed album was mostly me. Jay played his ass off on the new record."
Haywire Riot is an album that hijacks the modern rock scene, via the old-school values of stellar songwriting, white-hot chops, lyrics wrenched from the depths and performances that leave it all the studio floor. Step into Skinny Molly's world and you'll come face-to-face with the deceptive lover from "Lie to Me;" the girl hiding a gun in her glove box on "Too Bad to Be True;" and the poisonous call of liquor on "Devil in the Bottle," a song Estes originally recorded in 1994 as a member of Lynyrd Skynyrd on their acoustic Endangered Species CD for Capricorn Records. With music that swings from the wrecking-ball riffs of "If You Don't Care" to the reflective acoustic vibe of "None of Me No More," this is maximum rock 'n' roll, zero pretension, and when Mike Estes roars: "Hey rock star, just shut up and rock!" on the track of the same name, there's no doubt the Skinny Molly singer is leading by example.
"I poured everything I had into Haywire Riot," exclaims Mike. "From the beginning when the pen hit the paper, until the last note of the finished CD. The songs on this album mean a lot to me personally; the subject matter is either from me or somebody I know...They originated from what's going on in my or a close friend's life. I'm glad I have a lot of life experiences to draw from, because I'm not a great fiction writer." 
Mike's connections to the Skynyrd band go deep.  After striking up a friendship with Allen Collins while still a teenager, Mike's first band, Helen Highwater, was both christened and given guidance by the late legendary guitarist (who once gave him an eight-hour guitar lesson). That bond deepened when the young band opened up Skynyrd's '87 Tribute Tour. Clearly, the Southern icons liked what they heard, and after a period as a behind-the-scenes writer in the early'90s, Mike was invited by Gary Rossington to join Skynyrd full-time.
Post-Skynyrd, Mike smashed the Billboard chart with his co-written "White Knuckle Ride" single (recorded while still with Skynyrd on the last session he did with them), and released two solo albums leading the band Driving Sideways – a self-titled CD and Brave New South – while remaining a fixture on magazine covers and music channels on the strength of his prolific talent. Back in 1995, he was inducted into the Hollywood Rock Walk of Fame, but with Skinny Molly, you sense he's only just getting started.
With Mike Estes in the lineup, some guitarists might feel the pressure. Not Jay Johnson, the band's six-string stinger missile and perhaps the only player capable of standing toe-to-toe with his frontman. Jay got his break at Muscle Shoals Sound Studio as a session guitarist for Malaco Records artist Mary Burns, and since then his talent has spread into writing, production and audio engineering. After early duties in Radio Tokyo, Jay joined The Rossington Band from 1986 to 1989 (a period during which he played on the Skynyrd Tribute Tour before more than a million fans and released two major-label LPs); and by 1994, he'd hooked up with Blackfoot's Jackson Spires and Dave Hlubek in the Southern Rock Allstars. His stint as Blackfoot's vocalist in 2006 makes him the ultimate backup singer for Skinny Molly, while many past shows alongside Mike – including several acoustic duo tours – mean he's the perfect wingman.   
Kurt Pietro has been Skinny Molly's drummer from the start and previously was a revered Michigan studio ace and a live powerhouse with early outfit, Crystal. He subsequently studied broadcasting and music at Michigan University, leading to a job at Omni Studios in Nashville, where on a fateful day when a visiting Mike asked if anyone could play a drum overdub, Kurt answered the call and has been there ever since.
Skinny Molly's rhythm section was completed in 2007 when Luke Bradshaw signed on to play bass. Picking up the instrument at age 15, Luke's talent on both electric and acoustic bass can also be heard alongside American Idol's Bo Bice, Grand Ole Opry star George Hamilton IV, bluegrass artist Bobby Hicks, and Jesse McReynolds and the Virginia Boys.
Skinny Molly will continue to tour world-wide in support of Haywire Riot. For more information, visit www.skinnymollyrocks.com