Spring Fling Underway For Eric Lambert & Friends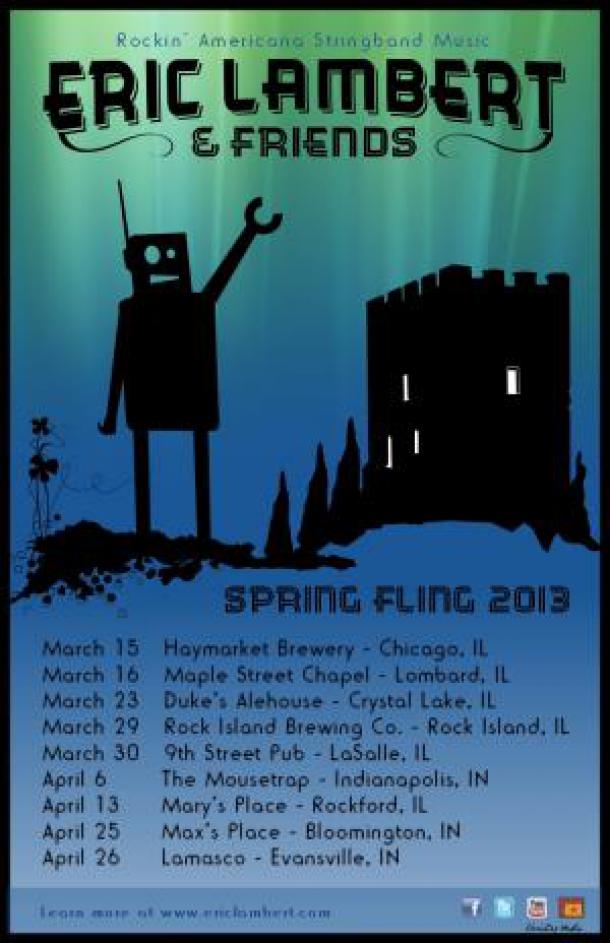 Eric Lambert & Friends (ELF) have embarked on a Spring Fling with the Chicago suburbs and beyond. The new show dates span March and April, with stops at many new venues. The rockin' Americana stringband will be bringing their original music experience to the great people of Peoria, Chicago, Lombard, Crystal Lake, Rock Island, LaSalle, and Rockford, IL, as well as Indianapolis and Bloomington, IN, and the famed Lamasco Bar & Grill in Evansville, IN in April.
On Friday, March 15, ELF will be heading to Haymarket Brewery in Chicago's west loop for the first time. Only two years in the making, Haymarket Brewery was founded and is run by former Rock Bottom brewer Pete Crowley and Sausagefest organizer John Neurauter. Inspired by working-class roots, they offer an impressive array of 32 craft selections, featuring more than 10 house-brewed varieties and some visitor brews. The kitchen is led by chef Christopher McCoy, who is plating up house-made seasonal sausages, cured bacon, Amish rotisserie chicken, pizzas, and fresh burgers ground daily, as well as seasonal, sustainable seafood options, appetizers, salads, and more. There is no doubt ELF and Haymarket will make a fantastic paring and award winning night out in Chicago.
The following evening, Saturday, March 16, will offer a great music event for people of all ages. Eric Lambert & Friends are thrilled to be the featured artists in the Maple Street Chapel Folk Concert Series in Lombard, IL. The folk concert series was the brainchild of the late folk singer Bryan Dagenhart and is proud to bring local and nationally-known folk musicians to its stage in a monthly series of concerts that run from October through May. Tickets are on sale now and are going fast!
On Saturday, April 6, Eric Lambert teams up with his previous bandmates, The Henhouse Prowlers, for an explosive show at The Mousetrap in Indianapolis, IN. Eric Lambert & Friends will open the show with a bang, followed by the Prowlers. There's sure to be improvisational music and sit-ins with this pairing.
Finally, at the end of the month ELF travels to Indiana's southern border to perform at Lamasco Bar & Grill on April 26, known as Evansville's best venue for live, original music, great food, and good times. It sounds like the band will fit right in there, and can't wait to check out this cool venue.
"This is going to be a fun run of shows close to home, so we can celebrate Easter with our families and continue finalizing the new record before summer festival season arrives," said Eric. "We are bringing our original rockin' Americana stringband music to many new venues on this tour, which is also very exciting. We're looking forward to seeing lots of new faces in the new places," Eric concluded.
Learn more at: www.ericlambert.com
Spring Fling 2013 Dates:
March 15:  Haymarket Brewery – Chicago, IL
March 16:  Maple Street Chapel – Lombard, IL Maple Street Chapel Folk Concert Series
March 23:  Duke's Alehouse – Crystal Lake, IL
March 29:  Rock Island Brewing Company (RIBCO) – Rock Island, IL
March 30:  9th Street Pub – LaSalle, IL Supporting The Matt Pittman Experience
April 6:      The Mousetrap – Indianapolis, IN Supporting The Henhouse Prowlers
April 13:    Mary's Place – Rockford, IL
April 25:    Max's Place – Bloomington, IN The Stuttering Ducks Open
April 26:    Lamasco Bar & Grill – Evansville, IN