In a recent interview, Billy Nershi, guitar player, lyricist, and vocalist for Colorado's String Cheese Incident said this of his band's musical style:
"It's very hard to describe [our sound] in musical terms because there are so many styles we play on any give night. I guess I think of it as if each night were a three-day music festival rolled into two sets. It goes all over the map, but we try to have the energy one picks up on at a music festival. We try to capture the audience's attention and take them someplace."
Quite the understatement. String Cheese Incident's music has been wowing friends, family, and newcomers for over 17 years now. Their "long strange trip" pinnacled in 1996 when Kyle Hollingsworth, a truly brilliant piano player was welcomed in as an official band member, thus completing SCI. From then, the outfit became more than just a Telluride Bluegrass Festival set; it became its own microcosm. The band grew a legendary status in the touring scene for throwing simply the best improvisational shows. Flat-picking glory chords mixed with heavy electric mandolin riffs, accompanied by a calypso-funk piano and organ, finished off with some djembe and snare hits. Simply put, nothing else out there could ever be compared to an Incident. Their influences as individual musicians are all strangely complimentary considering the unusual fusion of styles that complete their sound.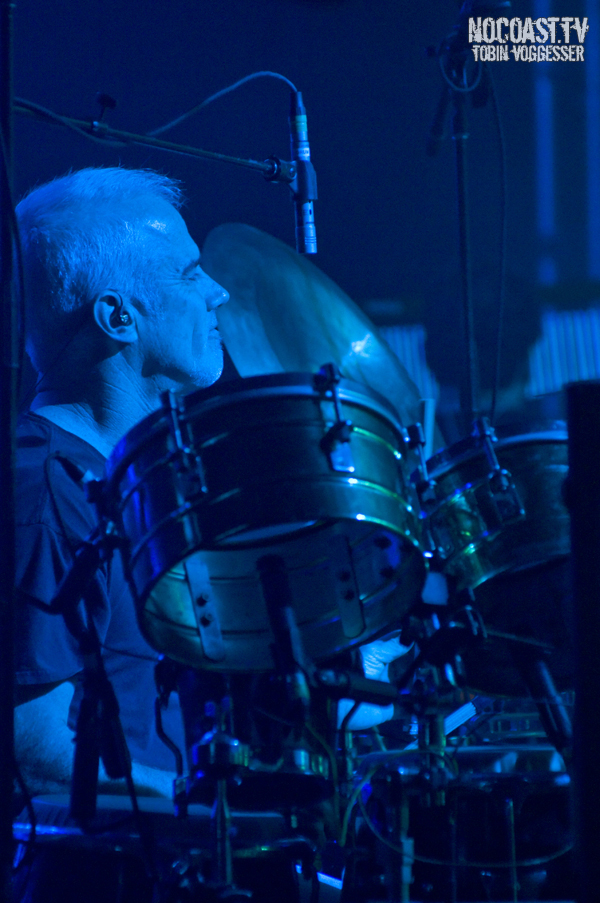 SCI was somewhat of a cult band until the release of their 1999 tour "Carnival 99". Their popularity almost instantly grew. From playing free shows at Telluride Mountain Resort and small Boulder area shindigs to arena sized crowds and gigantic summer music festivals. Much like the Grateful Dead, their catalogue of songs (especially now) is never-ending. Different rearrangements of classic originals and countless common cover bust-outs are what String Cheese thrives on. Never playing a song the same way twice.
The outfit as it has existed since 2004 is Jason Hann (Percussion), Michael Travis (Drums), Michael Kang (Mandolin, Fiddle, Electric Guitar), Keith Mosley (Bass), Kyle Hollingsworth (Organ, Keys, Synthesizer), and Bill Nershi (Acoustic and Electric Guitars). All share vocal duties at some point, even the drummers.
Their scenes of followers, "CheeseHeads", are in some ways more eclectic than the Deadheads were. It helps to keep in mind that for Deadheads there was a time and place in history that the band was heavily tied into. The late 60s as a huge time for change in the United States culturally, politically, and ethically. They gained mainstream success and were able to keep the long strange trip afloat for 30 long years. Cheese is a different story. An unlikely hybrid of too many sounds to summarize that rose in a time where jamgrass was less popular and cultural context was more vague. Still, they have accumulated a gigantic scene of freeks, wookies, hippies, and beautiful people. Some have been there from the beginning; many will be seeing their first show. Through their rootsy record label (SCI Fidelity) to their own private ticketing firm (Baseline Ticketing), their own management company (Madison House) to an independently created food drive (Conscious Alliance), the Cheese community is large and vast. There wasn't a cultural context needed, it just happened.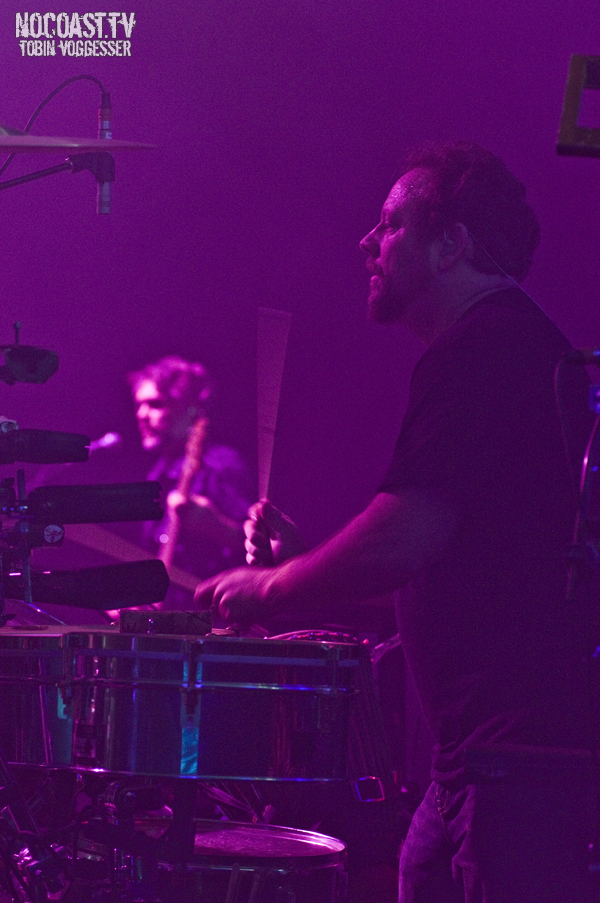 When Cheese took their first major break from touring in 2007, fans knew that the trip wasn't over, just lying dormant. Sure enough, the boys announced a run of reunion shows in summer of 2009. Both runs of shows to begin and break the hiatus were Red Rocks Amphitheatre sellout multi-day extravaganzas.
Though the band is tied heavily to their Colorado birthplace, many of the best Incidents, and the band's favorite places to play were out of state, and on the road. The current Cheese tour entitled "Roots Run Deep" (Borrowing its name for SCI's song "Restless Wind") is the first tour since their hiatus. It started at Thomas Wolfe Auditorium in North Carolina and continued down into Georgia, and is currently making its way up the coast to New York, then New England, finally ending in Chicago via St. Louis.
One of String Cheese Incident's favorite out-of-Colorado places to play is undoubtedly Atlanta Georgia's Fabulous Fox Theatre. Located in the heart of downtown, this gorgeous, one-of-a-kind theatre usually hosts off-Broadway shows, symphony orchestras, and operettas. Once a year, around Thanksgiving time, the tradition was that String Cheese Incident would play show(s) at the Atlanta Fox. For the first time since 2006, SCI returned to the Fabulous Fox as the second stop on their first tour in nearly five years. I had the distinct pleasure of attending my third Atlanta incident on November 26th at the Fox. And what an affair it was.
Anticipation was quite high for this tour and the word was that the night before had gone really well. Knowing the boy's affinity toward Atlanta and the Fox, I had a feeling they were saving their energy for the Saturday night one-off. Arriving at the venue I was reminded about how truly unique and gorgeous the marquee at the Fox is. It evoked that certain old-time feel but beautifully preserved and restored. What a special treat to see Cheese at such a classy venue! The 4,500 capacity seated theatre was bustling with a sold-out crowd (the tour all together was sold out most of their shows). After a few beers and chirping with strangers sitting around me in the 12th row of the floor, the house lights went down and the band enters the stage.
The crowd truly went nuts. Here we have our favorite band, in this glorious venue where the ceiling is painted to look like a clear night's sky with twinkling stars, and the towering theatre walls are guised as the outside of a fairytale like stone castle. Simply fantastic! The crowd's enthusiasm leads Nershi to greet and thank us before busting into their first song. Fittingly, Cheese opens with "Restless Wind", an original classic with upbeat bass rhythm and swirling instrumental sections in between vocal harmonies. Not skipping a beat, the band transitions into another original "100 Year Flood", a Kyle song with a lengthy jam at the end that gave the spinners a chance to unwind some of that bent-up energy. After ten minutes of improvisational territory, the Incident funkilly drops into a favorite cover of theirs, "Boogie on Reggae Woman". With soulful lead vocals from Michael Kang, his inviting lead mandolin riffs radiate good vibes through the crowd, and back onto the band. Finally, after half an hour of no musical stops, the band ends the three-song combo. Next out, another cover, "Barstool", a Cheese rearrangement most famously released on their Carnival 99' live album. Nershi's vocals do this version justice and the crowd appreciates the classic "grassier" sound that had been a little less prevalent at this Incident so far.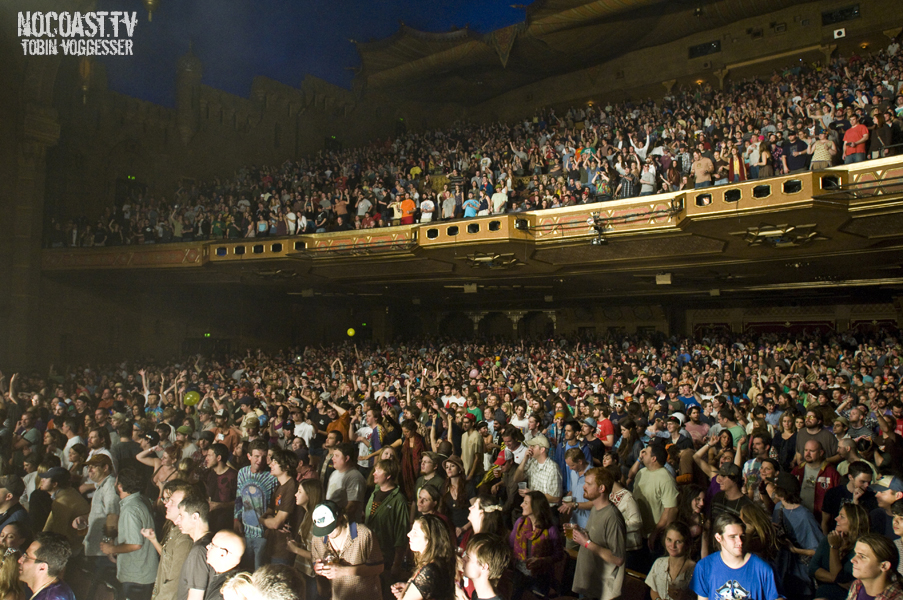 Next, Kyle mutters "Were gonna try a new song". They venture into his new original "Colliding". It was well received by the crowd, getting a tad electronic but never too glitchy and always danceable. As an answer to Kyle's electro song, Nershi throws down "Miss Brown's Tea House" next. The crowd favorite is filled with soothing lyrics about keeping your friends close and the good vibes closer also served as a launch pad for some excellent funky jamming. It was already apparent that the boys were "on" that night. To end the set, they play truly one of my favorite songs. "Shine" is a Michael Kang led original that is a perfect example of the band's fusion sound. It begins with a pick-off between Nershi and Kang. Then we get some poppy lyrics and an upbeat chorus. Long instrumental sections trade off the guy's talents without trying to "steel the show". Then Nershi segues the jam into a guided forward climax of true energy and passion. Simply describing it in words would never do the musical feelings that "Shine" through enough justice. This song really evokes the full String Cheese experience, that is, the euphorically created on-the-spot energy that brings the crowd to the same plane of consciousness as the band. The song ends and the band calls for a break. Cheers everywhere.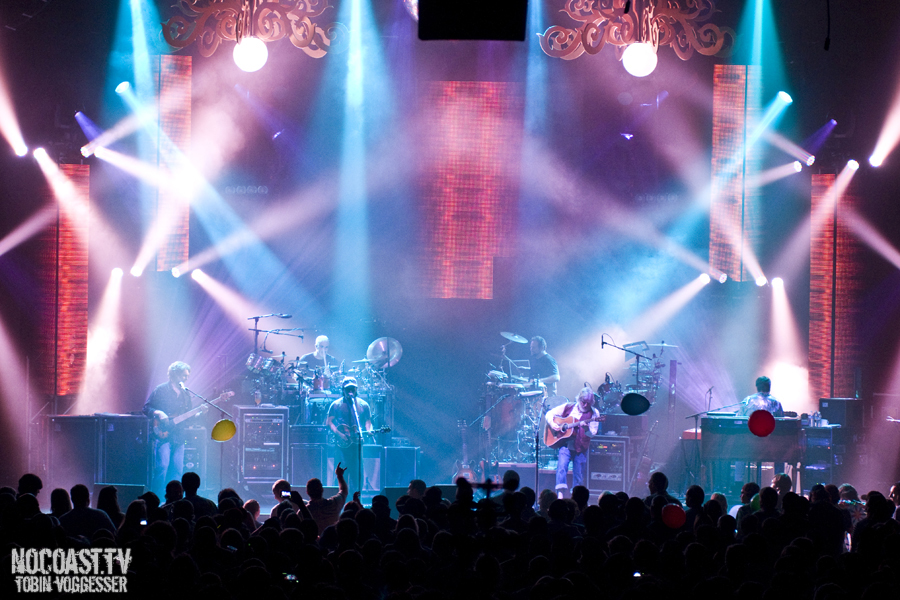 House lights come up to reveal a pleased crowd of 4,500 adoring fans and family (all in the same). I catch up with my Dad and Sister who had balcony seats. The action is just as hot up there as it was at my seat on the floor. Nobody is being uptight about seating arrangements like they could be. There are more important things at hand. People lounge around catching up with one and other. Before we knew it, the house lights went down and the boys were back on stage.
The band begins their second set with the rockin' classic "Soundbound" a cover that the best of them have executed, but never the way Cheese played it. Kyle Hollingsworth's piano talents are showcased in full-form, scaling the crowd with candy coating in every chord. Next the band transitions into another personal favorite of mine, "Desert Dawn". A John Perry Barlow penned song is livened up by Kang's lead vocals and snowballing energy already amidst. Dancing and dancing, I lose time and space continuum. When they bring back the lyrics again, it seems as if fifteen minutes went by in an instant. One of the tamer numbers of the night came with we the radio-friendly "Sirens", a reggae tempo sing-along that seemed to have its familiarity with the fans. Well received by most. They waste no time getting right into a heavy hitting instrumental, "Bumpin' Reel". This jam is an opportunity for Michael Kang to display his instrumental virtuosity over the fiddle. Heavy synthesizer licks and drum rolls accompany Kang's Irish Jig of the 4th dimension.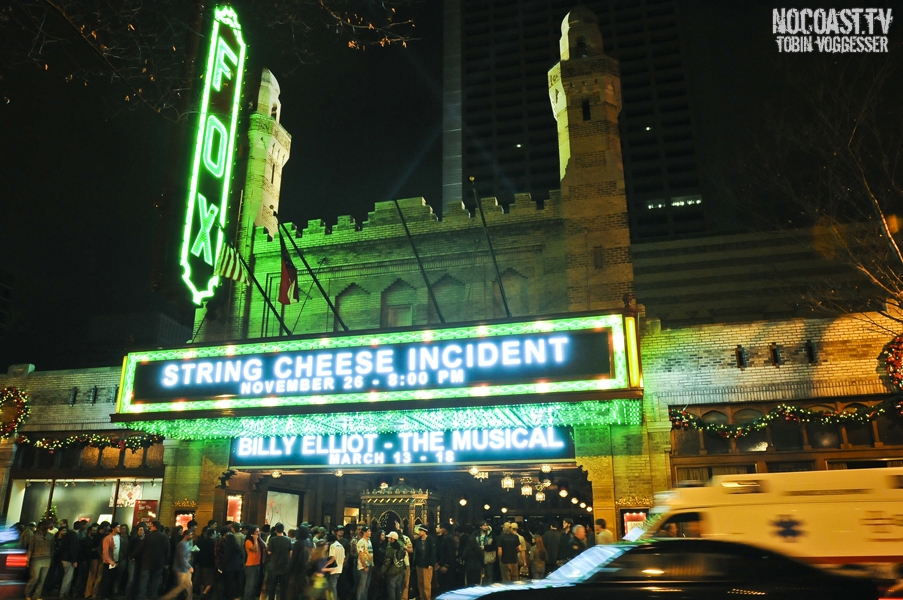 The only song I did not recognize that night came next with "So That's The Way That It Goes". It still fits in well to their set, and was a good comedown from the hard hitting "Bumpin' Reel". Coming out next is the quintessential SCI classic "Jellyfish". Much of the band's iconography revolves around Jellyfish art for this reason. It's a melty Bill Nershi lead endeavor. Always a crowd pleaser and chant every word along sort of occasion. To close the second set, the band breaks out the blissfully Cheesy "Is What It Is". Another jam vehicle, feelings of sailing high above the world flow through me and I can't help but leap around. The best part about an Incident is letting go of what would otherwise be considered absurd or inappropriate, even in other concert settings. Too soon, the band lays down their weapons and exits the stage.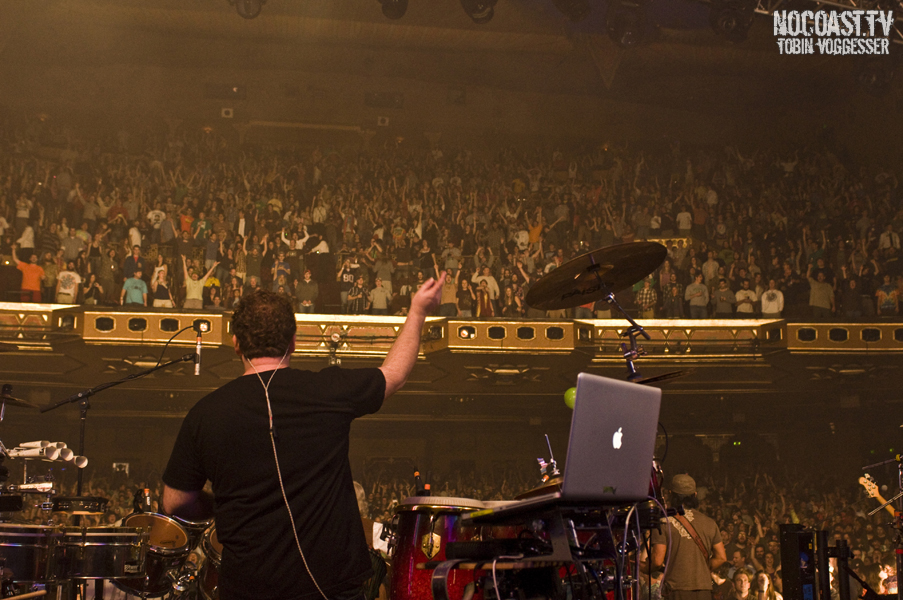 The encore call was loud and heavy. It didn't take long to entice the band to return for the double encore. The bluegrass standard "Rollin' In My Sweet Babies Arms" followed by the SCI original "Way Back Home". As the theatre emptied out, nothing but great vibes and communal happiness was amidst. Their gigantic musical snowball has continued over the years and after plenty of rest time with side projects explored, the band is back on the same page and ready to rage again. Do yourself a favor hop back on the bus. You know you want to!